The American football wide receiver Cooper Kupp is no new person in the National Football League. He is either known for his good hands which has helped him gain much respect from his team and fans, or as the son of a former NFL football quarterback, Craig Kupp.
Aside from being linked to his famous father and family, Kupp has on his own, made a name for himself as a hard-nosed player with a solid frame which gives him an advantage over most slot receivers. Cooper is not only a good blocker who is very skilled in finding soft spots in the zone, but he is also a route-runner, a gritty player who is capable of winning 50-50 passes. Kupp joined the National Football League only in 2017 and he is already in his top wins. His performance both in college football and in the professional team is good proof that he is a player with a prospect.
Cooper Kupp Biography
Cooper Douglas Kupp was born in Yakima, Washington, on June 15, 1993, and as the son and grandson of well-known athletes, playing football was no big issue for him. Kupp was active in football and basketball during his high school years which was at Davis High School. Playing for the Pirates athletic team before he graduated in 2012, Kupp earned himself reputable accolades both as a defensive back and as a wide receiver.
Kupp was Seattle Times' "White Chip" selection and a first-team All-Columbia Basin Big Nine League wide receiver and defensive back at Davis. His active performance during his prep career gave him a solid footing for his college career. He finished with 110 catches for 2,100 yards before joining the Eastern Washington University for his college career.
Moving into the Eastern Washington University as a collegiate in 2012, Kupp had a better football experience with the Eastern Washington Eagles, finishing in 2016 with a total of 428 receptions for 52 games with a total of 6,464 and 73 touchdowns. In 2013, he received the FCS Wide Receiver Award after a brilliant performance in his 2013 football season which he ended with a total of 1,691 receiving yards, 21 touchdown catches and 93 receptions. Other awards and accolades he received that same year include the 2013 Jerry Rice Award, a consensus first-team All-American, and Big Sky Conference Freshman of the Year. 
Kupp's college football performance only got better season after season until he finished his career in 2016 with a total of 6,464 receiving yards out of which 117 receptions for 1,700 yards and 17 touchdowns were made in the 2016 season. As a reward for his outstanding performance, Cooper Kupp received several other awards such as the STATS FCS Offensive Player of the Year (2015), Walter Payton Award (2015), Second-team All-Big Sky Conference Punt Returner (2016), 3x First-team FCS All-American (WCFF), and lots more.
NFL Career, Injury and Career Stats
Cooper Kupp became a professional football player in 2017 and was picked by the Los Angeles Rams as the 69th overall and in the 3rd round of the 2017 NFL Draft. The same year, he attended the Senior Bowl and was able to make 2 receptions for 14 receiving yards for the North's 16–15 loss to the South. Kupp then signed a four-year, $3.83 million contract with the Rams on the 9th of June, 2017. His signing bonus was $954,760. While in training camp, he competed with the likes of Robert Woods, Pharoh Cooper, Mike Thomas, Josh Reynolds, and Bradley Marquez, and made his professional regular season debut in his team's season-opener against the Indianapolis Colts. Kupp was able to finish his rookie season with a total of 62 receptions for 869 yards and 5 touchdowns.
Making better wins in his 2018 season with the Rams, Cooper Kupps went down with an injury in Week 10 and 4th quarter of the Rams' 36-31 victory over the Seattle Seahawks. He was confirmed to have torn his Anterior cruciate ligament (ACL). The injury saw his season's end for 2018. He appeared in 8 games and recorded 40 receptions for 566 yards and 6 touchdowns. His career stats (2017-2018) shows he has 102 total receptions for 1,435 receiving yards with 11 receiving touchdowns and 25 rushing yards.
See Also: Alvin Kamara Bio, NFL Draft Profile, Height, Weight, Body Measurements
Wife and Family Facts
As earlier stated, Cooper Kupp is the son to Craig Kupp, a former NFL quarterback who played for the Vikings from 1982-1985, and joined the NFL in the 5th round (135 overall) pick of the 1990 draft. Kupp's mother is Karin Kupp, a personal trainer in Yakima, Washington and former soccer player at Pacific Lutheran University. Cooper has a younger brother, Ketner Kupp, who attended the same High school with him. His grandfather, Jake Kupp, also played football and was better known as an offensive lineman for the University of Washington before he was picked by the Dallas Cowboys in the 1964 NFL draft.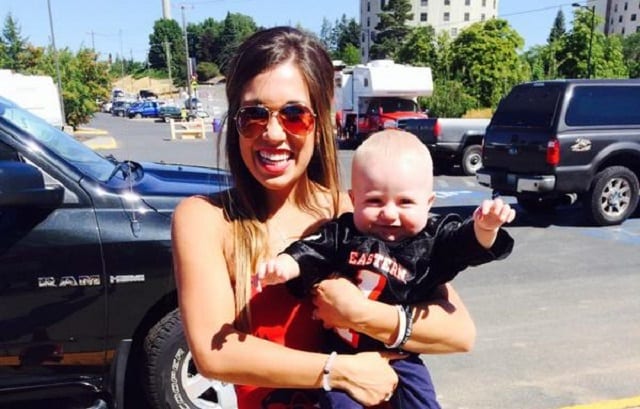 A devout Christian, Cooper Kupp is married to Anna Kupp (nee Croskrey), a native of Kennewick, Washington. The two met while Kupp was a student of Eastern Washington University and they officially became a couple on June 20, 2015. Cooper and his wife now have a son whom they named Jameson Kupp.