Joy Taylor is one sports journalist who not only knows the onion of the profession but also is physically fit for the job. Starting out as a student, she has successfully gone from a student reporter to a professional and now a popular TV host. Here's everything to know about the highly experienced American radio personality and TV host for Fox Sports 1 who co-hosts The Herd with Colin Cowherd.
Who is Joy Taylor, Colin Cowherd's Co-host and Why Is She Famous? 
The TV personality who will one day become best-known among sports fans around the world as one of the notable Fox Sports reporters was born on the 17th day of January 1987. Her parents are Georgia and Anthony Taylor and she spent her childhood in Pennsylvania. A graduate of Barry University, Joy Taylor began her career as a manager of her school's radio show The Noise in her school's radio station, WBRY 1640 AM. After spending the required number of years in the institution where she majored in Broadcast Communications, Taylor worked as an executive producer for the show, The Ticket, a sports talk show broadcasted on 790 AM in Miami. For the three years she spent there, she helped to sustain the show's long flourishing history, beating out a few other famous popular talk programs in the city.
She later left to co-host Foster's top-rated morning sports drive show known as Zaslow and Joy show. At the acceptance of a job offer by CBS, Joy began to serve as the host for Fantasy Football Thursday Night Live on CBSSPorts.com. Joy Taylor was a hit with the readers and her contributions had wide-ranging appeal. In 2016, she took a further step in her career joining the Fox Sports Family where she played various critical roles. Among the roles, is serving as one of the moderators of Skip and Shannon: Undisputed alongside big names in Fox Sports such as Skip Bayless and Shannon Sharpe.
Notably, her presence in the show in which the hosts debate various sports stories has been greatly felt. Most recently, the media firm announced that the US radio host will be joining another awe-inspiring sports show named The Herd. Her new role on the show which was announced in 2018 entails working as a co-host with Colin Cowherd and the show airs on FS1 and Fox Sports radio
Proving that radio and TV hosting wasn't the only talent she has, Joy Taylor also hosts a Facebook live show, named The Hang and her podcast Maybe I'm Crazy.
Everything Else You Need To Know About Joy Taylor
1. Who is Her Boyfriend or Husband?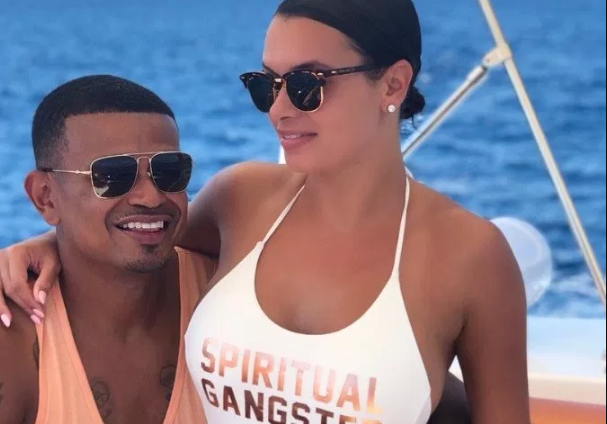 Joy Taylor was married to Richard Gianotti. Their paths crossed at a conference in 2014 after which they began dating secretly for two years before finally tying the knot in 2016. Their wedding ceremony which took place in February of that year at Fort Lauderdale Florida was what gave the duo's relationship out to the public.
Things looked cool between the baseball expert and the stunning journalist but her marriage later ended up in legal split shortly with Taylor's relocation to LA blamed for it. While her move to LA may have robbed her of a seeming sweet marriage, it wasn't long before the journalist found love again. She is said to be in a serious relationship with another baseball professional, Earl Watson. In 2018, it was announced that Watson put a ring on her finger. As of now, they haven't walked down the aisle but are believed to be enjoying a harmonious relationship.
2. Who are Joy Taylor's Family Members?
There is only a few information about Joy Taylor's early life one of which includes the fact that she is from a close-knit home based in the suburbs of Pittsburgh as shown by her relationship with her two siblings named Jason and Noah. Another thing which is evident about her family is that she came from an athletic-loving household. Her elder brother is a footballer and a Pro Football Hall of Famer in the National Football League, so it is not difficult to fathom why Taylor chose to be in the sports scene quite early.
See Also: Abby Chin – Bio, Everything About The Sports Journalist And Reporter
3. What is Taylor's Body Measurement?
Apart from her talent and skills of engaging any kind of sports fans with her knowledge about the particular sports on shows, another thing that seems to be going for Taylor is her beauty. She is slim yet curvy and has maintained this physique over the years. She seems to have it all physically with a reasonable height of 5 feet 6 inches and 59kg bodyweight. More so, she has a unique smile and nice teeth that make her quite attractive whenever she chuckles or smiles on the show.
4. Net Worth – How Much is Joy Taylor Worth?
Many genuinely believe that Joy Taylor's net worth is somewhere around $500,000 and that she receives $75,000 as annual salary from her journalism career. Though there hasn't been enough proof to support this, it is undeniable that she is well paid.
5. Her Social Media Presence
Like many top-ranking journalists, Joy Taylor is active on social media. She is apparently an old head in social media and has been on Twitter since 2009. Also, she is active on Instagram and is in fact one of the people keeping Instagram users entertained with useful posts.

Fact Check: We strive for accuracy and fairness. If you see something that needs updating,