If you have seen the movies Dude, Anything or the show, Timeless, the name Claudia Doumit is bound to be familiar to you. She has starred in these projects with particular emphasis on Timeless where she played the character, Jiya. Claudia may yet to be a household name but she has racked up a substantial amount of films and shows in her filmography.
There is plenty that can be said of Claudia Doumit but perhaps the most interesting and important is that she has managed to cross the divide between the thousands of people who wish to become professional actors and actresses in Hollywood to the few hundred people who actually do.
Claudia Doumit Biography
Claudia Doumit may very well still become a household name as an actress but for a long time in her life, she was just a regular girl, born to her loving parents on the 31st of March, 1987 in Sydney, New South Wales, Australia.
There is very little information available about her background, other than the fact that her father is Morrie Doumit and her mother, Mary Zavaglia. She has a brother named James Doumit and a sister with an unknown identity. There is no telling exactly how she came to fall in love with acting as a profession, possibly through her mother's work as a Celebrity Beauty Expert but she decided to commit her life to the profession.
Doumit started with the Actors College of Theatre and Television in Australia and then The Actor's Center. She also attended the National Institute of Dramatic Art, also in Australia before she took her training international by attending a two-year training program at the Stella Adler Academy of Acting in Los Angeles.
With several years of academic and professional training at the hands of experts behind her, she got her first onscreen role in 2011 and has never looked back ever since.
Outside of acting, Claudia Doumit is a free spirit who enjoys dancing and singing.
Career Achievements
The life of an actor/actress is full of uncertainties, from taking auditions to making the film and being unsure how it will be received by the audience, the sheer amount of uncertainty makes each casting an achievement for any actor or actress, and in that regard, Claudia Doumit has achieved a whole lot, having been cast in at least 15 projects since she made her debut as a professional actress in 2011 when she starred in The Hamster Wheel.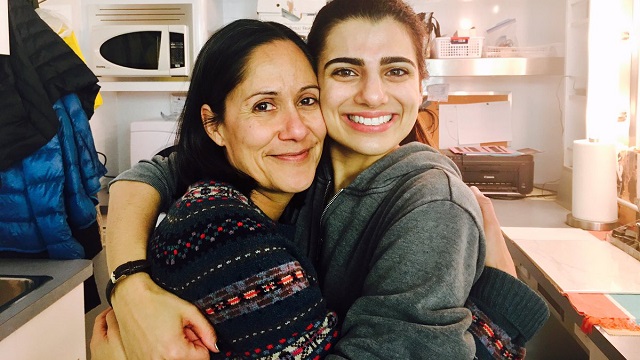 She had to wait a while for her second role and finally got it in 2013 for Faking It after getting cast as Ivy. In 2015, Claudia Doumit was kept busy with appearances in the shows, New Girl and Mike & Molly. She also appeared as a voice actor in the Disney Infinity 3.0 video game.
As the years rolled by, Claudia starred in more high-profile projects like Scandal, How to Be a Vampire, Supergirl and Timeless, which she starred in between 2016 and 2018.
Another feather on Claudia Doumit's cap is producing her first movie, Dylan & Zoey.
See Also: Moran Atias – Bio, Celebrity Facts and Career Achievement of The Actress
What is Her Net Worth?
As we mentioned in the introduction, Claudia Doumit may not yet be a household name yet but she has appeared in enough films and television shows to be a recognizable face to an avid movie and TV watcher. These appearances, which, so far have been over 15 projects across both mediums – TV, and Film, have made Claudia a millionaire. She is estimated to be worth $1.7 million and she can thank her appearance in Timeless, one of the longest and more popular projects she has starred in.
Who is Her Husband or Boyfriend?
By the metric of a simple life, Claudia Doumit is living the dream. She is a millionaire working in one of the most interesting industries on the planet and she has a boyfriend, Blake Lewis.
She has been dating Blake, who is also a member of the entertainment industry via music for a while and both parties have never failed to express their love for each other on social media. If their relationship will lead to the altar remains to be seen but the convergence of all these good things has given Claudia a happy life.