Elegant, quick-witted, and proficient, Claudia Doumit is an Australian actress and film producer who has been highly extolled for her outstanding skills and incredible versatility. She is popularly known for her works in the movies Dude, Anything and the TV series, Timeless. Claudia may yet to be a household name but she has racked up a substantial amount of films and shows in her filmography.
There is plenty that can be said of Claudia Doumit but perhaps the most interesting and important is that she has managed to cross the divide between the thousands of people who wish to become professional actors and actresses in Hollywood to the few hundred people who actually do. She has equally increased her financial value through her budding acting career which she kick-started after her training at Los Angeles-based Stella Adler Academy of Acting.
Claudia Doumit's Early Life
Claudia Doumit may very well still become a household name as an actress but for a long time in her life, she was just a regular girl, born to her loving parents on the 31st of March, 1987 in Sydney, New South Wales, Australia.
There is very little information available about her background, other than the fact that her father is Morrie Doumit and her mother, Mary Zavaglia. She has a brother named James Doumit and a sister whose identity is still unknown. There is no telling exactly how she came to fall in love with acting as a profession, possibly through her mother's work as a Celebrity Beauty Expert but she decided to commit her life to the profession.
Doumit started with the Actors College of Theatre and Television in Australia and then The Actor's Center. She also attended the National Institute of Dramatic Art in Australia before she took her training international by attending a two-year training program at the Stella Adler Academy of Acting in Los Angeles. With several years of academic and professional training at the hands of experts behind her, she got her first onscreen role in 2011 and has never looked back ever since.
Outside of acting, Claudia Doumit is a free spirit who enjoys dancing and singing.
Her Early Career Struggles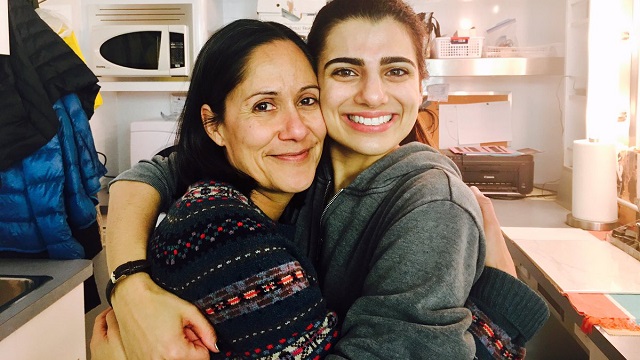 The life of an actor is full of uncertainties, from taking auditions to making the film and being unsure how it will be received by the audience, the sheer amount of uncertainty makes each casting an achievement for any actor or actress, and in that regard, Claudia Doumit has achieved a whole lot, having been cast in at least 15 projects.
At first, it wasn't a smooth journey for the actress who made her acting debut in 2011, when she starred in The Hamster Wheel. She then had to wait for two years before landing a second role in 2013, when she was cast as Ivy in one episode of TV series Faking It. Later in 2015, Claudia Doumit had a surge in her acting career. She made appearances in the two TV shows; New Girl and Mike & Molly. She also appeared as a voice actor in the Disney Infinity 3.0 video game in the same year.
How She Became a Movie Star
In the year 2016, Doumit had her career breakthrough as she scored more than three acting gigs. She played the role of Joey in the romantic-comedy film, Losing in Love, starring alongside Martin Papazian, Marina Benedict, and Ronnie Gene Blevins. Also, the actress appeared as Jenny in Nasty Habits and equally played the role of Party Girl #1 in six episodes of the comedy-musical TV series, How to Be a Vampire.
In the same year, she scored one of her biggest roles so far in her acting career by portraying a genius technician, Jiya in 27 episodes of the adventure-drama TV series, Timeless. The series made her famous and projected her to a wider audience around the United States and beyond. Claudia Doumit's busy schedule continued the following year as she featured as April in Timothy McNeil's romantic-drama film, Anything. She also scored the roles of Beth Breen and Nelly in an episode of the TV series, Supergirl and In the Moment, respectively. She further reprised her role as Jenny in two episodes of Nasty Habits, all in the same year 2017.
Claudia Doumit continued with her journey as an actress in 2019 with a special appearance in UP There, and Where'd You Go, Bernadette. It was in the same year that she lent the voice of a female protagonist, Farah Karim in the famous video game, Call of Duty: Modern Warfare. Her other films and TV series credits include Dude (2018), The Boys (2020), and Dylan & Zoey (2020). Another feather on Claudia Doumit's cap is producing her first movie, Dylan & Zoey.
How Much is She Worth?
As we mentioned in the introduction, Claudia Doumit may not yet be a household name yet but she has appeared in enough films and television shows to be a recognizable face to an avid movie and TV watcher. These appearances, which, so far have been over 15 projects across both mediums – TV, and Film, have made Claudia a millionaire. She is estimated to be worth $1.7 million and she can thank her appearance in Timeless, one of the longest and more popular projects she has starred in.
Interesting Facts About Claudia's Love Life
Regarding her personal life, Claudia Doumit has successfully managed to keep a tight lid over the years. She is not forthcoming about revealing her dating history or even parading her partners for the paparazzi to see. What we do know is that the svelte looking actress was previously in a romantic relationship with Blake Lewis, an American singer, songwriter, and beatboxer. Before they separated, the two were known for their constant expression of love for each other on social media platforms.
Even though the lovely actress has never disclosed her marital status, rumors that she is a married woman is swirling in the media and this has left her fans confused. There have been some reports that the actress is married to Malcolm Berrett, her co-star in the TV series, Timeless. She left her fans more confused with her current video upload on her Instagram account, where she wished the actor a happy birthday with the caption "There's no one else I'd rather fake marry" on April 23rd, 2020. So far, the duo has neither denied nor confirmed the rumor. It is believed that Doumit will reveal her real relationship status in the near future when she is ready.