Popularly nicknamed 'Chuks', Chuku Modu is the rising English actor who filled the recurring role of 'Aggo' in the season 6 of the HBO hit fantasy drama Game of Thrones, appearing in 3 episodes in 2016. The super-tall actor began his career only recently by taking a one-year acting course in 2012 after which he took roles in a couple of short films in 2014 and 2015. Within just two years of being in the industry, Chuku Modu began to feature in highly rated shows like the Game of Thrones.
This is as a result of his very charismatic outing starring as 'Dr. Jared Kalu' in the American medical drama series The Good Doctor. His perfect portrayal of the character really got Chuku on his start to stardom. Read on to get all the details you need on this young talent.
Chuku Modu's Biography
The British actor was born as Chukuma Modu in Hammersmith, West London on June 19, 1990. He is of mixed ethnicity as his father is an Igbo Nigerian who also holds the citizenship of Germany while his mother has English and Irish roots. However, the names and professions of his parents are not known.
From his early days, Chuku Modu was drawn to two career paths in boxing and acting. Encouraged by his big body, he started training as a boxer from age 12. Around that time also, he began to attend Globe Theater, London. 10 years later, he went for professional training in acting at Richmond Drama School, a part of Richmond School And Sixth Form College located in North Yorkshire, England. This lasted only for a year but it gave the young actor all the leverage he needed in his rise to acting stardom.
Within two years of leaving Richmond, Chuku began to receive credited roles in short films as earlier stated. He featured as an 'Apprentice' in The Dawn (2014) and 'Paul' in Loft No 5 (2014). He also played an unidentified role in another 2014 film, The Last Days of Margaret Thatcher, written and co-directed by Hugo Obregon.
2016 saw the young actor begin to really make his entrance into the world of globally renowned actors. First, that was the year he acted in The Game of Thrones. He also acted as a 'Mauritian Waiter' in the romance film Me Before You, as 'Paris' in Heavy Weight, as 'Rick' in Open All Night, and as 'Talib' in Survive. In 2017, he was a 'Flying Squad Leader' in the American crime comedy-drama web TV series Snatch, appearing in 3 episodes.
So far, Chuku Modu's most important movie role is as 'Dr. Jared Kalu' in season 1 of the American medical drama The Good Doctor. The series is based on an award-winning 2013 South Korean series of the same name.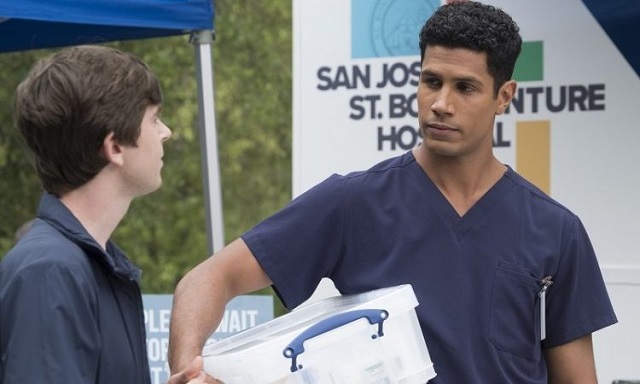 In 2019, Chuku played the recurring role of 'Xavier' in season 6 of CW's post-apocalyptic science fiction drama series, The 100. He also played the role of 'Soh-Larr' in the American superhero film Captain Marvel.
See Also: Piper Rockelle – Bio, Boyfriend, and Facts About The YouTuber
Wife And Family
Chuku Modu was raised in Hammersmith, West London (where he was born) alongside his beautiful sister, Jazz Modu, with whom he shares a great bond as his social media handles frequently testifies. Apart from frequently showing unceasing love towards his sister, Chuku is well bonded with the rest of the family especially his mother. He recently shared an Instagram picture of himself having a good time with his mother and sister which he captioned 'family love.' We also found an Instagram picture of Chuku holidaying with his sister in Venice, Italy.
Judging by Chuku's social media posts, he is obviously dating a beautiful fashion queen identified as Coral Alice Natale. As the founder of a London-based fashion consultancy named We Are Candid, Coral is strictly a businessperson. A day after Valentine's Day of 2016, Chuku shared a picture of him and Coral. The first indication that he plans to marry the fashion queen emerged when Chuku posted a picture of him and Coral together which he captioned 'family'. In any case, there is no report that the duo is getting married soon.
Everything Else To Know About Chuku Modu
Social Media Presence: As already hinted, Chuku Modu is active on Instagram.
In addition to being an actor, Modu is a published solo screenwriter and an executive producer. He is to play the role of 'Charles Hunter' in Freedom's Name Is Mighty Sweet, a yet-to-be-announced film which he wrote and in which he is the executive producer.
The actor also co-wrote the 2016 film Heavy Weight in which he acted as 'Paris'.
Although his Hollywood career has a very recent start, Chuku Modu's net worth is already estimated at $1 million, thanks to his roles in top-grossing screen projects like Game of Thrones, and Me Before You as well as The Good Doctor.