Although he has not officially retired from the industry, his days as an active actor are over. In a career that has lasted more than five decades, Chuck Norris has built a net worth of $70 million. Earned from different sources, most of them came from his acting career which began in 1968. Others include commercials, martial arts, book publishing, and film production. Together, they have combined to make him an astoundingly rich man.
His Films Have Made over $500 Million at the Global Box Office
It may not have been the career he started his professional journey with but acting became the number one source of Chuck Norris's income. He made his debut in the Dean Martin film, The Wrecking Crew, before taking on one of his most acclaimed roles as Colt in The Way of the Dragon.
He starred opposite Bruce Lee in the 1972 martial arts movie to commercial success, making $130 million at the global box office. It launched Chuck's career to stardom, putting him on the road to mega salaries and rousing net worth.
Over the next two decades, Chuck Norris built his reputation as a leading American action and martial art star. His films like Good Guys Wear Black (1978), A Force of One (1979), and The Octagon (1980) were commercial hits, with Norris commanding huge salaries as a result.
He made $40,000 from Good Guys Wear Black, $125,000 from A Force of One, and his highest known salary for a film, $250,000, came from An Eye for an Eye. Although it may not seem like much, that figure is valued at $715.8 thousand in 2020.
Other high-performing films include Missing in Action, Code of Silence, and Invasion U.S.A. He starred as a leading man in over 20 films and has earned over $500 million at the global box office. In the latter years of his stardom, Chuck Norris began filming Walker, Texas Ranger, one of the defining works of his exemplary career.
The Action-Crime TV Series Earned Him Over $30 Million
His 1983 film, Lone Wolf McQuade, which was a critical and commercial success, inspired the series. Walker, Texas Ranger spanned eight seasons between 1993 and 2001, with Norris earning an estimated $375,000 per episode in later seasons.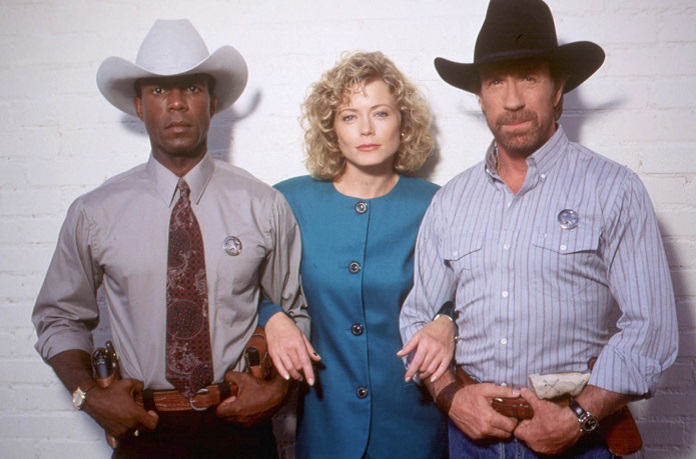 We don't know when exactly he started earning the huge sum. But assuming he signed the $375,000 per episode contract at the start of the seventh season, the season the reported salary leaked, he earned over $18.3 million across 49 episodes. With the 152 episodes that had aired before the seventh season, a conservative estimate of $100,000 per episode would have earned him an additional $15.2 million, bringing his total estimated earnings throughout the show to $33.5 million.
Chuck Norris starred in the show's 2005 TV film, Walker, Texas Ranger: Trial by Fire, so there is a likelihood he earned even more. Since 2005, he has appeared sparingly in films and TV shows, with cameo roles in The Expendables 2 and The Goldbergs in 2012 and 2015, respectively.
Beyond acting, he has been credited for writing and producing; most notably, writing and producing episodes of Walker, Texas Ranger, and the spin-off, Sons of Thunder. However, acting remains the dominant source of Chuck Norris' $70 million net worth.
Top Earning Works for Chuck Norris include:
Walker, Texas Ranger – Over $30 million
An Eye for an Eye – $250,000
A Force of One – $125,000
Good Guys Wear Black – $40,000
Chuck Norris' Days as a Big Earner in Hollywood Might Be Over
Judging from recent records, there are reasons to believe his days of earning bigly from movies or TV shows as an actor might be over.
Although he still makes cameo appearances, with the most recent coming in the penultimate episode of the 10th season of Hawaii Five-0, Chuck's active acting days are over. Before appearing on the show, he last appeared in a 2015 episode of The Goldbergs.
The actor gave up his film career in 2017 to take care of his wife, Gena O'Kelley. She suffers from burning nerve pain and kidney problems after receiving an injection for rheumatoid arthritis.
While his current status as an actor may not earn him any amount, his past work could bring him a huge payday. He sued Sony in 2018 for $30 million over profits from Walker, Texas Ranger. As of October 2019, the court ruled for both parties to settle the case via arbitration. The result of the decision remains unknown.
He Owns Multiple Martial Arts Studios and Founded United Fighting Arts Federation
Before he found acting, Chuck Norris worked as a martial artist and owner of a martial arts studio. After leaving military service in August 1962, where he had started training as a martial artist, he applied to be a police officer. While he waited, Norris opened a martial arts studio, and the rest has been history.
It took a while for his studio to gain traction and attract customers and Norris had to participate in martial arts competitions to promote it. The strategy worked, as his routine wins in various matches and competitions drew fighters to his studio.
He founded the studio in the mid-60s, and by the mid-70s, he had a chain of karate schools all over the country. Asides from regular folk, his schools have taught celebrities like Chad and Steve McQueen, Marie Osmond, Bob Barker, and Priscilla Presley.
In 1979, he founded the United Fighting Arts Federation, as the governing body for the Chuck Norris System, which later became the martial art, Chun Kuk Do. The federation provides schools and instructors with educational opportunities, certification, and other services. The organization also holds the Chuck Norris System World Championship tournament every summer in Las Vegas, Nevada.
We cannot say exactly how much Chuck Norris earns from the federation. Still, it is a significant contributor to his sprawling net worth. For a brief period, so was World Combat League, a full-contact, team-based martial arts competition he founded in 2005. The league existed until 2009, at least, and aired in over 100 countries.
Book Publishing and Brand Endorsements
Beyond acting and martial arts, Chuck Norris has earned from distilling his knowledge into writing. He has published nine books thus far. The first, Winning Tournament Karate, was published in 1975. Others include:
Toughen Up! The Chuck Norris Fitness System
The Secret of Inner Strength: My Story (New York Times Bestseller)
A Threat to Justice
Black Belt Patriotism: How to Reawaken America (New York Times Bestseller)
The Official Chuck Norris Fact Book: 101 of Chuck's Favourite Facts and Stories
The last book, released in 2009, was inspired by Chuck's reputation and mythology as the symbol of virility, strength, and endurance. Brands and companies have also taken advantage and acquired Chuck Norris as an ambassador. He is the main spokesperson for Total Gym and has appeared in advertisements for:
T-Mobile
World of Warcraft
BZ WBK (a Polish bank)
Hoegaarden
United Healthcare
Fiat
Hesburger, Toyota, Cerveza Poker, QuickTrip, Glock, among others.
His likeness has also been used in video games like Non Stop Chuck Norris and Chuck Norris: Bring On the Pain. He has also endorsed books based on the popular Chuck Norris facts like Gotham Books' The Truth About Chuck Norris: 400 facts about the World's Greatest Human. The 2007 book was a New York Times Bestseller, and four more books have since been published.
In 2015, he expanded his income sources following the discovery of an aquifer in his ranch. He and his wife, Gena, founded CForce Bottling Co, a bottled water company. Despite his unofficial retirement from acting, these ventures, and earnings from endorsements, have kept Chuck Norris' net worth on the high.
An Overview of the Sources of His Wealth
Acting – He made over $30 million from Texas, Walker Ranger, and his films have made over $500 million.
Martial Arts – Chuck owns multiple martial art studios.
Endorsements – He has endorsed and served as an ambassador to various brands.
Books – Norris has published five books.
A Significant Portion of Chuck Norris' Net Worth Goes to Philanthropy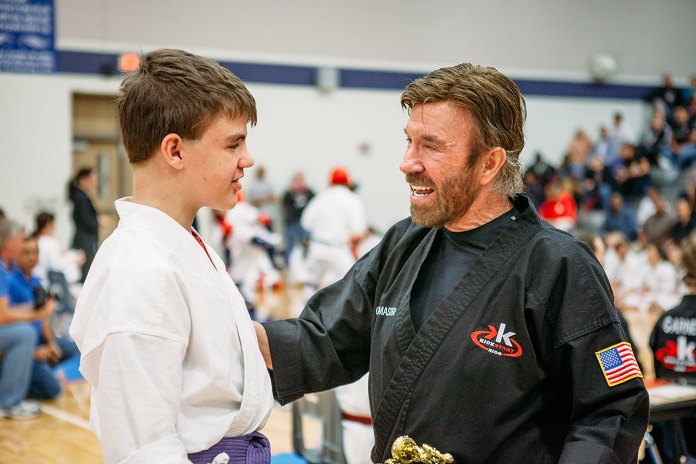 Personal development has been the core of Chuck Norris' philosophy since he became famous. Thus, it comes as no surprise that his philanthropic efforts have been geared towards helping others achieve it. He founded Kickstart Kids, a martial arts NGO, in August 1990.
He founded it as a cost-free program that will teach students the qualities martial arts has to offer. With the help of President George H.W Bush, the program started in four Houston schools and has now expanded to more than 60 schools across Texas, with over 105,000 students taught so far.
Asides from funding the program with personal donations, a portion of sales from CForce also goes towards the program. Other partnerships in his philanthropic portfolio include United Way, Make-A-Wish Foundation, Funds for Kids, and Vijay Amritraj Foundation. His donations to the latter have helped support a pediatric HIV/AIDs home in Delhi and a blind school in Kamataka.