Ever seen the recent Netflix teen series titled 13 Reasons Why? then you'd remember Christian Navarro who played the lead role of Tony Padilla in the series. His outstanding performance in the movie has brought him into the limelight, thus placing him as one of the actors to look out for in the nearest future. He made his acting debut in 2005, appearing in the movie titled Day of the Dead 2: Contagium. Let's find out more about him below.
Who is Christian Navarro?
Christian Navarro is one of the fast-rising American actors, best known for his brilliant roles in movies including the Netflix drama series titled 13 Reasons Why. He has been active in the American film industry since 2005 and has played remarkable roles in movies as well as television series including Blue Bloods in 2013, Taxi Brooklyn and The Affair in 2014 among others.
His Age and Ethnicity
Christian Lee Navarro was born in Bronx, New York on August 21, 1991. He is of Puerto Rican ethnic background and holds an American nationality. Navarro was raised along with his younger sister named Leeann Madisyn Navarro. There's no much information about his parents, however, Navarro has revealed in an interview that they have been supportive and instrumental towards his acting career.
He developed an interest in acting during his childhood days and he also took part in several plays and drama while in high school. Meanwhile, there are no details regarding his educational background. He has a bachelor's degree in Arts and Literature.
He began his acting career by playing a minor role in the 2005 movie titled Day of the Dead 2: Contagium; followed by his appearance in an episode of Law & Order in 2007. He played the role of John White in the 2009 movie Run It, after which he appeared in television series Blue Bloods in 2013. He was a cast in Taxi Brooklyn, The Affair, as well as, Rosewood. Navarro also starred as Jorge in four episodes of the HBO series titled Vinyl in 2016.
The amazing actor got his breakthrough in 2017 when he joined the cast of the Netflix series titled 13 Reasons Why. He has been playing the lead role of Tony Padilla in the American teen web series from 2017 to date. The series was created by Brian Yorkey, starring other stars such as Brandon Flynn, Dylan Minnette, and Miles Heizer.
Currently, Christian Navarro is set to feature in the 2018 biographical movie titled Can You Ever Forgive Me alongside Melissa McCarthy and Richard Grant.
Is He Gay?
Wondering if he is gay or not? Well, he is not the first celebrity neither will he be the last to be caught up in a hoax. Christian is among those celebrities who enjoy striking a balance between their personal and professional life. Since there's no sufficient information regarding his love life, getting mixed up in controversies or rumours is imminent.
Following his role as a gay teenager in the Netflix series, rumours emerged that he is gay in real life. The rumors, however, died off after he clarified issues of his sexual orientation during an interview. He has dated several popular actresses in the past and that serves as a proof to his sexual orientation. Additionally, he has equally disclosed that he is crushing on the amazing female boxer named Paige VanZant as well as the gorgeous American actress-cum-singer Hailee Steinfeld. Apparently, Christian Navarro has straight sexual orientation and he is not gay.
Personal Life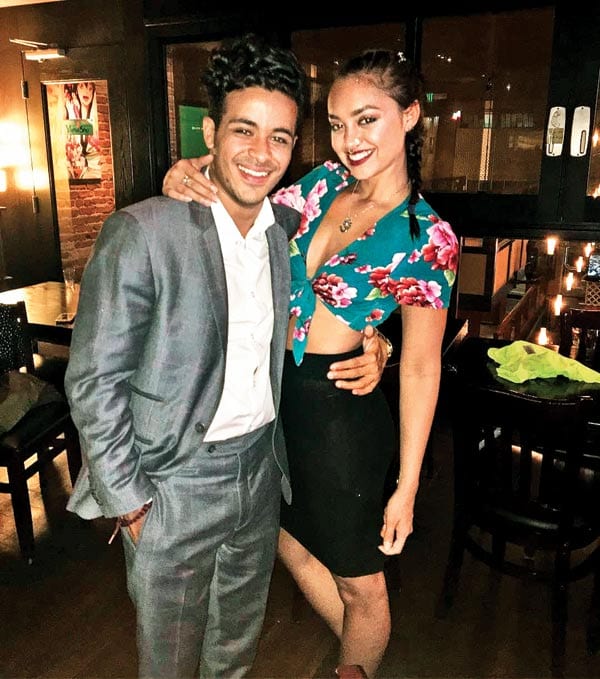 Taking a glimpse of his love life, Navarro is a handsome dude and has caught the fancy of so many ladies. Many of his fans have been itching to hear about his relationships and affairs. Although Navarro keeps information regarding his personal life under the shades, he has been in few relationships till date. According to some sources, he was a one-time husband to the Two Guys and a Girl actress named Traylor Howard, but that isn't true. The young and promising actor reportedly had a brief relationship with the Pakistani actress named Alina Raja.
Furthermore, it might interest you to know that Christian Navarro is currently single and not in any relationship at the moment. Nevertheless, he has two celebrity crushes. Being a mixed martial artist, he has revealed his likeness for Paige VanZant who is a boxer as well as a mixed martial artist. He also has a soft spot for the American actress Hailee Steinfeld whom he classifies as being phenomenal. Navarro is currently focused on reaching the climax of his career and we wish him the very best.
Height and Body Measurements
Navarro is very cute and has an attractive personality. He is a well-trained mix martial artist and that, of course, would tell you that he has a masculine bodybuild. Being a big fan of outdoor activities, Navarro often goes hiking in the sunny climes of California. He stands at 5 feet 6 inches (170 cm) and weighs 70 kg (154 pounds). His hair color is black while he has dark-brown eyes. He has body measurements (chest-waist-biceps) of 43-14.5-35 inches. His shoe/feet size is currently not available.