Who is Chris Hemsworth? How tall is he? These are some of the questions that have permeated popular culture ever since he got his breakthrough in Hollywood via the film, Thor. Since then, he has been a mainstay among some of the most popular and commercially successful blockbusters in the industry, with his role as Thor Odinson in the Marvel Cinematic Universe leading the charge.
Having spent over a decade playing the role, he has achieved a synonymous identity with the Norse God, racking up a high net worth in the process as well as establishing himself as one of the most handsome men in Hollywood. Join us as we explore everything you need to know about the God of Thunder below, including his physique.
Who is Chris Hemsworth?
Considering that the whole world knows him as Thor Odinson, it often takes a second to be reminded that he is a human actor born to human parents. He was born in Melbourne, Australia as the middle child of three born to his parents, Leonie and Craig Hemsworth on the 11th of August 1983. Chris, along with his brothers grew up in both Melbourne and the Australian Outback in Bulman and he attended Heathmont College for his basic education.
He was just 19 years old when he began his career as an actor, making his debut in the TV show, Guinevere Jones. In the same year, he also appeared in Marshall Law and Neighbours. His early performances as an actor suggested that he was talented enough to make a career out of it and he continued in the path, making additional appearances in Fergus McPhail and The Saddle Club.
By 2004, Chris Hemsworth performances began to attract interest both inside Australia and outside of it, all the way to the United States. However, he did not relocate to the US until 2010. Between 2004 and 2007, he appeared in a soap opera, Home and Away. Although he appeared in A Perfect Getaway and Star Trek in 2009, his first major movie in America was Ca$h (2010), where he played Sam Phelan.
In 2011, his breakthrough came, when he was cast in his iconic role as Thor Odinson in the film, Thor. The film performed critically and commercially well, with his performance in the role earning multiple praises. Since then, Chris Hemsworth has built a career around the role, appearing in other movies like The Avengers, Thor: The Dark World, Thor: Ragnarok, Infinity War, and Endgame.
When he is not starring in a movie as Thor, he has played other roles in movies like Ghostbusters, where he showed his comedic acting abilities, his dramatic ability in films like Blackhat, Rush, and 12 Strong. Over time, he has grown to become one of the biggest movie stars on the planet, with his movies so far grossing over $11 billion at the global box office when he has starred in a leading role, a fact that has also made him one of the highest-paid actors in the world.
As an actor, he has appeared in over 40 movies and TV shows and has been nominated for over 35 awards, winning over 12 of them, including the BAFTA Awards, People's Choice Awards, and the MTV Movie + TV Awards.
Is He Married, Who is the Wife?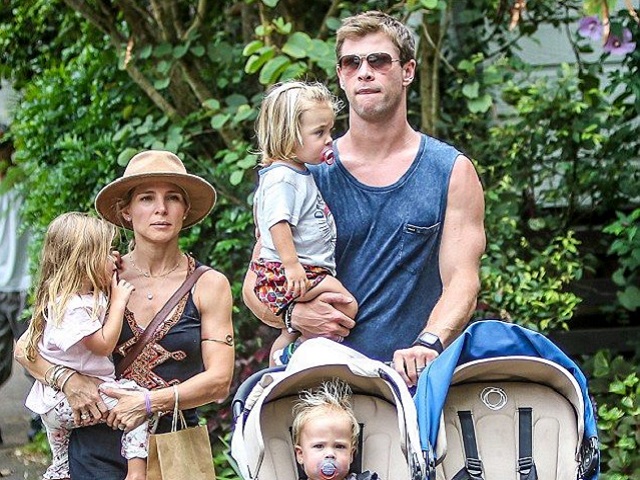 Considering that he was once named the Sexiest Man Alive by People magazine, and his role as Thor has made him a sex symbol to millions of people all over the world, with many ready to jump at a chance to have a romantic relationship with him.
Sadly, they will have to wait as the actor has been married since 2010 to Spanish actress, Elsa Pataky. He met his wife in 2010 after they met through agents. Since they got married, they have given birth to three children, a daughter who was born in May 2012 and twin sons who were born in March 2014. Chris Hemsworth and his family now live in Byron Bay, Australia. Before now, they lived in Los Angeles.
See Also: Robert Downey Jr – Bio, Net Worth, Height, Age, Wife, Son, Wiki
How Tall is He?
Aside from the popularity of his films, his physique is one of the many things Chris Hemsworth is most popular for. His exercise routines and physique have gained plenty of attention enough for him to own a fitness app, Centr which provided nutrition, wellness and exercise routines to paid customers.

The actor has a height of 6 feet 3 inches and a lean body weight of 91 kg, which often fluctuates depending on whatever roles he's playing. His other body facts include a chest size of 48 inches, biceps 16 inches and a waist size of 33 inches. He also has blue colored eyes and light brown/blonde hair.

Fact Check: We strive for accuracy and fairness. If you see something that needs updating,