Does Chris Hemsworth have kids? this question may be easily answered by most Marvel film fans. It is no news that the Aussie actor who rose to fame portraying the Norse God of Thunder. Being a strong-willed fearless man on screen and one of the stars in the world's highest-grossing superhero movie, folks have been curious about what the Thor star's life looks like off the screen.
Hemsworth is a loving husband in his everyday life. He and his famous wife are a low-key couple who swapped the Hollywood glamour to set up a home and start a family. Below are answers to frequently asked questions about the Avengers star.
Does Chris Hemsworth Have Kids?
The woman who stole Thor's heart is Elsa Pataky. The Spanish actress/model is seven years older than the Aussie actor and is best recognized for her role in the Fast and Furious film franchise. She has also starred in films such as Giallo and Snakes on a Plane.
The lovebirds have been married since December 2010, barely a year after being introduced to each other through their mutual representatives. Chris and Elsa whose romance melt hearts share three children together. The Men in Black: International actor is an adoring super dad to a daughter, India Rose who was welcomed in London in May 2012 as well as twin boys Tristan and Sasha who joined the family in California two years later in March 2014.
After welcoming three children, Chris Hemsworth and his family relocated from Los Angeles to Byron Bay, Australia. They live together in their sprawling beach-side mansion which the Thor actor purchased for $7.2 million in 2014. Though they've been in Australia for years now, the Hemsworth-Pataky clan travel a lot.
Although much of their life revolves around their three children, the superstar couple tries to balance work, marriage and raising the kids. It requires much more than being one of the hottest movie stars in the world for Hemsworth to awe his kids. From surfing to fishing to the cinemas to camping adventures to vacations, the doting dad and his kids go almost everywhere together! This is clear through the numerous social media posts where Chris and his wife share their gorgeous family's most beautiful moments over the past few years.
What are His Parenting Principles?
The father-of-three is a real-life superhero to his children. His approach and perspectives on fatherhood are very heartwarming. Although Chris Hemsworth and his wife regularly post sweet photos of their clan on social media, giving fans a glimpse into their amazing family life, the Avengers star is very protective of his family.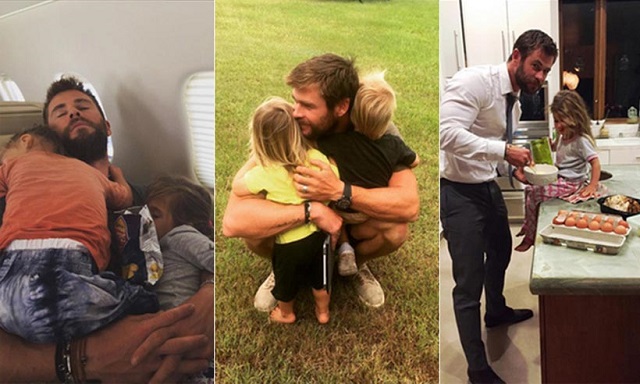 He is one of those celebrity parents who love to protect the privacy of children who aren't old enough to give photo approval. Although Hemsworth and his wife have shared tons of photos of some ridiculously cute moments with their kids, the power couple is known to protect their children from the media. In addition to being cautious about the parts of their personal lives put out to the media, the faces of Chris and Elsa's kids are always turned from the camera.
Ultimately, the Avengers star admits that he tries to teach his children to respect each other and to share. Since Hemsworth's kids are lucky to have it all and are very privileged, he wants them to value it and be generous with people who are not so lucky.
Who are Chris Hemsworth's Family Members? 
Parents
In addition to the frequently asked question – does Chris Hemsworth have kids? the actor's surname has also left folks wondering if he is related to some other famous entertainers. To a majority, the Thor star is one of the most famous actors in Hollywood, but away from the camera, he is a man with strong family values. Chris never hesitates to flaunt his beautiful famous wife, and their three kids as well as his parents and two super talented brothers.
Chris Hemsworth is the second of three sons born to Craig and Leonie Hemsworth. He shares a very close bond with his mother Leonie who worked as a local school's English teacher. His father is a social worker and has mostly earned a living as a social counselor. Today, Chris's parents live comfortably in Byron Bay, not far from their famous son's amazing family home. But this hasn't always been the case. Granted, a big reason Hemsworth ventured into acting was because he loved film and TV, but there was also another strong motivation. Interestingly, while speaking about his early career struggles, Chris admitted that one of the major reasons he went into acting was so as to help his parents financially. Before he landed the role of Thor, the struggling Aussie actor put a lot of pressure on himself to succeed mostly because he wanted to make enough to help his parents pay off their house.
See Also: Who is Billy Ray Cyrus and How Many Kids Does He Have?
Siblings
Chris Hemsworth's kids have uncles who their father shares an amazing sibling bond with. They are his older brother Luke and younger brother Liam who are also famous Hollywood actors. Luke Hemsworth made his acting debut on TV in the hit Aussie soap Neighbours. His other popular screen credits include the sci-fi series Westworld, the movie Hickok and many others. He is also a family man and is happily married to Samantha Hemsworth. The couple shares three adorable daughters together namely, Ella, Holly, and Harper.

The youngest of the Hemsworth brothers is Liam who began acting at age 17. Like his siblings, the baby of the house also appeared in Neighbours and in episodes of some other hit Aussie soaps like Home and Away during his early career days. The Hollywood star relocated to the US in 2009 and has since portrayed tons of natural male characters in popular TV shows and movies. He is best recognized for his role as Gale Hawthorne in the Hunger Games movie franchise.

Liam Hemsworth also gained recognition following his erratic romance with pop star Miley Cyrus. The Hunger Games star and former Disney star became an item in 2009 after meeting on the set of the romantic drama, The Last Song. The stars were in an on-off relationship for many years but eventually got engaged in 2016 and tied the knot secretly in December 2018. Sadly, after about eight months together as man and wife, Liam and Miley split in August 2019, citing irreconcilable differences.

Fact Check: We strive for accuracy and fairness. If you see something that needs updating,