Chris Cornell isn't someone history would forget quickly. The late American musician was vastly admired for being the lead vocalist of prominent rock bands like Audioslave and Soundgarden. Even though he is no longer with us, his musical exploits and accomplishments would inspire many generations to come. Cornell is easily one of the finest musicians that the world has ever known; there is no doubt about that. Among other things, he is regarded as the pioneer of the grunge movement in the 90s.
A multi-platinum singer and songwriter, the numerous nominations and coveted awards that he received are a testament to the fact that he was one of a kind rock star. Cornell received no fewer than 32 nominations for accolades that many musicians can only dream of, out of which he won more than a handful, including 3 Grammys, an MTV Video Music Award for Best Rock Video, 5 Northwest Area Music Awards in various categories, a World Soundtrack Award, and so on.
As his body of work has remained relevant, it is hardly a surprise that people still mourn his death just as many have been inquisitive about the circumstances surrounding his passing and what it has to do with the demise of other musicians. Let's learn about all that here; including other facts worth knowing about the singer.
Chris Cornell Bio
Karen Cornell, a psychic and accountant of Jewish heritage, and her husband Edward F. Boyle welcomed one of their six offsprings on the 20th of July 1964 and named him Christopher John Boyle. But then, Karen and Edward would abandon their union and it eventually led to the kids changing their surname to bear their mom's maiden name. Christopher had 5 five siblings – three younger sisters and two older brothers; they were all raised in Seattle, Washington.
To the best of our knowledge, Chris Cornell was a performer right from the earliest days of his life. The first time he sang for a gathering was in elementary school when he performed the anti-war song, One Tin Soldier. He later started learning how to play the guitar and other instruments. When his mom gave him a side drum, it marked the beginning of his adventure as a rockist.
His recording career as a solo artist is as successful as his musical projects as a member of a group and his collaboration efforts. Chris Cornell's discography boasts much more than the five albums he released in his solo career. He dropped an album with Temple of the Dog in 1991. With Soundgarden, he released six albums and his albums with Audioslave are three in number, including Out of Exil (2006) and Revelations (2006).
Chris' Family: Did He Have Wife and Kids?
Chris Cornell was married twice in his lifetime. His first marriage was to Susan Silver, an American music manager. They became life partners sometime in 1990 and got divorced in 2004 following a lengthy court battle. The marriage saw to the birth of his first child, a daughter named Lillian Jean.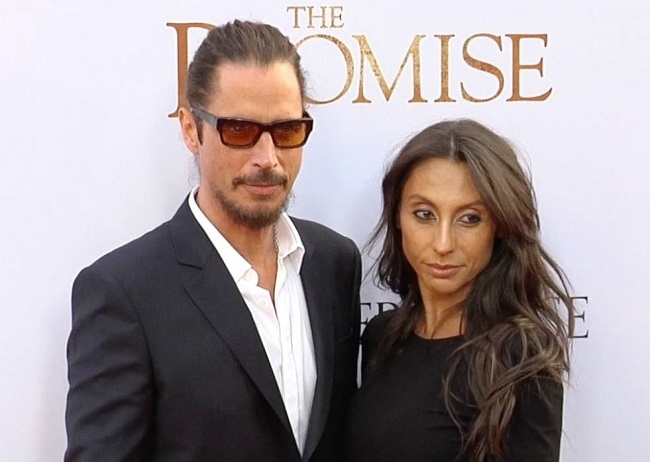 The same year Chris and Susan ended their marriage, he got married to a publicist named Vicky Karayiannis. With her, he welcomed his second daughter Toni in September 2004 and his son Christopher Nicholas in December the next year (2005).
His Death
The musician battled depression and substance abuse a great deal. As such, it is widely believed that it has something to do with his death. But then, even as several drugs were found in his system after his death, an autopsy and toxicology report ruled that drugs had nothing to do with his death.
The cause of his death was upheld as suicide by hanging as the musician was discovered lifeless with a bloodied mouth and an exercise band around his neck in the bathroom of his hotel room at the MGM Grand Detroit. It was determined that he took his life after the surveillance video failed to show anyone entering or leaving his suite after his bodyguard left.
Chris Cornell's passing has always been linked to that of Ian Curtis and Chester Bennington who were both rock stars. The reasons for this isn't far-fetched; Chester and Chris were good buddies and the demise of the latter made it difficult for Chester to cope with the life challenges he was facing. It is believed that this motivated him to as well commit suicide by hanging on July 20, 2017 – a day that Chris would have marked his 53rd birthday. Meanwhile, Chris died on May 18, 2017. On the same day 37 years ago, Ian also committed suicide by hanging.
Read Also: Steve Damstra, Paget Brewster's Husband – Facts About The Composer
What Was His Net Worth?
In view of the height he attained in the music industry and his other endeavors, it shouldn't surprise anyone that his net worth was estimated at $60 million after he passed on in 2017. Details of how his fortune was shared are hard to come by but it is assumed that the wealth was distributed among his second wife and his three kids with the first woman he married getting nothing.
Chris Cornell's Height
The musician was a good looking fella, loved for his talent as much as he is admired for his physical features, sentiments, and graceful carriage. Frisbee, as he was nicknamed, was 6 feet 3 inches (1.92 m) tall.

Fact Check: We strive for accuracy and fairness. If you see something that needs updating,