Chloe Bennet originally known as Chloe Wang is better recognized as Daisy 'Skye' Johnson in Marvel's hit TV show Agents of S.H.I.E.L.D. The Asian-American actress and singer has been a stunner since she took the bold step to move to Los Angeles at age 17 in pursuit of a showbiz career. Away from the cameras, there have been queries about Chloe Bennet's boyfriend and love life. The Abominable actress has been in at least two high profile relationships, including the one with controversial YouTube star, Paul Logan. But since the heart simply wants what it wants, it is sometimes difficult to understand the attraction between people. Here's an insight into Bennet's romantic life.
Why Did Chloe Bennet and Paul Logan Split?
The Agents of S.H.I.E.L.D. actress seems to have a thing for her fellow actors. Prior to Logan, Chloe Bennet's boyfriend was One Tree Hill star, Austin Nichols. The pair reportedly met in 2013 while filming Agents of S.H.I.E.L.D and soon transferred their on-screen romance to real life. Chloe and Austin were an item for four years before calling it quits in 2017. Before Nichols, Bennet was romantically linked to actors Tony Oller (2011) and Sam Palladio (2012) but each of these relationships barely lasted more than a year.
About a month after the actress broke up with Austin Nichols, rumors of Chloe Bennet and Logan Paul's relationship began to swirl in mid-2017 when the actress and YouTuber were spotted kissing while vacationing in Hawaii. The two Valley Girl co-stars reportedly met on the set of the 2018 movie which was shelved in the wake of Paul's controversy. Chloe and Logan initially claimed to be just friends but after the steamy Hawaii romantic getaway picture, fans demanded answers.
Later in July 2018, the pair fondly known as "Chlogan" confirmed their romance on social media. The lovebirds let people know in no uncertain terms that they were happily loved-up. But Chloe Bennet's boyfriend is known as a controversial YouTube star and it wasn't long before fans began questioning why the Abominable star chose to form a romantic relationship with the seemingly goofy and immature vlogger.
Chloe Bennet took to her social media accounts to stress the reasons for her affection and benevolence to Logan Paul, especially after his controversial Japanese Suicide Forest vlog. Bennet is believed to have helped Paul through the controversy which elicited backlash for the YouTube star following a video he posted that appeared to show the body of an alleged suicide victim in Japan. After the incident, Logan deleted the video, apologized, and took a month's break from YouTube. He later returned with claims of how his life has changed.
Regardless, Chloe Bennet didn't think the incident was enough to kill her affections for the YouTube star. While stressing that Logan had changed her "life for the better," the Agents of S.H.I.E.L.D. actress described him as one of her best friends. Bennet also admitted that she considers Paul fun, weird, charming, creative, kind, and vibrantly curious about life.
Chloe Bennet's boyfriend also confirmed their romance by posting an emotional tribute to the actress on social media, appreciating her for always supporting him. Paul admitted that she won his heart after standing by him when he faced the backlash. According to the YouTube star, Chloe risked her career and personal friendships to stick her neck out for him, and also helped him grow into a more responsible vlogger. While their romance lasted, Bennet and her hunky beau not only shared the screen but also bought a lovable pig named Pearl Bing Bing together.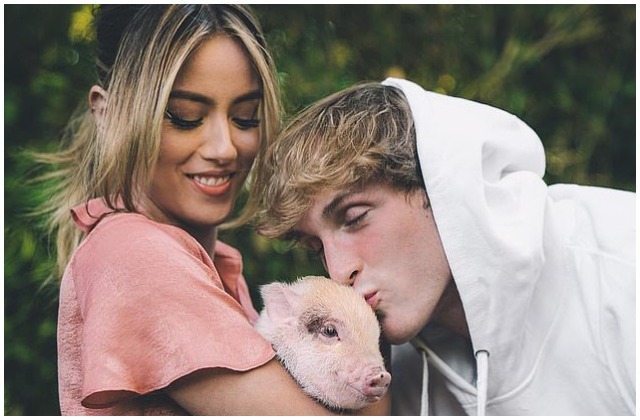 Despite Bennet's claims of staying true to her lover, Chlogan reportedly called it quits after three months of confirming and defending their relationship. The rumors of their split emerged in late October 2018 after fans noticed the actress erased all their pictures together from her Instagram account. The couple was also believed to have unfollowed each other on social media at the time. But amid the speculations and perhaps in a bid to refute the claims, Logan posted a video on Instagram which showed himself and Chloe lying in bed.
Since then, Bennet has decidedly been silent on the breakup, but Paul has been the one to offer some explanation to the public about their split. In one of his December 2018 'imPaulsive' podcasts, the YouTube star alleged that Maverick member Mike 'Hey Big Mike' Majlak who felt that Paul and Bennet weren't "right" for each other was "single-handedly responsible" for ruining their relationship.
Who is Chloe Bennet's Boyfriend After Split From Paul?
https://www.instagram.com/p/B8kzi-gHHNC/
So far, there have been no official statements from either Chloe Bennet or Logan Paul regarding their split. However, the couple's conspicuous social media activities have hinted at the possibility of their reconciliation. Only time will tell if the ex-lovers will rekindle their flame.
On the other hand, there are also speculations that the Agents of S.H.I.E.L.D. actress has a new beau. If her Instagram activities are anything to go by, it may be safe to say Chloe Bennet's boyfriend at the moment is DJ Sam French. However, besides pictures and videos of the actress and music artist getting cozy, there is no further evidence to support the rumours. For all we know, Chloe is possibly single at the moment and may just be taking her time before getting into any relationship.