As the leading film and television industry in the world, Hollywood is never shy of new and young actresses joining the industry and going on to become globally recognized personalities. In 2010, that was Chloe Bennet, who, at a young age, has become an international star due to her role as Daisy Johnson, aka Quake in the ABC show, Agents of SHIELD.
While Agents of SHIELD remains her most prominent role since she made her debut, she has appeared in other notable projects, including a voice role as Yi in the animation film, Abominable. There is plenty to learn about the Chinese-American actress, and in this article, we discuss her career, as well as her height and body measurement.
How Old is Chloe Bennet?
Chloe Bennet was born on the 18th of April, 1992 in Chicago, Illinois. Her parents are Stephanie Crane-Wang and Bennet Wang – an internal medicine doctor and an investment banker respectively. She is the only daughter born to her parents, and she has seven siblings, three of whom are adopted. Not much is known about her education, but she attended St. Ignatius College Prep for her primary education.
The actress took an interest in performance art from a young age. At the age of 12, she joined the Second City Youth Ensemble where she began to learn acting and improv. Three years after, at the age of 15, she was signed by a music talent manager and relocated to China, where she began a career as a singer.
In China, she lived with her paternal grandmother, learning Mandarin and pursuing a music career. As an aspiring singer, she traveled to Sweden to work with songwriters and producers, and finally, in 2011, at the age of 19, she released two singles, Uh Oh and Every Day in Between.
The song Uh Oh became a hit track in China, and its music video was featured in several major Chinese media outlets, including MTV Asian, Channel V, and CCTV-3. Through the song, she became a popular figure in the Asian country, and she performed at major events like the Zebra Music Festival. She featured in several commercials for major brands like Umbro, Nike, and Ports 1961.
However, despite a seemingly thriving music career, Chloe Bennet wanted a career as an actress, so she relocated to Los Angeles, California, and began to audition for roles. She had trouble booking roles, something the actress attributed to racism, causing her to adopt her father's first name as her last name and avoid being cast as an ethnic Asian American.
Her first role as an actress came in 2012, when she was cast as Tess in the TV movie, Intercept. In the following year, she was cast as Hailey in Nashville, appearing in a recurring role across seven episodes.
In 2013, at the age of 21, Chloe Bennet got the role of a lifetime as Daisy Johnson in the ABC show, Marvel's Agents of SHIELD. Through the show, where she quickly became a fan favorite and went on to achieve international fame. She appeared in a total of 136 episodes across seven seasons. She also reprised her role in other projects like Agents of SHIELD: Slingshot and the Marvel Rising series.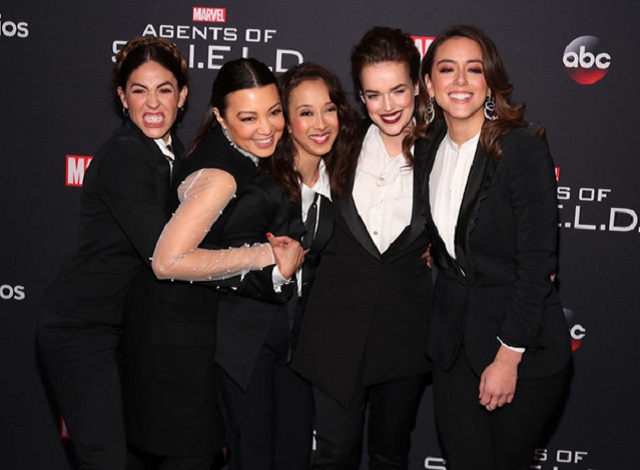 During her time as Daisy Johnson, Chloe also appeared in other projects like The Birthday Boys, Jake and the Never Land Pirates, and a couple of others. Other notable roles in her filmography include Valley Girl, Abominable and 5 Years Apart.
So far, Chloe Bennet has appeared in more than 15 movies and TV shows since she transitioned to a career as an actress. Since she began her career, she has received a couple of award nominations, including Teen Choice and Kids' Choice Awards.
Her Height and Body Measurement
One of the driving forces of Chloe Bennet's achievements in Hollywood at a young age is her beauty. The actress is considered one of the most beautiful women in American television, and taking a look at her, it is hard not to see why.
See Also: Chloe Bennet Net Worth Since She Starred In Marvel's Agents Of S.H.I.E.L.D?
The Chicago native's beauty manifests in a body with a height of 5 feet 5 inches and a lean bodyweight of 55kg. She has a slim build and has a body measurement of 32, 24, and 34 inches for her bust, waist, and hip sizes, respectively.
Additionally, she has dark brown hair and eyes and wears a size 8 US shoe size. She also has a US dress size of 4.