Living in an isolated area of Alaska has become a way of life for Chip Hailstone and his family. The media star's family have continued to live a secluded life far away from having access to basic amenities. They are being surrounded by foxes, wolves, and bears as well as living under a temperature of minus 60 degrees. Nevertheless, Chip and his family have succeeded in living above their shortcomings, thus making a name for themselves. Not only did they start a reality TV series but they have made their place of abode a great tourist destination in the United States. Read on, as we unravel everything you need to know about the Life Below Zero star below.
Who is Chip Hailstone?
Chip Hailstone is a popular American reality television star and adventurer; notable for being one of the stars of the show known as Life Below Zero. The reality series airs on the National Geographic Channel and it revolves around the Hailstone's daily struggle for survival in the deserted area of Alaska with an extreme cold weather condition.
The TV star was born as Edward V. Hailstone on the 5th day of March 1969 in Kalispell, Montana. Chip is a very private person, hence nothing much is known about his childhood experiences. The much we could gather is that he grew up along with his parents Daniel and his wife Mary Hailstone. When he was very young, his dad trained him to be a good hunter and craft-maker. Those skills have helped facilitate his survival in Alaska. Unfortunately, it is not known if Chip had received a formal education or not.
The Life Below Zero star left his home in Montana when he was nineteen and moved to Alaska. On his arrival in Alaska, Chip the adventurer settled in Noorvik near the Kobuk River. Going from a better world to a deserted area, he resorted to hunting animals and fishery for his survival. With woods, he constructed a place of abode and he makes a campfire to keep himself warm at night. Undoubtedly, Chip has spent more than half of his life in Alaska; he has raised his own family and practically created a life out of nothing.
His Wife and Family Members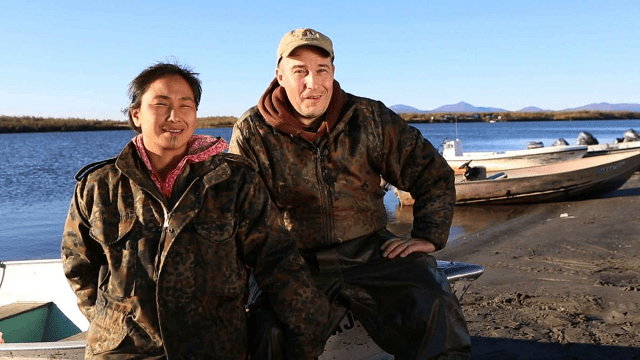 After spending a few years in Alaska, Chip met with a lady named Agnes who later became his better half. Agnes is three years younger than Chip and she is of Alaskan origin. Agnes' family has lived in Noorvik for several years even before Chip arrived. Due to their excellent chemistry and instant bonding, the pair fell in love with each other. Not long after their meeting, the couple began a relationship which ended in a marital bond afterwards. However, the records of their wedding and relationship details have not yet been revealed for the media consumption. Together, they have five daughters namely Qutan Hailstone, and Caroline Hailstone, as well as Mary, Iriqtaq, and Tinmiaq Hailstone.
Just like Chip and Ages, their daughters have also trailed the same path as their parents and have also learned survival skills too. Interestingly, Agnes also had two sons named Doug Carter and Jon Carter from her previous marriage. After their wedding, Chip also adopted them as his sons. Two of their daughters Mary and Iriqtaq are both active in athletics. Iriqtaq graduated from high school in 2015, while Mary is still in high school and plays basketball with her school's basketball team. In addition, Chip and Agnes are both grandparents as their daughter Iriqtaq is already married with her own kids.
See Also: Andy Bassich Wife, Age, Wiki, Bio, Divorce from Kate Rorke Bassich
Why Did He Go To Jail and Where is He Now?
Chip Hailstone has been a prominent figure on the famous documentary series called Life Below Zero. The National Geographic Channel show tends to document the life of Chip, his family, and other inhabitants of the isolated areas of Alaska. Recently, Chip disappeared from the TV screens, thus raising several eyebrows from the part of his fans who thought the star has died. However, it was later confirmed that Chip has been facing the rot of the law after a wrongful accusation.
According to the story, Chip Hailstone was said to have been convicted after having a faceoff with two state troopers that came to their area in 2011. The star had alleged that one of the troopers had forcefully taken advantage of his daughter. As a result, he went on to file a complaint and also obtained a restraining order against them.
While the case was brought to the Alaskan court, the second trooper who was present at the time of the incident confirmed with the jury that Chip's allegations were false. Following his unsubstantiated allegation, the media star was charged with perjury and falsifying information he rendered to the police. He was sent on one year and three months prison sentence in December 2012, a judgment which he contested for several years.
However, in 2016, the case was granted a retrial after which Chip was still found guilty; hence, reinstating the initial sentence. In addition to his one year and three months prison sentence, Chip also got a three-year probation sentence for the same crime. Currently, Chip has been serving his term in a Correctional Prison in Alaska.