A very bubbly and ebullient man, Chip Caray is an American media personality who has been in the business of broadcasting for quite a while. He has worked for different media houses, cementing his place as one of the very interesting sportscasters to watch. During his career so far, he has covered a lot of sporting events and has also worked occasionally as a radio host, showing just how versatile he is as a broadcaster.
Chip Caray now works for Fox Sports South and Fox Sports Southeast as a television broadcaster, covering the Atlanta Braves baseball, an American professional baseball franchise. He also covers the Southeastern Conference basketball, winning over a lot of fans who have fallen in love with his charm and charisma.
Chip Caray's Bio
Chip Caray was born on the 27th of February, 1965. The media personality was born in St. Louis, a major city in Missouri, USA. He has lived and worked in America all his life. Even though everyone now calls him Chip Caray, it is noteworthy that his full birth name is actually Harry Christopher Caray III.
Chip was born to a father identified as Skip Caray and his mother's name has been revealed to be Lila Haberberger. Chip's father divorced his mother when he just 4 years old; his father would later proceed to marry a woman named Paula Caray.
However, his parents' divorce did not impede his proper upbringing as he was raised well by his mother. The media personality has three half-siblings; one brother and two sisters with whom he grew up. His brother's identity has been revealed to be Josh Caray and his sisters are Cindy Hines and Shayelyn Woodbery.
Details about Chip Caray's elementary education has remained quite vague. However, we know that he attended Parkway West High School, a comprehensive high school in Ballwin, Missouri. He then proceeded to attend the University of Georgia from where he graduated with a degree in Journalism in 1987. He has since gone on to make a name for himself as a media personality.
Details Of His Wife & Kids
Chip Caray is now a happily married man; he is married to a woman called Susan Caray. The exact period or manner in which they met and fell in love is not clear. However, we know that they tied the knot as husband and wife in 1996. The couple have been together ever since their marriage and it appears their love keeps growing with time.
The marriage between Chip and his wife, Susan has now produced four children; three sons and one daughter. Their sons have been identified as Christopher, Stefan, and Tristan while their daughter's name has been revealed to be Summerlyn Caray.
Chip Caray's Net Worth
Chip Caray has had an illustrious career as a journalist and has worked extensively in the sports arena over the years, winning lots of accolades and apparently raking in quite a lot of money in the process.
According to reports, his annual salary is about $100,000 and his net worth has been pegged at over $1 million by various sources.
He Comes From A Family of Broadcasters
The interesting thing about Chip Caray is that he comes from a family of broadcasters. His father, Skip, was a broadcaster for the Atlanta Braves and worked on the job for a long time before he sadly passed away in 2008. Chip's grandfather, Harry, was also a broadcaster who was known for calling games for different teams including Oakland Athletics, St. Louis Cardinals, and others.
Also, Chip's brother, Josh, is a radio broadcaster who works for the Hudson Valley Renegades. Having come from this line of broadcasters, it is not surprising at all that Chip has become a broadcaster himself.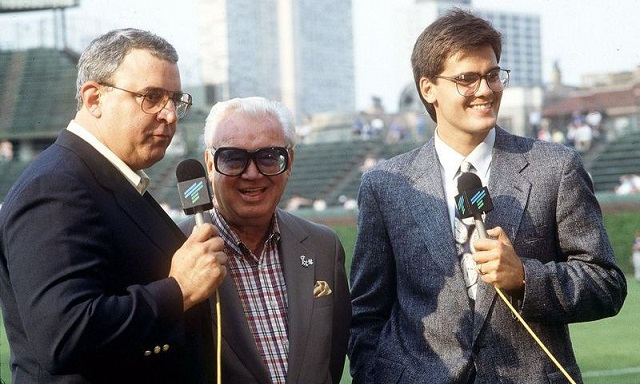 His TV Career
Following his graduation from the university, Chip Caray landed jobs at some local TV stations in Panama City, Florida. In fact, from 1989 to 1996, Chip worked as the play-by-play broadcaster for the Orlando Magic of the NBA in Florida. He also worked for TV stations in Greensboro, North Carolina, gaining lots of valuable experience in the process which would go on to help him during his career.

Read Also: Joss Fong – Bio, Net Worth, and All About The Journalist

Chip took up a job with the Chicago Cubs In 1998 and worked alongside his grandfather there. Sadly, his grandfather died not long after. In 2004, after Chip left the Cubs, he went on to sign a deal with TBS and worked there until it was announced in 2009 that he was leaving. By this time, he was already making quite a lot of buzz around the US for his stunning style of broadcasting which involved sessions of him mimicking his father in a hilarious manner and exciting viewers.

After he left TBS, Chip joined Fox Sports South and Fox Sports Southeast and now works for them as a television broadcaster.

Fact Check: We strive for accuracy and fairness. If you see something that needs updating,