Chelsea Handler has become one of the most-watched comedians of our time. The Sexy Handler, as she is fondly called, is a multi-talented woman who has gone a long way in touching the lives of many through her creative ideas. Her stand-up comedy gigs have not only been televised on the E! Network, but also on Comedy Central's Premium Blend, VH1's Love Lounge, and HBO's broadcast of the Aspen Comedy Festival.
She is also a well-known actress and bestselling author. Her creative writings, as well as roles on television, have earned her so much fame and fortune around the world. Little wonder she was mentioned as one of the most influential women in the world, this was in Time's 100-list for 2012.
How Old Is Chelsea Handler?
Daughter of a homemaker, Rita née Stoecker, and a used car dealer, Seymour Handler, Chelsea Joy Handler was born on February 25, 1975, in Livingston, New Jersey, and has five siblings – two sisters and three brothers. The American comedienne belongs to the Ashkenazi Jewish and German ethnicity and spent her formative years in Livingston. She took part in beauty pageants as a teen and subsequently aspired to make a career as an actress.
To achieve this purpose, Chelsea Handler left New Jersey for Los Angeles at the age of 19. She spent the next two years working odd jobs and trying to break into Hollywood without much success. Her fortune, however, turned for the better after she decided to try her hands at comedy.
Her Accidental Plunge into Comedy
The New Jersey native was first motivated to go into comedy after telling a story about driving under the influence (DUI) to her fellow offenders. The gathering found her tale quite hilarious and she continued to hone her comic chops, soon landing on the reality TV comedy show, Girls Behaving Badly, in 2002. Afterwards, she featured on other shows like The Bernie Mac Show, My Wife and Kids, The Practice, and Weekends at the D.L.
The Financial Rewards From Her Accomplished Career
Revered for her earthy and raunchy style of comedy, Chelsea Handler has been able to establish a flourishing career that spans more than two decades. Her works cut across several creative spheres and this has helped her build up a fortune worth $35 million with an annual income estimated at $10 million. The New Jersey native makes her money from several sources, including her TV shows.
Chelsea Handler's Most Rewarding TV Shows
In 2006, Chelsea Handler began hosting her show titled The Chelsea Handler Show, on the E! Network. The show comprised of live stand-up acts and comedy sketches and ran for 12 episodes. It proved to be a big hit and as such, the head honchos at E! had no hesitation rewarding her with a late-night talk show, Chelsea Lately, which premiered in 2007. Chelsea Lately featured stand-up, as well as a revolving door of interesting guests and was a big hit with more than 500,000 viewers each night. Its host meanwhile made history as the second woman to host a late-night show on American TV.
Earnings from Book Deals and Acting Gigs
Asides her eponymous shows, Chelsea Handler has also featured in several TV series, as well as a few movies, including Will & Grace, This Means War, and Call Me Crazy: A Five Film. The comic has also produced two highly-successful documentaries for Netflix, Chelsea Does and Hello, Privilege, It's Me Chelsea. Both have received critical and commercial acclaim and boosted her income.
Away from TV, Chelsea is a best-selling author. Her first three books, Are You There, Vodka? It's Me, Chelsea; My Horizontal Life: A Collection of One Night Stands, and Chelsea Chelsea Bang Bang, made it to the top of the NYT bestselling lists.
This magnificent achievement spurred her publishers, Grand Central, to give her an imprint, i.e. publishing brand, as well as a three-book deal back in 2010. Under this deal, Handler has gone on to drop three more books Uganda Be Kidding Me, Lies That Chelsea Handler Told Me, and Life Will Be the Death of Me, and two of them have topped the NYT bestsellers list as well.
Her Love Life Is As Interesting As her Career Adventures
Chelsea's love life is as interesting as her stand-up comedy gigs. At the age of sixteen, the comedian discovered that she was pregnant for her unnamed boyfriend and although she wanted to keep the baby, her parent advised her otherwise. She, therefore, terminated the pregnancy and moved on with her life. Since then, Handler has made it as a comedienne and has gone on to date several famous men including the CEO of Comcast Entertainment Group, Ted Harbert, and the famous American rapper 50 Cent.
Her Romance with Rapper, 50 Cent, and E! CEO, Ted Harbert
Handler met and started dating Harbert in 2006 and it lasted until 2010 when she publicly confirmed through her late-night talk show that they were no longer together. That same year, she met a Canadian nature TV star, Dave Salmoni, and they dated briefly until she met the American rapper 50 Cent in July. Chelsea and 50 only dated for a few months before they broke up in December 2010.
Talking about her relationship with 50 Cent, Chelsea revealed that he is not the only black man she has dated. According to the comedy star, she dated more black men while in high school. She also admitted that she has a thing for black men, mostly because "black guys are very, very masculine". On why they separated, Chelsea Handler revealed that she decided to quit when she found out that 50 Cent was having talks with his ex-girlfriend Ciara who happened to still be in love with him.
See Also:  Pete Davidson – Height Comparison And Ethnicity Of The SNL Comedian
Dating Celebrity Chef, Bobby Flay, and Hotel Mogul, André Balazs
In 2011 Chelsea fell in love with another business mogul, the president/CEO of André Balazs Properties, better known by as André Balazs. They dated until September 2013 when they parted ways. In January 2016, she was spotted with celebrity chef, Bobby Flay, while they were out on a dinner date in Santa Monica, Califonia. She confirmed being in a relationship with Flay during a radio interview in December 2016.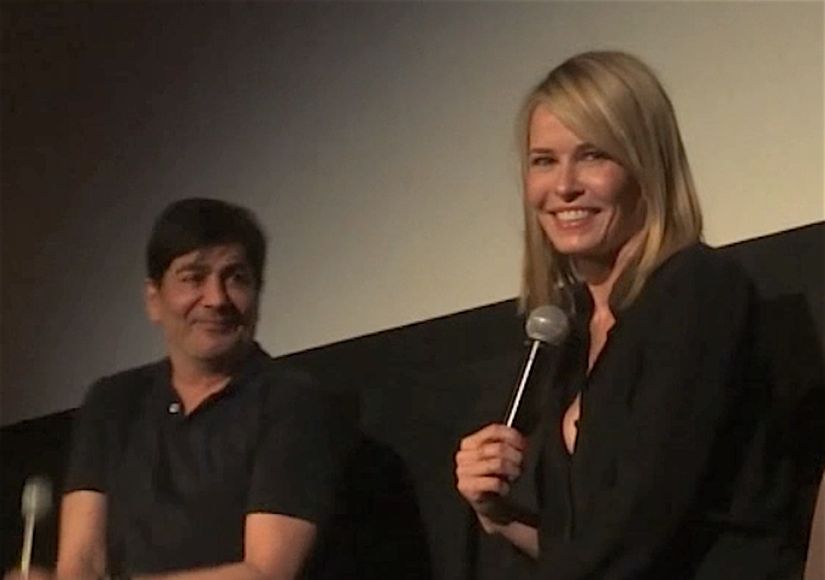 That particular romance with the celebrity chef has now come to an end and, to the best of our knowledge, Chelsea is now officially single. Even though the comedienne sparked off dating rumours after she was spotted in London enjoying dinner with movie director Alek Keshishian in 2017, it later emerged that nothing was going on between them as the two are just good pals and have been so for a long time. Keshishian is a true fan of Handler's TV shows and has been featured as a guest occasionally. He has also joined her as a guest on her podcast.