Chelsea Ambriz may be known for other things but her claim to fame is as a result of her career as a television personality. The American weather forecaster is a popular face of the WSAZ TV station in West Virginia. Even as it will be mischievous to proclaim her the finest weather woman around, there is no denying that she has been able to accomplish what many can only dream of in her chosen endeavor.
Not long ago, Chelsea was in the news for the wrong reason – exchanging blows with another broadcaster, Erica Biven. It was said that the physical altercation was over Erica's partner. And, that Chelsea inflicted serious injuries on her colleague during the altercation, such that led to her arrest and she was subsequently charged with misdemeanor battery. The case, however, was dismissed in court after the complainant refused to show up to the court hearing of the case.
As one would expect, the pair lost their jobs due to the incident. If you are curious about the media personality's lifestyle and family, read her profile below.
Chelsea Ambriz Bio & Age
A citizen of the United States of America, it was in Indianapolis that Chelsea Ambriz was born on the 17th of June and in the Year 1992. Born to American parents whose names are not known to the media, she was raised and brought up in her hometown alongside her sister Emily Ambriz.
We've come to learn that Ambriz was inspired to become a weather person and a scientist after watching the documentary How the Earth Was Made.
Unfortunately, there is no information about her early education as a child and even as a teenager. Nonetheless, we can tell that she studied at Purdue University where she obtained a bachelor of science degree (B.SC) in Atmospheric Science in 2014. While she was studying there, she became a part of the school's Weather Forecast club and was a weather-person for the athletic school division, local radio stations, and the Indiana transportation division. She also worked as a broadcaster and co-anchor for the university's news team and was a trainee for WISH-TV in Indianapolis while she was a university student. She also has an additional qualification in communications and in entrepreneurship and innovation.
Chelsea Ambriz, while in school, conducted and finished a research project for Red Cross which had her creating an algorithm aimed at indicating and tracking tornados. In 2015, she was offered a job by the ABC and CBS affiliate television station WBBJ TV as a broadcaster in the station which is situated in West Tennessee. Ambriz worked with the station for two years before leaving there in 2017.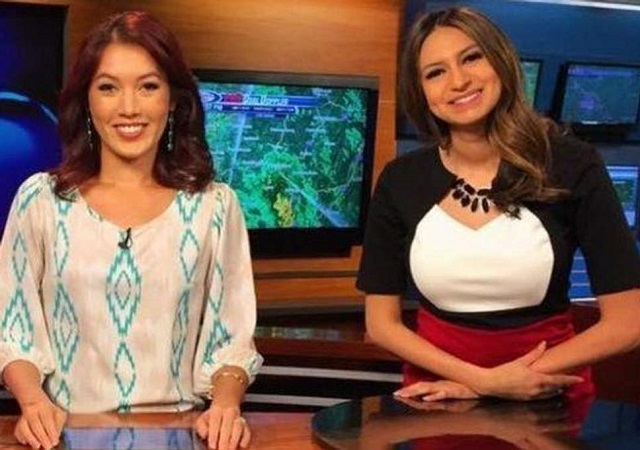 Up until her recent altercation with a fellow worker which made her lose her job, Ambriz was an employee of WSAZ-TV where she was the station's forecaster on their 4 pm news weather session.
Is Chelsea Ambriz Married?
Chelsea Ambriz is very much single and does not seem to have any love interest in her life at the moment. During an outing to the West Virginia Carnival Fundraiser event at the Clay Centre for the Arts and Sciences, she took a picture with a young handsome and unknown man who many would have thought to be her boyfriend after she shared the picture on her Instagram page.
But the media personality stopped any assumptions by hashtagging on the picture caption the words "Not My Boyfriend". Apparently, she wanted to let everyone know that the fella was just a friend she had a good time with. To a large extent, Chelsea has been able to keep her personal life off the media, therefore not much is known able her love life.
What is Chelsea Ambriz's Net Worth?
Chelsea Ambriz has gathered a net worth of $300,000, she was able to achieve this because of the success she has had in her career and as a reward for her hard work and dedication to her job as a television personality. The information about how much she earned as salary before she lost her job is not known but judging from her net worth, she earns a decent amount of money as a broadcaster.
Read Also: Jennifer Pfautch – Age, Son, and Facts About Omari Hardwick's Wife
Details of her Height
The weather forecaster is 5 feet 7 inches tall. Her model-like looks are no doubt the kind of looks many ladies wish to have. The TV star has a well-shaped body and hardly would anyone assert that she isn't good-looking.