Channing Tatum is an American actor who began his Hollywood career in 2004 starring in an episode of CSI: Miami. He is also a dancer and model, however, he is popularly known as an actor. Channing gained his big break a year later with the movie Step Up and solidified his movie star status with the G.I. Joe action film series, Magic Mike, and 21 Jump Street.
Although he has achieved so much success in his career, his personal life has not been without some bumps. For instance, his nine years of marriage to Jenna Dewan ended in a divorce which was finalized in November 2019. Given how cute people believed they were together, many continue to wonder what happened to their marriage.
Channing and Jenna Abandoned their Marriage Because they Were Unhappy and Hurting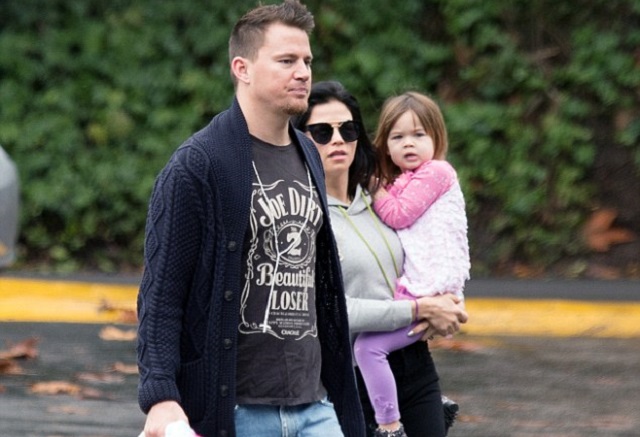 The couple was married for about nine years before they decided to part ways. They met while filming the 2006 film, Step Up. However, it was after the film wrapped up that they began dating officially. By 2008, they got engaged, and then in 2009, they cemented their relationship and became life partners: they tied the knot in a ceremony at Church Estates Vineyards in Malibu, California.
Their union was blessed with a daughter named Everly Tatum who was born on May 20, 2013, in London. However, to the shock of everyone, the beloved couple announced that things had broken down for them in April 2018; that they had decided to end their marriage. In a joint Instagram statement, they related that the decision to end the marriage was a mutual one. Based on what they offered, nothing had changed about their love for each other, and "no secrets nor salacious events" inspired the decision.
Recent Revelations About the Divorce
Even though one would instinctively conclude the two were not being open about the reason behind their separation, there were no reasons to probe for further details. Despite the fact that they had a short custody battle, they decided on 50/50 custody of their daughter and managed to remain close for her sake.
But then, Jenna Dewan has been speaking out of late about her marriage to the famous actor. In her recent book titled Gracefully You: How to Live Your Best Life Every Day, the actress divulges that they opted to end the marriage because she had realized that it wasn't the best thing for her and their child.
Not only was the union not working for her, but it had also "moved into hurting". Albeit ending the marriage would come to hurt Jenna so much in the months that followed, she believes it was the right decision and is currently in a happy relationship with Steve Kazee, a Tony Award-winning Broadway actor.
Channing Tatum and Jessie J Dated on-and-off from 2018 to 2020
Since the end of their marriage, both Tatum and Dewan have moved on and found love with other people. For the actress, it was with Steve Kazee. Although they are not married, they now have a son together named Callum Michael Rebel Kazee; he was born in February 2020.
Tatum has also not been idle either. In October 2018, it came to the notice of the public that he was in a relationship with Jessie J, this was after he was spotted with the singer in Seattle, Washington. By November, they were already attending each other's shows, and then in 2019, they took their love to social media with a public display of affection.
However, by November 2019, they ended their relationship briefly before finding their way back to each other's arms. This was not meant to last for a long time as by April 2020, news emerged that the two had ended the relationship. Jessie confirmed this in an Instagram post a few months later.
Just as how they met and the circumstances surrounding the beginning of their relationship have remained a secret, what led to their break-ups has never been disclosed by either of the two. The last time they broke up, it was said they realized its better to move on and, that it was an amicable separation.
Exploring the Sources of Channing Tatum's $80 Million Net Worth
Acting Remains the Fountainhead of His Wealth
Without any doubt, Tatum has paid his dues as an actor and has become one of the most important names in Hollywood. Thanks to this, he has a net worth estimated at $80 million. He made most of his fortune from his successful acting career. His first acting gig was a small role in the crime series CSI: Miami. In 2005, he made his feature film debut in Coach Carter opposite Samuel L. Jackson. That same year, he had roles in Havoc, Supercross, and Steven Spielberg's War of the Warlords.
The year 2006 proved to be a successful one for Tatum as he landed his big break. It came in the dance drama Step Up where he starred opposite Jenna Dewan. The movie was a box office hit, grossing $114.2 million from a $12 million budget. More to that, it spawned a sequel that was even more successful – Step Up 2: The Streets.
2009 was another significant year in Tatum's career. He appeared in two high budget movies, Public Enemies and G.I. Joe: The Rise of Cobra. Both of the movies were huge box office hits. Meanwhile, Tatum proved his versatility, taking up action, comedy, and romantic roles respectively on Haywire, 21 Jump Street, Dilemma, Dear John, and The Vow. 
While Tatum continued to soar, his decision to star in Jupiter Ascending which as speculated, became a flop, saw him rank third among the world's overpaid actors with $1 received on every $6 earned at the box office. Between 2014 and 2015, Tatum, made $29 million per Forbes' calculations, making him the 14th highest-paid actor in the world in 2015.
He Has at Least 20 Credits as a Producer and Has Earned Millions of Dollars in this Capacity
Tatum's most lucrative period yet came between 2012 and 2013. As the actor had established himself to be a box-office darling, he was landing huge roles at an impressive pace. However, his biggest moneymaker would be in a self-produced and self-financed movie. Tatum came up with the idea of doing a movie about his experience as a stripper. But, instead of attempting to convince studios to finance the movie, he decided to take on the role, joining forces with movie director, Steven Soderbergh.
They spent $7 million to finance the movie titled Magic Mike and fortunately it was a box office blast! Against that small budget, the movie grossed a whopping $167 million at the worldwide box office. With only Warner Bros to pay for her part in distribution, Tatum and Soderberg split most of the profit among themselves. It was a huge payday for them.
Within this same period, Tatum struck the jackpot with movies like 21 Jump Street, G.I. Joe: Retaliation, and White House Down. These gigs combined to give him a paycheck of $60 million which saw him make his debut on Forbes' Celebrity 100 list at 23rd place.
Channing Tatum recorded another huge success with the sequel of Magic Mike, Magic Mike XXL (2015). It grossed $122 million from a production budget of $14.8 million. The actor has also successfully taken the movie to Broadway.
Channing Tatum Own a Production Company 
Another source of income for the actor is his production company, 33&Out. The company's first production was the 2010 documentary film, Earth Made of Glass. Other popular projects it has been involved in include 22 Jump Street (2014) and 10 Years (2011).
Neverland, The Legend of the Panther Girl, and Nicky are part of projects it has in the pipeline. The figures involved may not be known to the public but there are no doubts that 33&Out has become a significant source of income for the actor.
He Also Makes Good Money from His Vodka Line and Endorsement Deals
Outside the show business, Channing Tatum owns a line of vodka called Born and Bred in collaboration with Idaho-based Grand Teton Distillery. Branded as craft vodka made from the Idaho potatoes, Born and Bred was reportedly birthed by Tatum's quest to find the best vodka in the United States.
His search led him to Grand Teton Distillery, they decided to become partners, and Born and Bred came into existence.
Given his popularity, it is only natural that Channing has earned the attention of various brands who are eager to have him promote their products. The actor has endorsement deals with Armani, Dolce & Gabbana, Aeropostale, Abercrombie & Fitch, and American Eagle Outfitters.
List of the Actor's Major Sources of Income
Paychecks from acting roles
Earnings as a producer
Profits from his production company
Proceeds from his vodka line
Income from endorsement deals
The Early Days of Channing Tatum's Career
Channing Matthew Tatum was born on April 26, 1980, in Cullman, Alabama. He spent most of his childhood growing up in a rural community in Pascagoula, Mississippi. Tatum attended high school in Tampa, Florida where he was an active athlete, playing soccer, football, and running the tracks. He was voted the most athletic in 1998, the year he graduated.
He would then earn a football scholarship to attend Glenville State College in West Virginia. However, he dropped out and started working as a roofer. Subsequently, he worked as a stripper and in 2000, appeared in Ricky Martin's music video for his song – She Bangs; a gig for which he was paid $400. Channing would later decide to try his hands on modeling which got him a spot in the industry with Page Parkes Modeling Agency in Florida.
In no time, Tatum was representing big brands like Armani, Abercrombie & Fitch, and Nautica. He later signed with Ford Models, an agency in New York, in 2001 and represented more big brands like Emporio Armani, Dolce & Gabbana, and American Eagle Outfitters.