Seems many teens ignore their biology classes that the number of teen moms keeps growing dramatically.  And even celebs are not exempted. One might think that with all the fame, education and money, stars will go for the best contraceptive anyone can afford to avoid little pregnancy accidents.
But that's not like it as many celebs had their first babies at a very young age. With the number of stars under this category, one will be right to say that Hollywood is packed with teen moms.  Here are a few celebs that started raising kids as teens.
Lill Wayne
Lil Wayne has had a fair share of relationship drama even as a teenager. His teen drama made him become a dad at 16 as his first child, daughter Reginae, was born when he was 16 by his high school sweetheart Antonia "Toya" . The drama didn't end there, he made three more babies with different women. Thus in all he has fours kids and by 26, he was possibly the youngest father with four kids. At least we can see the reasons why his pants are always half down… so it saves time! More interestingly, the rapper has 4 Grammys, and who knows if he wins the fifth one, he might be making another baby.
Roseanne Barr
Comedian Roseanne Barr is another star who had a baby in her teen. The Emmy Award-winning actress had her daughter,  Brandi when she was just 17.  She gave her up for adoption, but after a few years, she reunited with her. Currently, Roseanne is a proud mother of five kids, three to first husband Bill Pentland, and one to Ben Thomas, her third husband. Well, now she doesn't have anything against starting early.
Keisha Castle-Hughes
One mistake couldn't hold back Actress Keisha Castle-Hughes who played a role in the Game of Thrones, as the sexy murderer from the exotic world. The star has an 8-year-old daughter named Felicity-Amore Hull whom she had at the age of 16. She later had the baby a month after her 17th birthday. Despite being pregnant for her then boyfriend during the filming of The Nativity Story (2006) and her pregnancy causing a firestorm online as she ironically played the virgin Mary, she refused to go silent. She continued to build her career as well as raising her child at the same time.  As a teenage mum,  she remained in the spotlight and even turned out a serious actress.
Naomi Judd
Former bandmate and confidante Naomi Judd has two daughters famous just like her. However, many don't know she had her first girl, Wynonna  at the age of 18. Fours years later she had her second Ashley. But Naomi's singing career wasn't in anyway hurt despite raising a child as a teen. The retired country crooner – who will soon turn 71 is known as one of the best performers ever. And just like the five-time Grammy winner, her baby girl is now a regular face in movies.
Solange Knowles
Beyonce's baby sister, Solange Knowles, had her first child at 17. After having the baby, the kick-ass recording artist in her own right married her baby dad who was only 19 then. Sadly, they separated shortly after the wedding. She remarried in 2014 and has since launched her own line of kids
clothes, inspired by her child, Daniel Julez Smith.
Niki Taylor

Sexy Niki Taylor has four children! That sounds unbelievably shocking but it is the reality. At 18, she gave birth to her first twins and then married their dad. They separated and married again and had two more kids after… That's sweet love story. Well, in all, she still looks dashing! How does she do it??!!?
Emily Maynard
Maynard, 30, is a mum of three. However, she had her first child when she was 19 with her late fiancé, who died in 2004. The little gorgeous accident was named Ricki in honor of her grandpa, Emily's dad, who died days after her delivery. The actress now has two more, a girl and a son with her husband Tyler Johnson.
LeBron James
James is a game man. Okay not in that sense, he is a sportsman but it sounds more like he began playing woman games than in the field. At least for being a teen dad. The Cleveland Cavaliers basketball star had a child with Savannah Binson, his high school love when he was only 19 years old. Good enough, they have stayed together, and had two more babies as well!
Fantasia Barrino
R&B singer and winner of American Idol in Season 3, Fantasia Barrino had one tough adolescence; she was raped by a classmate, dropped out of school and became pregnant at 16 to her boyfriend Brandel Shouse, who was abusive. Fantasia's daughter, Zion, is now 15 and she had another child, a son Dallas, born in 2011 to an undisclosed man.
Jamie-Lynn Spears
Jamie-Lynn Spears is the kid sister of recording artist Britney Spears. Though the TV personality is not that she used to be a regular face on set until something rocked her career. She had a baby girl when she was only 16 years old! While having a kid as a child celeb is easier for some teen mums, it was that easy for Jamie. And since Nickelodeon never appreciates their teen star being pregnant, her fame faded out. She doesn't regret it, though, and says that this way she can spend more time with her baby girl.
Sofia Vergara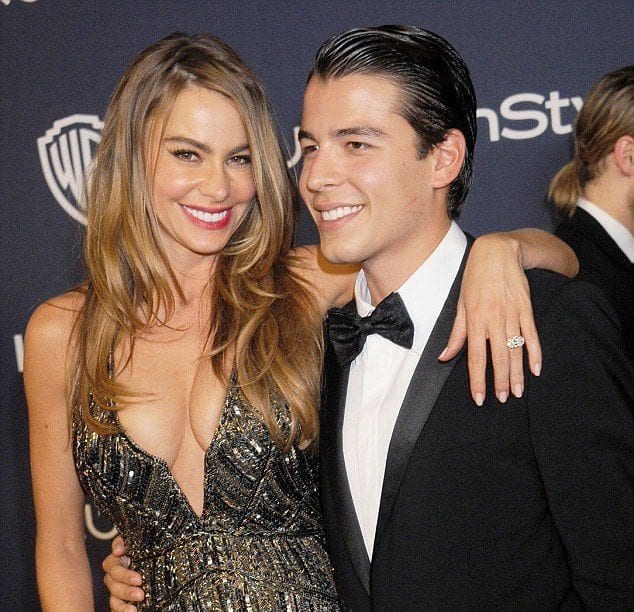 Actress Sofia Vergara is 42 and still stunning but what's more admirable is the fact that she has a dashing 22-year-old son! So do the math, she had him when she was only 19. Just like Solange she married the father of that child, her high school love but they later broke up after a few years. She is now dating from the strong attractive man from the True Blood, Joe Manganiello. Their kids are surely going to be gorgeous!