A little smile makes the world a beautiful place, and wearing a smiley face has a way of beautifying your face. And more and more opt for quicker though expensive dental fix to achieve a perfect smile especially stars.
Such celebrities knowing that the teeth remain at the forefront of both his or her mind and mouth go for surgery to get a pearly white look on her teeth.
Here are some celebrities who have had a dental fix.
Nelly
Nelly had a stressful dental situation with shocking yellow, chipped and metal filed teeth. As a result, he had an awkwardly bad smile. Now,  the celeb has fixed his smile making it more inviting than previously! That's one heck of an improvement from his former looks!
Nikki Minaj
Nikki is a kick ass rapper who knows what words to bring in her lyrics. The 30-year-old singer has been accused of having had a nose job, dental implants, face surgeries among other surgeries. Though she had kicked back at her critics, many are convinced she got her teeth fixed given that they suddenly changed from yellow to white. No wonder she smiles more proud than ever. Nikki, if you could recommend your dentist to Carl Lagerfeld, that would be great!1
Nicholas Cage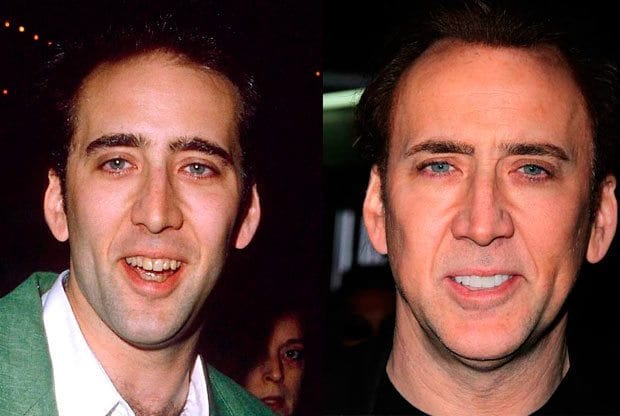 Oscar-winner, Nicolas Cage had quite a problem with his teeth before he became one of the most prolific actors in Hollywood. Those days, the 53-year-old actor had a smile that seemed like he warred with Hellrider himself and got defeated. Fortunately, after spending some cash on himself, he now has one of the best smiles in Hollywood!
Lindsay Lohan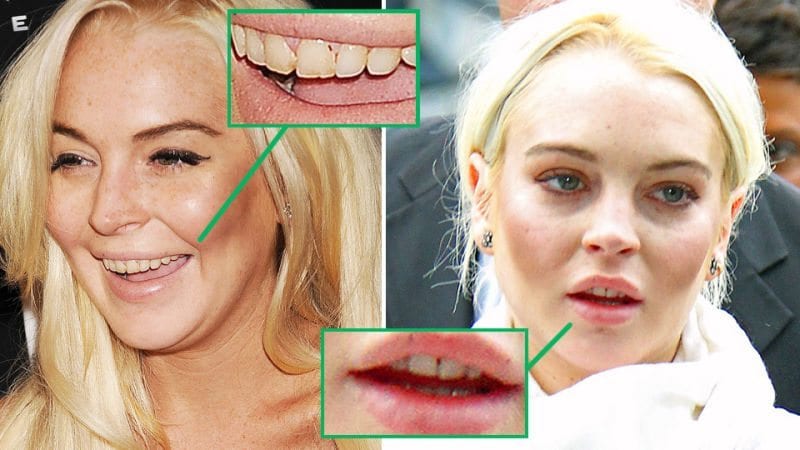 Lindsay had rotten teeth and might blame it on drug and alcohol addiction. The mean girl starlet had always disclosed shockingly bad smiles during serious events with a set of brown or rotten teeth. She had a dental emergency and now she seems healthier than ever with cool smiles.
Amy Winehouse
Whew! Amy Winehouse must have gotten tired of all the turmoils surrounding her lifestyle. (Let's not even talk about her alcohol and drug addiction). And one of the things she got tired of was her terribly troubled smiles. Sadly, she didn't live longer to sample them!
Cristiano Ronaldo
Real Madrid superstar Cristiano Ronaldo's perfect smile wasn't as perfect as it seems to be now. The Portuguese star had several cosmetic-dentistries after joining the Manchester United in 2003.
Charlie Sheen
Legendary Hollywood actor, Charlie Sheen entered Showbiz with seemingly dirty golden teeth and some missing. But the 51-year-old actor has fixed the embarrassing look and can now smile all day without annoying anyone. In fact, he now has a sparkling white smile, unlike the brownish smile in the past.
Johnny Depp
Johnny Depp's smile looked like he just came off the set of "Pirates of the Caribbean at the start of his career in Hollywood. But before he was cast in the movie, the actor got a different dental look. Currently, the bad smile that often reveals crooked, yellowish teeth can only be seen on set while in reality, his smiles are pearly!
Karl Lagerfeld
With all the money and fame, Karl's smiles looked worse for the all the glitz and glamour of Hollywood. And though he has tried to fix his smile through slight adjustments, they remain uneven till date. Someone tell him the adjustments weren't enough.
Tom Cruise
Oh, yea that's Tom Cruise. I was as shocked as you but the Mission Impossible star had quite some impossible missions in his mouth when he was younger. However, he found a dentist that can make the mission impossible… possible just like in his movies.
50 Cent
50 cent used to have a mouthful of warped, yellowed teeth. But having in mind that he had to smile for the camera all the time for being in the spotlight, the rapper went to fix his smile through an orthodontic work.
Meagan Good
Meagan Good probably didn't like the gap between her teeth. Then the star had a dental job to close every space and now they are all closed, we can see the amazing difference in her smile.
Kelly Rowland
Kelly's teeth here seem to be caked with brown crud that looked undoubtedly gross and creepy. But her teeth appear to have seen better days after she opted for a pricey dental work.
Miley Cyrus
Miley started out her career in Hollywood as a child and we've all watched her grow into a stunning wild woman with better dentition. You could see that her former broad smiles used to display scattered yellowish teeth unlike now that they are glittering. Nice she was thoughtful enough to fix them.

Fact Check: We strive for accuracy and fairness. If you see something that needs updating,