Smiles are contagious and have the power to make the world a better place. Studies have proven that humans would feel healthier and less stressed if they smiled more often due to the activation and release of feel-good neurotransmitters in the body after smiling. But despite all the positives that come along with smiling often, not everyone is able to do so because of an inability to produce a perfect smile. This is usually due to the malocclusion of the teeth which makes a smile crooked and somewhat creepy. Here is a list of celebrities who have parted with huge amounts of money in order to fix their creepy smiles.
Celebrities Who Fixed Their Creepy Smiles
Nelly
Back in the day, rapper Nelly had a stressful dental situation. His teeth were shockingly yellow and chipped. As a result, he had an awkwardly bad smile although he successfully covered it up with his use of grills.
In recent times, the Grammy Award-winning musician has been able to fix his smile making it more inviting than it was previously. Not only has his teeth become evidently whiter, everything has become aligned and fuller.
Nicholas Cage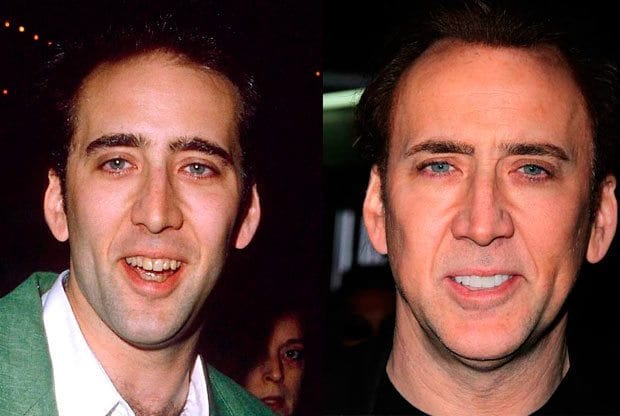 Oscar Award-winning actor Nicolas Cage had quite a problem with his teeth before he became one of the most notable faces in Hollywood. Those days, the actor had a smile that seemed like he warred with Hellrider himself and got defeated.
Fortunately, after spending some cash on himself, Cage now has one of the best smiles in Hollywood thanks to his dentist who has made it whiter and aligned. Before then, he had had two teeth removed for his role in the 1984 movie, Birdy. The actor did so without any anesthesia in order to physically feel the pain of his character who was a veteran from the Vietnam War.
Lindsay Lohan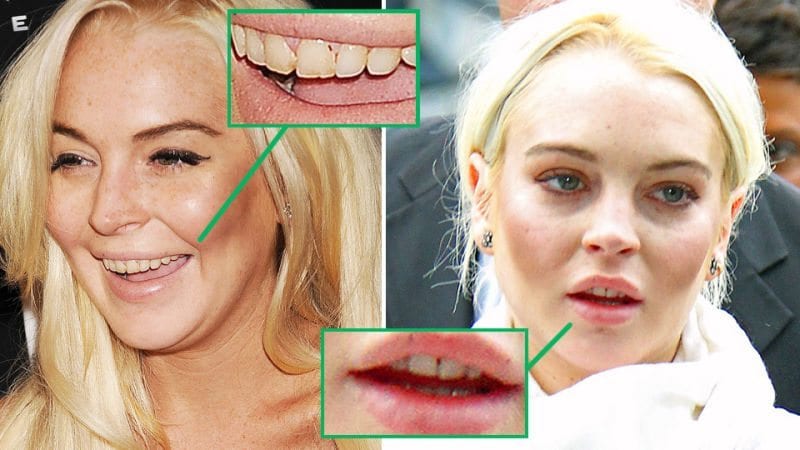 Lindsay Lohan was one person you did not really want to see smiling back in the day. The actress had rotten teeth that appeared to have been caused by her constant use of drugs and abuse of alcohol. Thankfully, her days of smiling at events with a set of rotten teeth are well behind her as the Mean Girl starlet scheduled a visit to the dentist.
Amy Winehouse
Amy Winehouse is another person who lived a life full of controversy thanks to her addiction to drugs and abuse of alcohol. Her teeth and smile were some of the obvious casualties of this lifestyle. Before she later passed away from alcohol poisoning, however, Amy fixed her teeth and had one of the most beautiful smiles you'd ever see.
Cristiano Ronaldo
Portuguese soccer superstar Cristiano Ronaldo seems perfect in all he does; both on the pitch and out of it. But long before he became the darling of the camera and had huge fascination with his image, the five-time Ballons d'Or winner could well be classified as being ugly. His earnings from his football career, however, helped him correct this very early. An evidently decent job was done to his teeth while others have speculated that other cosmetic procedures were carried out.
Charlie Sheen
There are a million and one things wrong with this Hollywood bad boy, however, a bad smile is not one. This is thanks to the amazing work of a dentist.
Charlie Sheen entered Showbiz with seemingly dirty golden teeth that had major gaps. The legendary actor was quick to fix all of this to get rid of the embarrassing look as he can now smile all day without being tagged one of the celebrities with creepy smiles.
Johnny Depp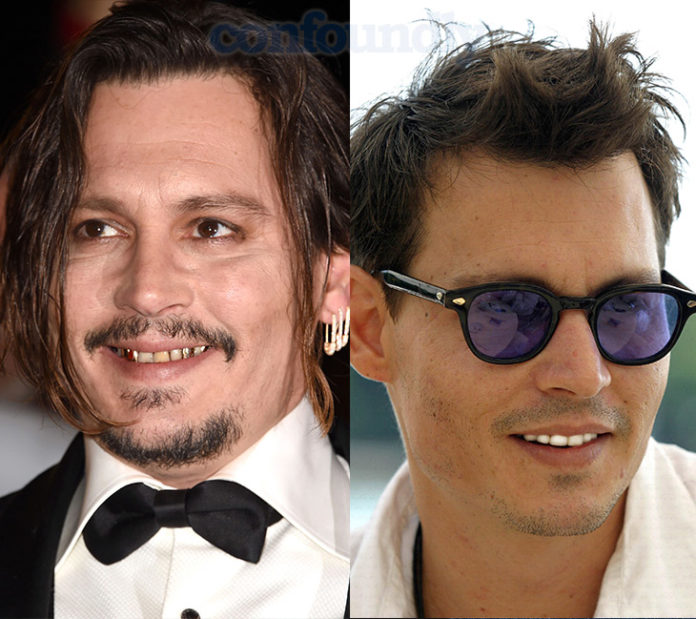 At the start of his career in Hollywood, Johnny Depp's smile looked like he had just come off the set of his famous Pirates of the Caribbean movie series. The actor had a very unattractive smile that revealed crooked, yellowish teeth that were befitting for someone that was actually a pirate. Like many others in the business, Depp wasted no time before booking an appointment with the dentist thanks to his new-found fortune from acting.
Karl Lagerfeld
Even with all the money and fame in the world, Karl Lagerfeld has one of the worst set of teeth you could ever see on television. His teeth are so bad that while he might not win a competition for the worst teeth in showbiz, he would have definitely been shortlisted.
In recent times, the German has reportedly tried to fix his creepy smile by visiting the dentist. Not much change has, however, been noticed as his teeth continue to remain uneven.
Tom Cruise
A picture of Tom Cruise from his days with bad teeth would definitely shock you. The Mission Impossible star had what can only be described as disgusting teeth in his younger days. As the years went by and he achieved fame, however, Cruise made a couple of visits to the dentist who gave him a clean set of teeth. The actor was not one to keep his dental work a secret as he famously sported fixed braces to the premiere of his film Minority Report in 2002.
50 Cent
50 Cent reportedly has a smile that set him back $63,000. Before undergoing cosmetic dentistry, the rapper who was shot eight times, twice in the mouth, had a noticeable gap in his front teeth which appeared significantly larger than the rest of his teeth that were yellowish. As a result of this, he was sometimes referred to as having bugs bunny teeth.
Miley Cyrus
Being the daughter of country music singer Billy Ray Cyrus, Miley was able to start her Hollywood career as a child star. As a result of this, followers of her work on screen have seen her grow into a stunning woman with better dentition than she had while growing up. From the pictures above, you can see that her smile as a kid revealed scattered yellowish teeth unlike what it appears to be now.
Victoria Beckham
One could easily think that Posh Spice always had the posh smiles that characterize her personality today but that would not be true. The fashion icon used to have her front tooth sitting awkwardly apart. However, after her romance with fame and fortune, she decided to give herself a new look and make her smile more appealing.
She recently visited a dentist in LA where she had all her teeth sorted out. Her teeth have always remained her greatest insecurity since she was a little girl but with her new £30k veneers fix, this problem seems to be a thing of the past.
Morgan Freeman
You do not have to be a huge fan of Morgan Freeman to realize that he now has a better smile thanks to his better set of dentition. Earlier in his career, one could notice gaps in his tooth as well as some stains. All of these have now disappeared and the teeth are now fuller and whiter.
T.I.
Surprising but true, rapper T.I. is one of the celebrities who has worked on their creepy smiles. As one would expect, his new smile did not come cheap as he parted with over $30,000 to have a job done. He now lives his life with a powerful smile and not having to wear grills to hide his bad teeth.
David Beckham
Who can ever remember a time when Becks was not making people smile? One of the hottest men alive, the soccer legend has always had the looks but one thing that betrayed him earlier on was a perfect smile. He didn't have this thanks to his poor dentition. As his wife did, the now-retired athlete decided to see a dentist who did excellent work to remove his crooked smile.