Being a footballer in the United States practically means being a famous person. Football is one of the most popular in the country. As such, the players in it get a lot of media attention, enough to spill towards their spouses. In the case of Clay Matthews III, a former footballer for the Los Angeles Rams, that spouse is his wife, Casey Noble.
While there is no denying that Casey Noble's media profile has benefited from her relationship with her husband, she has been a popular name in her own right. Her modest popularity comes from a career as a television personality working for HGTV on shows like Design on a Dime and Hotel Impossible.
Casey Noble's Early Life and Route To Becoming An Interior Designer 
Casey Noble is a mother, a former television host, and a wife. The journey that led to all of these began on the 2nd of May, 1978. She was born in Marin, California, to her parents, Ron Noble and Joy Noble. Her birth was one of two of her parents, who raised her along with her solitary sibling, a brother.
Details of her academic journey are unknown, but after high school, she attended and graduated from George Mason University, where she earned a Bachelor's Degree. Casey Noble worked and gained experience as a Computer Graphics artist in Washington, D.C.
After college, Casey, who had a desire to be the best in her field, sought out other academic ventures to improve her skill and expertise. She found and enrolled at the Fashion Institute of Design & Merchandise (FIDM). While she learned her craft at FIDM, she worked on small projects for friends and family, gaining experience before she joined the professional world as a full-time interior designer.
By the time Casey Noble was ready to become a full time professional, she had her pick of interest from a couple of design companies, and she chose to start her corporate design career working with Hirsch Bender Associates. Casey's time with the firm lasted between 2006 and 2009 before her ambition drove her to establish her firm with two friends.
As Noble grew in her expertise and wealth of experience, she worked on large scale projects for relaxation venues like spas and restaurants. Her talent drew the attention of big projects from major restaurants and hotels. Casey's portfolio includes high-end brands like Borgata, SLS Miami, and the Redbury.
Making The Foray Into The World Of TV Hosting
Eventually, her interest in design led her to compete on Design Star. Noble never won the show, but she did finish in the top three. Her performance and style eventually drew the attention of management at HGTV, who later offered her a show of her own.
Casey Noble began to host Design on Dime for the HGTV network in 2011. But her time on the show was short-lived for reasons yet to be specified. She moved on to another show, Hotel Impossible, where she featured as a designer between 2012 and 2014. She appeared on Hotel Impossible across 15 episodes.
Interestingly, her appearance on Design Star wasn't Casey Noble's first relationship with media production. In 2003, while she was in college, she was a production assistant or a short film, Air.
Casey Noble's Love Life with Clay Matthews III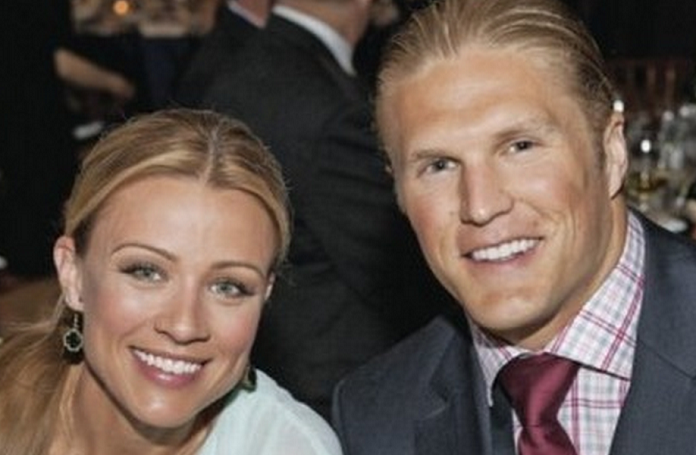 Casey Noble got involved with the footballer, Clay Mathews III in 2013. At least for the first time in public when members of the press spotted them during a hockey game. Rumors about their relationship suggest that they began their relationship much sooner than that.
Some quarters speculate that at the time they supposedly met, Casey was still married to Peter Sarantos, her ex-husband, however, there seems to be insufficient evidence to prove this. Noble's now-ex-husband Peter is a Yale graduate and works as a firefighter. They both got married in 2008 in Salt Lake City, Utah. Though it is not clear exactly the year Noble divorced from Sarantos, it appears the latter just like Noble has moved on. A Facebook profile that apparently belongs to Sarantos shows that he has also remarried with kids.
Two years after they were first spotted publicly, Casey and Clay Matthews III got married in 2015. The wedding was a small and private one that had friends and family of the couple in attendance, including teammates of Clay Matthews III.
Following the wedding, Casey Noble, who has taken a step away from her television career, has been able to raise three children with Matthews. The first child, a boy named William Clay Matthews IV, was born five months before they both said 'I Do' in February 2015. The second child, Madeline Joy, was born in 2016. The couple has a third child, Colton Matthews. His birth year is yet to be determined.
Another member of their family is a dog, a Rhodesian Ridgeback dog.
With both parents having an experience of life as a celebrity, they have chosen to keep their children away from the press with very little information known publicly about their children, including their birth date. Together, the family lives in Los Angeles.
See Also: Who is Ashton Meem – Former Wife of Russell Wilson, Is She Dating Anyone?
Husband, Matthews Has Also Had His Fair Share of Media Fame
Casey Noble might have been a professional TV personality, but she is not the only one to be associated with the media in the Matthews/Noble clan. Her husband, Clay Matthews III, once appeared in the film, Pitch Perfect 2, playing himself. Clay appeared in the acapella film alongside his teammates, singing the Destiny Child song, Bootylicious.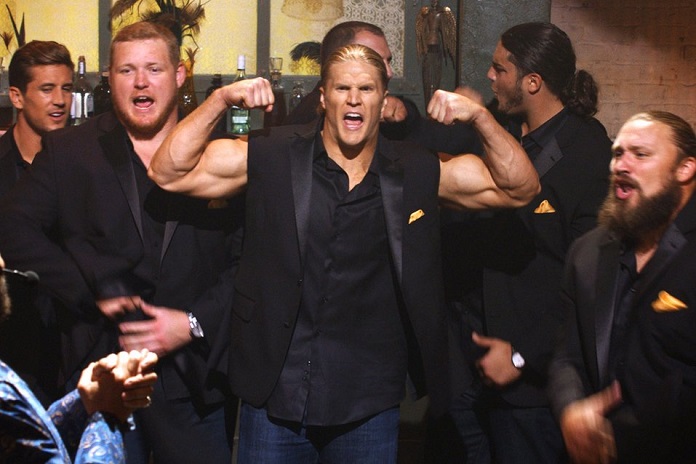 He also appeared in the spin-off film of the popular TV show, Entourage, in 2015. Additional appearances include his short movie, Clay Matthews: Building the Legacy. Despite the lack of proven acting skills, Clay delivered confident performances on both films, which is unsurprising because of his NFL career.
The outside linebacker, in his NFL career that spans at least 9 years has appeared on multiple sports shows and documentaries.