Time and time again, Case Keenum has proven he is one of the best quarterbacks every team would love to have. Currently playing for the Cleveland Browns of the National Football League, Keenum is famous for being the first and only member of the offensive team in Division I FBS football history to pass for over 5,000 yards in three seasons.
More so, with over nineteen thousand passing yards, the football superstar earned for himself the best and highest score in total passing yards, touchdowns, and completions in the NCAA Division I FBS. Success for Case Keenum didn't just begin with his NFL career; he was familiar with good performance right from his high school and college years. He was, for instance, ranked first nationally in terms of total offense and second in total passing yards.
The Attainments of Case Keenum's Amateur Career
He attended Wylie High School in Abilene, Texas and had his college career at the University of Houston. While in high school, Case was actively involved in the school's sports activities, particularly football games. He even passed for 6,783 yards and pulled-off 48 touchdowns. He also led the team in a 17–14 victory over Cuero High School in the popular Texas Class 3A Division I championship game.
When he moved to Houston, Case joined the Houston Cougars in the 2006 season but was redshirted for the season as the team had Kevin Kolb as the starting quarterback. He then made his first appearance on September 1, 2007, at the 2007 opening season in the Oregon Ducks. He made his first throw for 179 yards with one touchdown on 14-of-27 passing. He also had 47 rushing yards on 9 carries against the Ducks. Case finished his first season with 2,259 passing yards, 10 interceptions, and 14 touchdowns.
Case Keenum completed his college career in 2011 with a career total of 2,229 passing attempts for 19,217 passing yards, 155 touchdowns, and 46 interceptions. He also had 300 rushing attempts for 897 rushing yards. Keenum still holds many records by the end of the 2019 college football season. He holds the record for the most career pass completions, most career total yards, most career passing yards, and Most games with 300+ passing yards in a single season among many others. He also has several awards including 2 Conference USA Most Valuable Player and 2 Sammy Baugh Trophy among others.
Career Journey As a Professional Footballer
Despite having a successful football career in high school and college, Keenum joined a professional team in 2012 as an undrafted free agent. He signed with the Houston Texans and spent his entire rookie season on the team's practice squad. In 2013, he made his first professional appearance as a starting quarterback and threw his first touchdown in his pro debut on the 20th of October. He was, however, waived by the Texans on August 31, 2014, after the team's 27-24 loss to the Indianapolis Colts where he managed 350 passing yards and 26 rushing yards.
Between 2014 and 2016, Case shuffled around the Housten Texans and St. Louis Rams (now Los Angeles Rams). The two teams serially took turns to waive and reclaim him. He later settled with the Minnesota Vikings on March 31, 2017, after signing a one-year contract with the NFL franchise. He started in week two of the season and ended the season with several career highs, including the miraculous 29–24 win against the New Orleans Saints in the NFC Divisional Round.
In 2018, he played for the Denver Broncos for a year before he moved to Washington Redskins where he spent a season. In 2020, the American football quarterback made his move to the Cleveland Browns on a three-year deal.
Case Keenum has a proven record that puts him among the high-flying players in the history of the National Football League. His manager, as well as his teammates, have great hope for his games. His NFL career stats as of 2020 show that he has 14,368 passing yards with 75 passing touchdowns and 47 interceptions.
Case Keenum Has a Mouth-watering Net Worth
Case's 2017 salary was $1.91 million with his career earnings of over seven seasons estimated at $25.16 million. After he signed a 2-year contract of $36 million with the Denver Broncos, it was reported that he would pocket an average salary of $18 million with a signing bonus of $6 million and $25 million as his guaranteed money at signing.
His latest contract with the Cleveland Browns is valued at $18,000,000 for three years. With a $10 million guarantee, the deal has a $4 million signing bonus.
Case Keenum has a net worth that is estimated at $20 million as of 2020. He came by his fortune from the earnings of his career, as well as from various endorsement deals.
Facts To Know About His Family
Casey Austin Keenum is the son of Steve Keenum, a former offensive lineman who also served as athletic director and head football coach at McMurry University. His mother is Susan Keenum, a standout athlete who was involved in three sports. As of 2018, she was still working as a physical education teacher at Ward Elementary school in Abilene, Texas.
The NBA star born on the 17th of February 1988 grew up in Abilene, Texas, with his siblings named Allison Simmons and Lauren Wray Keenum.
Meet Case Keenum's Wife
Case is a married man. He got married to Kimberly Caddell in June 2011 while he was still in college. Although they attended different high schools, the two met at a Fellowship of Christian Athletes (FCA) event. Before then, their paths had crossed as Kim was taught by Case's mother when she was in fifth grade.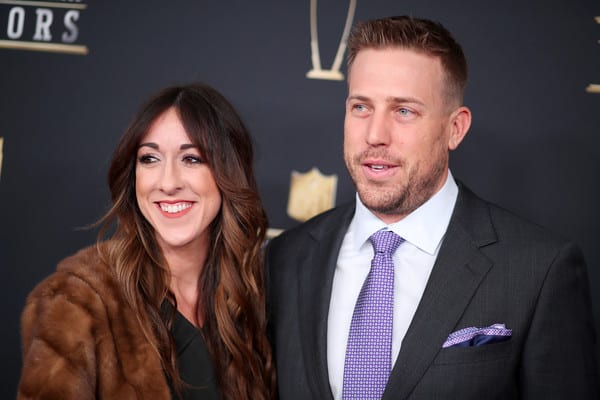 But then, they had never had the chance to get to know each other until the FCA event. Then, Kimberly was in her senior year in high school and like her husband, she loved sports and thrived as a pole vaulter for her school's track team. Kim was also part of her school's volleyball team.
Already famous as a standout quarterback for the Wylie Bulldogs, Case asked Kimberly to go get a snow cone with him. She agreed and that was how their love story began as high schoolers. Their love blossomed not only because they were both devoted Christians, but also because they shared a love for different sports including football.
See Also: Hasan Minhaj Wiki, Wife, Sister – Ayesha Minhaj, Net Worth, and Parents
Case and Kimberly Are Expectant Parents
Having dated for some years the two got engaged when Keenum was having his spectacular college career at Houston. In 2011, they decided to make it permanent by walking down the aisle.
Years after getting married, the couple struggled with the issue of infertility, and they did not fail to talk about it. Kim revealed that although she doesn't think having kids would give her ultimate happiness, it would be joyful for her to have kids.
In 2019, Case and Kimberly revealed that they are expecting a baby boy. They have not provided any update about the expected baby.