Carlos Slim Helu is a Mexican self-made business mogul and a diversified investor who was once the richest man in the world from 2010 to 2013. With current estimated assets of around $50 billion, Carlos Slim is still one of the world's richest men and the richest man in Mexico. His earnings dipped by over $27 billion in 2015 making him the year's big loser. Read on to discover more about the "Mexican Warren Buffet" and his wealth.
Carlos Slim's Biography
Carlos Slim Helu was born on January 28, 1940, in Mexico City, Mexico to Lebanese Christian immigrants. Slim's father who was a successful businessman in his own right made sure he educated his young son on the basics of financial management, record keeping, and accountability. Thanks to this, Slim at a very early age could read financial statements and at the age of 11, he made his first investment in a government savings bond which exposed him to the technicalities of compound interest.
His father continued to tutor him until his death in 1953, Slim was 13 years old at the time. However, 13 years was enough to learn the necessary fundamentals from his father. At 15, Slim became a shareholder in Mexico's largest bank. He also worked at his father's company which was into the real estate and retail business.
And no! Slim isn't one of those college dropouts who became billionaires. He graduated from high school and college- the National Autonomous University of Mexico where he studied Civil Engineering as a result of his love for mathematics. Slim was such a whiz at math that as a student, he tutored others in linear programming and algebra. His love for calculations also influenced his venture into the field of economics. He eventually expanded his knowledge of economics by enrolling in several related courses in Chile.
Rather than pursue a job at a construction company, Slim opted instead to focus on finance. He began working in Mexico City as a stockbroker and at the age of 25, Slim had saved $400,000 from his endeavors. With that money, he established his first business – a brokerage firm he named "Inversora Bursátil".
Carlos Slim's Family: What To Know About His Wife And Children
See Also: Google Inc: Formation, Earnings And How They Make Their Money
One of the world's richest men and his wife Soumaya Domit Gemayel (married from 1967 to 1999) have three sons and three daughters: Carlos Slim Domit, Patrick Slim Domit, Marco Antonio Slim Domit, Soumaya Slim Domit, Johanna Slim Domit, and Vanessa Slim Domit.
The Mexican Billionaire obviously keeps his business empire rolling in his family circle. Already, his three sons are well positioned in key roles of his telecoms-to-banking empire, worth some $50 billion, and Carlos has transferred much of his wealth to his children.
Recently, he placed his two grandsons on boards of his companies which was described as a major move in the succession of one of the world's largest family business empires.
Carlos like his fellow billionaires is active in philanthropy. He has publicly stated that one of his goals is to alleviate poverty in Mexico. However, the billionaire investor believes that the best approach to achieve his aim is to establish long-lasting businesses rather than go around donating money like Santa Claus.
More Success And Billionaire Status
Throughout the 70's Slim continued to expand his business portfolio by making investments in diverse areas from real estate to telecom, mining, auto, construction, airlines, hotels and anything else you can possibly think of. By 1980, Slim had to consolidate all his businesses into the conglomerate Grupo Galas, now Grupo Carso. Slim's businesses dominate the Mexican economy to say the least. The average Mexican cannot go a day without spending a dime on a Slim-related commodity.
His major breakthrough and debut into the billionaires club came in the midst of the Mexico economic crisis of 1982. Struggling companies became desperate to sell and Slim gladly pounced on the opportunity, buying them at low prices and reselling later at high prices when the economy was back to norm. Slim has since employed this strategy in his numerous business endeavors.
Slim landed another jackpot in 1990 when the Mexican government began privatizing its major companies. One of those was the landline telephone company Telmex. Slim became one of the initial investors and eventually took over the telecom company via the IPO launch of his conglomerate Grupo Carso. He made his debut appearance on Forbes' Richest list in 1991 with a net worth of $1.7 billion.
See Also: Bill Gates Bio, Foundation, And Family Members
Slim is also the owner of another telecom giant América Movil, and together with Telmex, it is the largest mobile phone carrier in Latin America and they collectively account for over two-thirds of the Mexican's wealth.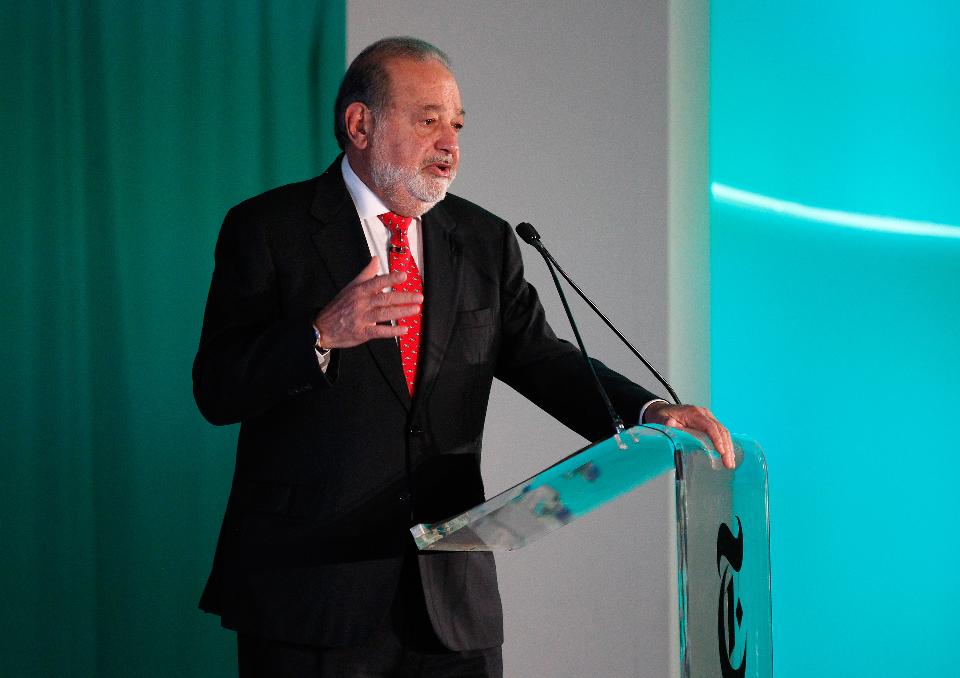 Other Prominent Ventures
Slim owns over 200 companies all over the world and has even confessed to not knowing about some of them.
He owns a 17% majority stake in The New York Times which makes him the largest individual shareholder. His business with the American media corp began in 2009 when he gave them a $250 million loan at the interest rate of 14%.
He also owns the financial venture "Grupo Financiero Inbursa", mining company "Minera Frisco", real estate company "Inmobiliaria Carso" and "IDEAL" an infrastructure development and operating company. IDEAL is an acronym for "Impulsora del Desarrollo y el Empleo en America Latina" which is translated as "Promoter of Development and Employment in Latin America". He founded IDEAL in 2005 after investing in Mexican airline Volaris.
Carlos Slim Financial Standing
Slim has been criticized for his practice of monopoly which surges unemployment rate and prices. Though Slim hasn't been overly bothered about the critics, his América Móvil which is the focus of the criticisms, took a hit in 2015 as a result of new stricter anti-monopoly rules and reforms which forced the company to reduce its market share below 50%.
América Móvil also performed poorly in the market. Its US-traded stock prices also fell as a result of the Mexican peso depreciation against the dollar which per Forbes is blamed on the global fall in oil prices.
His bank Grupo Financiero Inbursa also experienced a fall in share prices while the performance of his mining company was also affected as a result of the fall in gold prices.
All these saw Slim's earnings dip by $27.1 billion, robbing him of his 2015 best spot when he was the second richest man in the world. He is currently worth $50 billion
See Also: 20 World's Richest Sports Team Owners
His Properties And Assets
Like Warren Buffet, Carlos Slim is known to be thrifty and doesn't indulge himself in extravagant luxury; he doesn't own a yacht or private jet. However, he enjoys Cuban cigars and is an avid art collector. His collections worth over $800 million are displayed in his Museo Soumaya museum. The museum also houses his over 380 piece of Auguste Rodin's work, which makes him the largest private collector.
Slim has been living in the same 6 bedroom house in Lomas de Chapultepec, Mexico City for over 40 years and doesn't own any private property outside Mexico. However, his real estate firm owns several residential and office buildings in the US. One of such is a mansion in New York's 5th Avenue which he bought in 2010 and is now on the market for $80 million.