Candace Owens has amassed a considerable net worth from being a Donald Trump supporter, public speaker, and media personality. She is renowned for never shying away from speaking her truth, especially when it comes to giving voice to Trump's policies. It is also known that she works as the communications director for Turning Point USA, a youth organization that promotes the principals of fiscal responsibility.
Her public footprint since she gained national attention for moving away from the Democratic to identify with the Republican Party, has paid off in no small manner. From books to TV political commentary, her personality as an outspoken black voice in the Republican party, and the career she has built around it; has been a cash cow for the woman who describes herself as a reformed liberal.
Candace Owens Has an Estimated Net Worth of $1 Million
Although she once identified as a liberal, Candace Owens' shift to conservative and right-wing ideology has been a lucrative move. By making inflammatory comments regarding divisive issues like immigration, gun rights, social security, LGBTQ, and women's rights, she has established herself as a superstar among young Republican pundits.
According to various sources, she has accrued more than $1 million in personal wealth. Her net worth comes from various career endeavors, from working for a fashion and lifestyle magazine to working for a conservative advocacy group.
She Once Worked for Vogue Magazine
Candace Owens' fame and wealth today means she is more likely to appear on the cover of Vogue than work for the magazine. But that was something she once did before she entered into political commentary. After dropping out of the University of Rhode Island, where she briefly studied journalism, she joined Vogue magazine in New York as an intern.
About two years later in 2012, she took another low-paying job as an administrative assistant for a private equity firm in Manhattan. At the firm, Candace thrived and worked her way up to become the vice president of administration.
NAACP Helped Her Get Her First Significant Check
Today, Candace Owens has a reputation for speaking against various civil rights movements, especially those focused on African-Americans. She is known for her attacks on NAACP (The National Association for the Advancement of Colored People), once calling it 'the worst groups for black people'. But in 2007, the organization helped her win a $37,500 settlement from Stamford Public Schools.
She filed the suit in 2007 after she became the target of racial discrimination by the son of Dannel Malloy, then-Mayor of Stamford. The incident included death threats in three voice mail messages. At the time, Candace was a senior at Stamford High School.
Social Media and Conservative Websites Are at The Heart of Her Wealth
Conservatism is the ideology that has made Candace Owens rich. But internet tools like blogs, websites, and social media have been the driving force of her wealth. She started her blog-driven relationship with political commentary in 2015 when she was CEO of Degree180. The website was a marketing agency that among other services like production and consultation, engaged in anti-conservative content.
While running the website, she wrote anti-Trump articles and criticized conservative Republicans. However, following the victory of Donald Trump in 2016, and her failure at launching the SocialAutopsy.com, a doxing website, she turned her focus to conservatism.
By 2017, Candace Owens began posting videos on YouTube and launched another website called Red Pill Black. She also started her social media journey as a conservative pundit. Since making the switch, she has appeared on InfoWars and hosts The Candace Owns Show on PragerU's YouTube channel.
On social media, Candace has found extreme fame. She has several millions of followers on Instagram and Twitter. Her YouTube page, Candace Owens, has more than 479,000 subscribers, with over 12 million views. According to an analysis by SocialBlade, the channel earns her anything from $2,100 to $33,900 per year.
She Also Earns from TV Commentary and Working for Conservative Groups
Aside from using her voice on social media and political websites to create wealth, she also earns money through TV commentary for conservative media outlets. She has mostly appeared on Fox News. Her appearances on the network spread across shows like The Ingraham Angle, Hannity, Watters' World, and Fox and Friends.
Her exact earnings from her appearances remain unknown to the public. But financial filings by other commentators reveal that Fox News pays its commentators from $4,800 to $569,000. The exact figure varies for each commentator, depending on their popularity and expertise.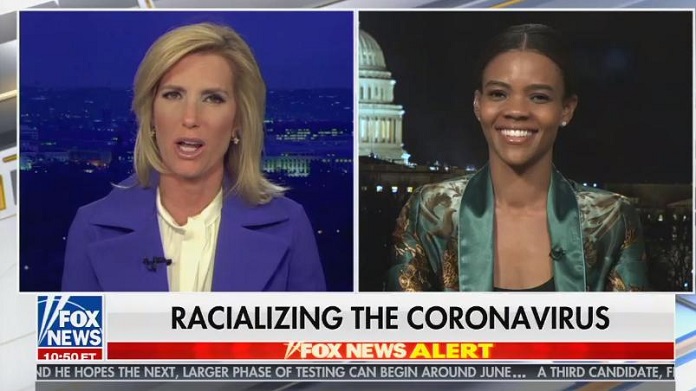 Besides TV, Candace Owens' $1 million net worth also comes from working for the conservative advocacy group, Turning Point USA. She served as the group's communications director between 2017 and 2019. She also works with the Donald Trump Presidential Campaign. Owens launched a social media campaign called Blexit Movement in 2018. It was part of her efforts to draw black supporters for the Republican party.
Owens also makes money through books; they are a significant part of the political pundit business model. Thus, it is no surprise that Candace Owens has tapped into the outlet. Her debut book, Blackout: How Black American Can Make Its Second Escape from the Democrat Plantation, was published in February 2020. The book is one of the best sellers on Amazon Non-fiction chart, debuting at #20.
Candace Owens Is Married To a Hedge Fund Trader
Candace Owens is a married woman, she got married in 2019 to George Farmer. George is the son of Lord Farmer, a member of the House of Lords, and a prominent businessman. He is a graduate of Oxford University and works with Jefferies & Co. Like Candace, George is no stranger to the world of politics. Beyond being a businessman, he's also a former Brexit Party Candidate and the chairman of Turning Point UK.
Their relationship has managed to stay out of Candace's online and political persona. But we know that they met in December 2018, during the launch of Turning Point UK.
Three weeks after they met, they got engaged via a Facetime call. The couple then proceeded to get married on August 31, 2019, at the Trump Winery in Charlottesville, Virginia. Nigel Farage, Charlie Kirk, Jerry Falwell Jr, Jon Voight, and a few other conservative celebrities attended the wedding.
The Couple Share Similar Ideologies
Not only is Candace Owens and her husband involved in politics, but they also share similar ideologies. From socialism and atheism to Brexit and feminism, the couple shares conservative views on the divisive subjects. So much that Candace's American movement, Blexit, was named after the UK movement.
Both Blexit and Brexit are movements established to emancipate the supposedly oppressed from their oppressor: The UK from the European Union (Brexit) and Black people from the Democratic party (Blexit).
On feminism, the couple believes modern feminism is harmful to women. According to them, marriage should have a similar dynamic to the relationship between Christ and the Church. Candace admitted that her realization of this made her decide to marry and have kids.
Thanks to their shared ideology, Candace Owens and George Farmer are expected to become a powerhouse political couple for years to come.