The name Buddy Valastro rings a loud bell in the culinary world in America and the person behind that name is a highly respected man who has carved a niche for himself as a cake baker. In fact, he is now widely is regarded as the 'king of cakes', considering his dexterity in handling everything concerning the creation and decorations of cakes. He is also the star of the reality show, Cake Boss, which focuses on him and his family members going about their business, baking cakes and relating with each. However, even though many people know him, several others do not really know who Buddy Valastro's sisters and other family members are.
The interesting thing about Buddy Valastro is the deep connection he shares with his family. As a matter of fact, his cake shop called Carlo's Bake Shop is now collectively run by the family. His sisters and his cousins are all involved in the running of the business and, of course, they all feature in the Cake Boss reality TV show which shows them running their cake-baking business while upholding the values of family relationships. So, who are Buddy Valastro's sisters as well the other family members everyone has been talking about? Let's find out right now.
'Cake Boss' Buddy Valastro's Sisters
Today, Buddy Valastro is fondly called 'Cake Boss' by many fans and this is mainly in recognition of his stunning ability to produce amazing cake decorations as well as his appearances on the TV show, Cake Boss, in which he stars. However, what people don't know is that his fame was built over the years with support from his family including his sisters and mother.
Buddy Valastro, whose real name is Bartolo Valastro Jr., was born on March 3, 1977 to Buddy Valastro Sr., and Mary W. Tubito. Buddy was born in Hoboken, New Jersey, in the United States and has four sisters with whom he grew up in America. Buddy does not have a brother and is very fond of his sisters identified as Grace, Mary, Maddalena, and Lisa.
Buddy and his sisters were all born in the US and are Americans, however, they also have Italian roots because their father Bartolo Valastro Jr. happens to be an Italian man who immigrated to America at a young age. Their mother, Mary W. Tubito was also born in Italy and moved to America with her parents as a child. When their father moved to America, he was initially penniless but determined to make things work. He kept toiling and doing different jobs to kept moving and at last, he eventually managed to buy a bakery called Carlo's Bake Shop.
Carlo's Bake Shop grew big and soon, Buddy Valastro was brought in by his father to learn the business. Buddy started as a dishwasher because his father wanted him to learn everything about the business from the bottom to the top. He eventually grew to become a baker himself. When he turned 17 years old, Buddy's father passed away and he was left to run the family business. Consequently, he dropped out of school to concentrate on the cake shop. This was when he brought his sisters into the business.
Today, all Buddy Valastro's sisters are workers at the family-owned Carlo's Bake Shop. His sister, Maddalena Castano actively works at the shop where she manages the front counter. His other sister, Grace Faugno also works front counter and is loved for her very down to earth demeanor. His third sister, Mary Sciarrone works as the cake consultant at the Carlo's Bake Shop while his youngest sister, Lisa Valastro now works at the storefront. Together, the siblings ensure that everything is in order and the bakery is efficiently kept running.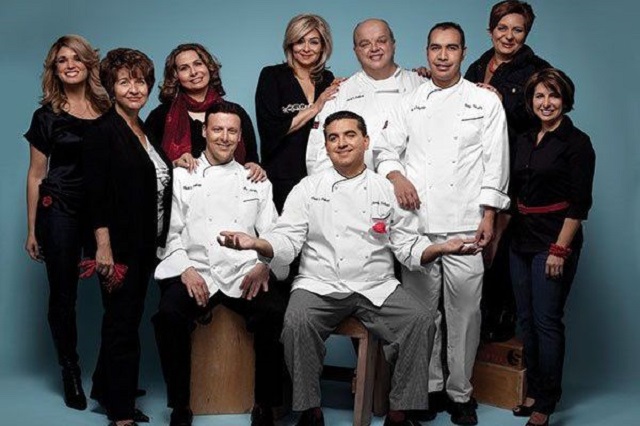 Read Also: 5 Untold Facts About Cake Boss' Family Owned Carlo's Bakery And Its TV Show
The Other Family Members
Apart from Buddy Valastro's sisters, he has other family members who are involved in the running of the shop. His mother, Mary used to be one of those who ensured that things were kept running but she announced her retirement in 2010. However, she still appeared on the show occasionally before she passed in 2017.

Other family members include Frank Amato, Jr. who happens to be Buddy Valastro's first cousin. Frank works as a cake decorator at Carlo's Bake Shop. Buddy's in-laws are also involved in the running of the shop. His in-law, Mauro Castano, who is married to his sister, Maddalena, works as a pastry chef at the shop. His other in-law, Joseph Faugno, who is married to his sister, Grace, works as the head baker at the shop.

Another person who works at the shop is Danny Dragone who happens to have been a long-time close family friend. In fact, according to sources, Danny has been working at the bakery even before Buddy was born.

Fact Check: We strive for accuracy and fairness. If you see something that needs updating,