Everyone is familiar with Sarah Huckabee Sanders but not so with her husband Bryan Chatfield Sanders. As a media and political consultant, Sanders has worked on multiple political campaigns like his dear wife.
Bryan Chatfield Sanders is no ordinary person, especially to the Republican Party as he was the party's promotional campaign manager and now serves as its political advisor. No wonder why he is dubbed the "Rising Star" of the Republican Party. Back home Sanders is a lovely husband and father of three. Let's learn more about the Kansas-born multi talent.
Who is Bryan Chatfield Sanders?
Bryan was born in 1982 in Kansas but he grew up and spent much of his young age in Johnson County City, Mission Woods. Ethnically white, Sanders graduated from Shawnee Mission East High School which is located in Prairie Village, Kansas. He later moved to Colby College in Waterville, Maine where he obtained a degree in campaign media.
Sander's political career began shortly after his graduation from college in 2006. He began as one of the staffs of Samuel Dale Brownback who at that time, was Kansas' 46th Governor. He later earned himself a better position as press assistant to the Governor's office. Sanders maintained that position until 2008 when Samuel Brownback appointed him as his campaign manager for his presidential candidature but after Brownback decided to step down from the presidential race, Sanders then joined the presidential campaign of Mike Huckabee, Sarah's father. There, he was appointed as the national political director. In 2009, he joined a political media firm 'The Wickers Group'. His political moves and strategies in Robert J. Bentley's Alabama governorship election campaign which turned out victorious earned him more fame among the political elites.
In addition to his success as a campaign manager, Sanders played a major role in Ted Yoho's primary campaign for Florida's Third Congressional District. He created an advertisement known as "Pigs" which helped in the success of the party. Even The Washington Post referred to his Pigs advert as "one of the best political ads" of that year.
Other politicians that Sanders helped in their political career include Lieutenant Governor Dan Patrick of Texas, Congressman Trent Franks, Attorney General Scott Pruitt of Oklahoma and Congressman French Hills of Arkansas, among many others. His success as a political advisor as well as a campaign manager did not only earn him a place among top influential people but also placed him on a steady financial growth. Bryan Chatfield Sanders has a net worth of about $5.7 million with good annual earnings to go with it. Not only did his career in politics earn him this much, it also earned him a name as Elections Magazine's "Rising Star of American Politics."
See Also: Who is Patrice Failor – James Comey's Wife?
Bryan Chatfield Sanders' Family Life
Bryan Chatfield Sanders met Sarah Huckabee during his service as her father Mike Huckabee's media consultant in 2008. At that time, Sarah was working for her father as the campaign field director. Even though Mike later dropped his plans for the presidential race, the period brought Sarah and Sanders together. Their frequent professional interactions eventually blossomed into true love. They got engaged in August 2009 at Bryan's family farmhouse located in Kansas but they exchanged wedding vows in St. John of Virgin Islands, on May 25, 2010.
Sarah Huckabee who is serving as the Press Secretary to America's 45th President Donald Trump was born on August 13, 1982, in Hope, Arkansas. She is the youngest child and only daughter of Mike and Janet Huckabee. Her two siblings are John Mark and David Huckabee.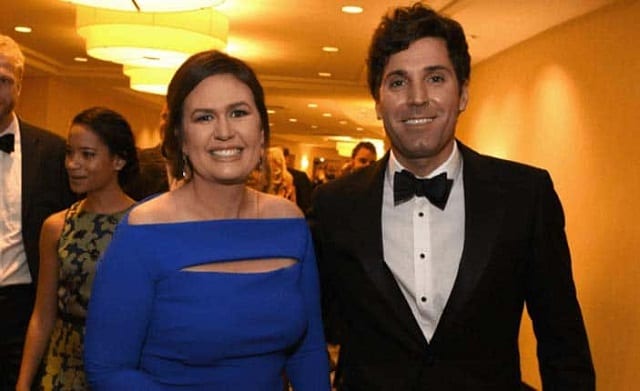 Sanders is known for being supportive of his wife Sarah even though they share a different opinion about Trump. Sanders has never been a supporter of Donald Trump and his political ideologies, but he still allows his wife to go ahead with her decision to join the 'Trump campaign'. The couple has three children together. The first is a girl Scarlett who was born in 2012, She is followed by Williams born in 2013 and the youngest, George, was born in 2015.
With his wife, Sanders founded a consulting firm known as Second Street Strategies. The firm was established in 2016 with the aim of providing a "general consulting services, including strategy, research, polling, message development, and advertising production and placement for candidates, independent expenditure committees, businesses, and non-profits." However, as his wife is busy at the White House, they had to put the firm on hold indefinitely. Sarah's net worth is about $8 million with an annual salary of about  $165,000 as the Deputy Secretary.