Bruno Mars may go down in history as one of the most versatile entertainers ever thanks to his growing reputation as an exquisite stage performer. He is a singer, record producer, and songwriter who has sold millions of records to become one of the best selling artists in the world. As is evident in history with other legendary stage performers and best selling artists, notably the late Michael Jackson who is a major inspiration to him, Bruno Mars has siblings who are also in the entertainment business. While his brothers and sisters may not be as successful as he is, they are quite talented, enough to be able to be making a living from it.
Bruno Mars Grew Up in Waikiki with His Five Siblings
The dynamic entertainer was born Peter Gene Hernandez Jr. in Honolulu, Hawaii on October 8, 1985. His father, Peter Hernandez, who is a New Yorker by birth, was a percussionist who settled in Hawaii to raise his family. His mother Bernadette was a hula dancer. The couple met for the first time at a show and they raised their children with an inclination for entertainment.
Growing up in Waikiki alongside his brother Eric and his sisters Jaime, Tiara, Tahiti, and Presley, Bruno began to show interest in the work of musicians such as Elvis Presley quite early in life. Indeed, the interest was so overwhelming that he would soon be infecting his only brother, all his sisters, and a cousin named Jaime with it. They all became notable for performing in their neighborhood right from the time he was 7.
Bruno Mars' interest in music seems to have overshadowed his education history. However, we know that at the age of eighteen in 2003, he left Hawaii and moved to Los Angeles to pursue his passion.
What He Has Accomplished in His Career
Not long after arriving Los Angeles, the 'Grenade' singer signed to Motown Records which is owned by Universal Music Group. Bruno Mars would later leave Motown to sign with Atlantic Recording Corporation and in less than seven years after arriving in Los Angeles, he co-founded the production team known as the Smeezingtons.
Within just one year of the existence of the team, the group had a brush with fame after they produced two singles that were very successful; rapper B.o.B's "Nothin' On You" and Travie McCoy's "Billionaire". Bruno did not only have a hand in the production of these singles as they both featured his vocals. This spurred him to his own hit outings with his 2010 debut album titled The Hooligans which rose to number 3 on the US Billboard 200 chart.
His second album, Unorthodox Jukebox, peaked at number 1 on the Billboard 200 and won a Grammy while his third album 24K Magic debuted at number 2 on the US Billboard 200 and number 1 on the US Top R&B/Hip-Hop Album chart. The album produced hit singles such as "That's What I Like", "Finesse", and "24K Magic". More so, it was certified three-times platinum by the Recording Industry Association of America (RIAA) and equally earned the singer six Grammy Awards at the 2018 edition of the ceremony.
So far in his career, Bruno Mars has sold over 130 million records across the globe which makes him one of the best-selling music artists of all-time. Additionally, he has seven singles that have peaked at number 1 on the Billboard Hot 100, as well as nine number 1 singles on the Billboard Mainstream Top 40 chart, with "Just the Way You Are" and "Grenade" rated among the most successful digital singles of all time, having recorded sales of 12.5 million and 10.2 million respectively.
Bruno Mars has been a recipient of numerous awards over the course of his bloomy music career. He has received 11 Grammy Awards, 10 Soul Train Music Awards, 10 American Music Awards, 6 iHeartRadio Music Awards, 4 BET Awards, 4 Guinness World Records, and 3 Brit Awards among many others.
Bruno Mars' Musically Inclined Siblings
Bruno Mars' sisters; Tiara, Tahiti, and Presley, together with his cousin Jaime who has been adopted into the Hernandez family, formed an all-girl music group known as The Lylas, an acronym that stands for 'Love Ya Like A Sister'.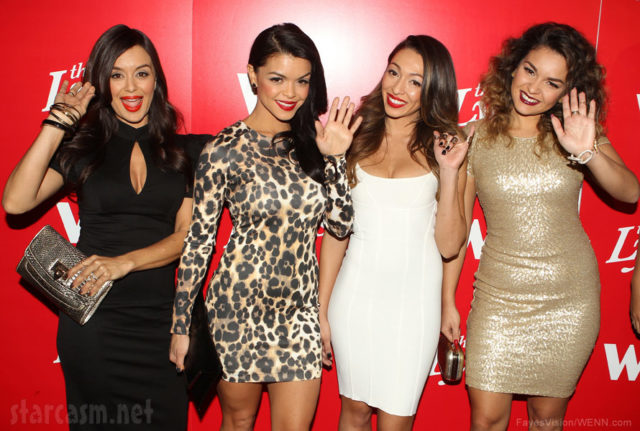 The Lylas also began an eponymous reality show on the We Channel in 2013. The show which was an unabashed mimicry of the Kardashians' reality show came to an end not long after due to the passing away of their mother Bernadette from a brain aneurysm.
The group has recorded notable success in some of their musical outings such as the songs "Headed Home" and "Come Back'. Unfortunately, the band has been on hiatus since 2014 when they released their single, "Voices" which featured their famous brother.
Jaime Khailani
The oldest of Bruno Mars' siblings is Jaime Khailani. As already stated, Jaime is his cousin but she has since been adopted into the family so she is very much a daughter and a sister to them. She was born on November 22, 1983, and attended Henry J. Kaiser High School Honolulu before relocating to Los Angels with her sisters.
Aside from music, Jaime has worked as a specialist in aesthetics and a print ad model for Cinnamon Girl, ABC Stores, and Local Motion. She also serves as the founder of a non-profit organization called 4 m.a.m.a. earth, which she launched in the year 2007. She is happily married to Jesse and the two are proud parents of two kids named Marley and Jaimo.
Tiara Hernandez
Tiara Hernandez is about a year younger than Jaime as she was born on September 26, 1984. The singer, who is endowed with a scintillating voice, once pursued a career in the medical field after having wanted to become a nurse. She eventually quit her nursing program at UHManoa and subsequently began her musical career journey after she first worked as a preschool teacher. She is also an instrumentalist like her brother and can play the piano very well.
Tahiti Kemper
Tahiti Hernandez Kemper was born on June 2, 1987. Prior to becoming a music artist and a reality TV star, Bruno Mars' sibling was associated with a loan company where she worked as a manager. Currently, she works as a fitness instructor.
Judging from many online comments, it is clear that many people think Tahiti is the most beautiful of Bruno Mars' sisters in spite of having borne four kids with her husband Billy Kemper. She tied the knot with her husband who is a professional surfer in the Aloha State, Hawaii in November 2018. The couple have four sons named Nyjah Music, Zyah Rhythm, Hazey Eric, and Lion Rose.
Presley Mahone
Presley, the youngest of the Lylas, was born on July 23, 1990. She was named after the iconic singer and actor Elvis Presley whom her family loves so much. She is a graduate of Roosevelt High School in Hawaii. After her graduation, she began working as a waitress at Apartment 3, which closed down in the year 2012. As a result, Presley decided to ply her trade in music full-time along with her sisters. She is married to Mr. Mahone and has two kids.
Eric Hernandez
Eric Hernandez is Bruno's only brother. Born in 1976 in Brooklyn, New York before the family relocated to Hawaii, Eric is older than Bruno by nine years. He took after their father Peter as a percussionist as he started playing the drums from the age of 4. By the time he was 10, he was so overbooked in Hawaii that he was playing 6 nights a week for 8 years.
Playing so many times a week and for so long helped Eric, who is popularly known as E-Panda, to hone his skills such that he could play rock, reggae, soul, and virtually all the genres. Obviously, only such a versatile drummer can play for a versatile entertainer like Bruno. Thus, he serves as the drummer for Bruno Mars' band, The Hooligans.
Before The Hooligans, Eric worked as a touring drummer for the well-respected pop band, Louie Says. He has also been associated with other popular music artists such as Cee-Lo Green, Janelle Monae, Monica, B.o.B, and Keri Hilson. His sponsors include Remo Drum Heads, DW Drums, and Sabian Cymbals.
Bruno Has Been in a Long-Term Relationship with Model Jessica Caban
Since 2011, Bruno Mars has been in a romantic relationship with Jessica Caban, an American fashion model and actress. It was love at first sight for the couple who first met at the Co-op restaurant in New York City. Soon after they became an item, Jessica moved in with Bruno. They have been going strong since then although the pair have tried to keep their personal life away from the public by not making public appearances together, except for the Grammys.
In his 2018 Grammy acceptance speech, the Honolulu native gave a special shout out to his beau who has been by his side throughout his career progression. The two lovebirds live together in his luxury home located in the Hollywood Hills but are yet to take their relationship to the next level