He is a multi-talented artist who is popular around the world for doing an amazing job as not just a singer but also a songwriter, record producer, multi-instrumentalist, and dancer. As such, it is not abnormal that a lot of people have been inquisitive about his personal life. While some are only interested in meeting Bruno Mars' kids, others want to know everything about his partner. We rounded up everything you need to know about the talented singer's personal life and his accomplishments.
Mars' Career Accomplishments in Net Worth, Record Sales and Recognitions
The American artist who was born and raised in Honolulu Hawaii is blessed with an incredible voice that can wow any kind of audience. Mars started his musical career professionally in 2004, signing a contract with Motown records. After many unsuccessful attempts to stamp his presence in the music industry, and being laid off by Motown, his career kicked off in 2009 when he signed with Atlantic Records.
He thereafter co-founded the production team, The Smeezingtons, known to be behind many successful singles of several artists, including Mars himself. Subsequently, Bruno Mars rose to stardom in 2010 with the release of his singles: Billionaire and Nothin on You.
His first studio album titled Do-Wops & Hooligans was very successful, reaching the number 3 spot on the Billboard 200 chart in America. It also became number one in the United Kingdom, Germany, Canada, and the Netherlands.
For his excellent melody and style, Mars has sold over 200 million singles and 26 million albums all over the world, placing him among the best-selling musicians of all time. Since 2010, he has remained a delightful artist, with seven number-one hits on the Billboard Hot 100. Away from singing, he is considered an amazing talent when it comes to writing songs.
Bruno has won 11 Grammy Awards, 10 Soul Train Awards, three Brit Awards, and nine American Music Awards. In addition to that, he holds three Guinness World Records. Forbes has also named him in different categories, including 30 under 30, celebrity 100 (twice in 2018 and 2019), and the world's most powerful celebrities.
Thanks to his booming career, the Hawaii-born singer is one of the richest in the world, with his $175 million net worth. Since 2013, he has been one of the highest-earning musicians in the world, topping the list in 2017.
Aside from his record sales, he has also earned handsomely through music tours and Las Vegas. His 24K Magic World Tour in 2016 is one of the highest-grossing tours of all time, with a total gross of $361 million. Through tours and his residencies, the singer has recorded more than $500 million in gross revenue.
How He Spends His Money
With a $175 million net worth, Bruno Mars has some leeway to enjoy life to the fullest and he has done so in several ways. He owns and lives in a 9,000 square foot Los Angeles mansion he bought for $6.5 million. The house, which is in the Studio City neighbourhood, has luxury amenities like a wine cellar, infinity pool, and a sauna.
Bruno Mars is also quite the car collector and in his mansion is a collection of twelve cars worth an estimated $1.8 million. They include cars like the Cadillac Allante and STS. He also owns a Rolls Royce worth $289,000.
He also spends a significant part of his fortune on clothing and jewelry, with his famous Versace Medusa gold chain which reportedly gulped up $2,000.
Aside from material expenses, the singer is also a notable giver and has spent over $3 million in philanthropic efforts since he got his breakthrough. He once provided Thanksgiving meals to 24,000 Hawaii residents and donated $100,000 to victims of Typhoon Yolanda.
Who Is Bruno Mars Dating?
Even with all his fame, Bruno Mars has managed to keep extensive details about his love life away from the media. That might be because unlike many of his colleagues, he has been in a committed relationship for a long time.
The singer has been in a relationship with Jessica Caban, a fashion model, and actress, since 2011. Caban has been in the world of showbiz since 2002, when she modelled for Jennifer Lopez's fashion line, J-LO.
Since then, she has appeared in several commercials, magazines, and music videos. Bruno Mars' partner is also the first-ever Model Latina, winning the title in 2008. As an actress, she has appeared in Are You for Great Sex? where she made her film debut. She has also made recurring appearances on the TV show, Jane the Virgin.
Jessica Caban and Bruno Mars live together in their mansion in Los Angeles, as one of Hollywood's longterm couples.
Read Also: Bruno Mars' Net Worth: How Much Money Does The Musician Have Now?
Bruno Mars' Family Life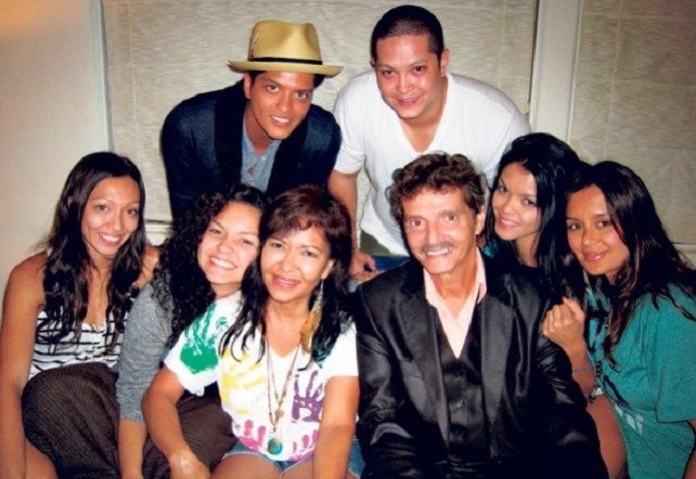 Mars doesn't have any kids neither has he mentioned plans of having some anytime soon. In huge contrast to the story of many longterm relationships, Bruno Mars and his partner, Jessica Caban, seem to be staying away from life as parents.
The reason for this is anyone's guess, but fans of the singer seem to believe his career is his primary focus at the moment. In the meantime, Mars and his girlfriend are getting plenty of parent practice as the owner of a Rottweiler, Geronimo.
Now that we know all there is to know about Bruno Mars' partner, let's discuss his parents and siblings. Bruno Mars was born on October 8, 1985, into the family of inspiring artists. He wasn't born with this beautiful stage name. His birth name is Peter Gene Hernandez but his father named him Bruno because he looked so much like Bruno Sammartino, an American professional wrestler.
Father and Mother
His parents are Peter Hernandez and Bernadette San Pedro Bayot. From what we gathered, his paternal family stretches back through many generations of different descents, including Puerto Rican and Ashkenazi Jewish (from Ukraine and Hungary). However, Peter is originally from Brooklyn, New York. Being a musician who performed Little Richard rock and roll music, he did set a career path for his children.
At some point, his marriage to Bernadette crumbled. This led him to move out of the house with Mars and his brother. Given the family's financial situation, they lived in the back of a car, in an abandoned bird zoo and on rooftops.
Mars' mother, Bernadette, on the hand, arrived in America from the Philippines as a child. She was of Filipino with some Spanish ancestry. Professionally, she was also a singer and a dancer, so it is safe to say that Mars came from a musical household.
Bernadette and Peter met while performing on a show in which she performed as a hula dancer and Peter played percussion. During her marriage to Peter, she and her family lived in the Waikiki district of Honolulu.
Sadly, she fell seriously ill and died in October of 2013 at age 55, after battling with a brain aneurysm. A day before her death, Mars got on a plane to Hawaii to meet her. He had returned from an overseas tour when he learned that his mother was seriously sick.
Siblings and other Family Members
It is not just Bruno Mars who caught the musical bug in his family and some of them are his music partners. For years, his brother, Eric, has been the drummer for Bruno's backup band, The Hooligans. His three sisters, Tiara, Presely, and Tahiti, as well as their cousin Jaime, are the members of the all-girl group Lylas.
His uncle was an Elvis impersonator, and although his identity remains unknown, he put Mars on his path as a stage musician, by encouraging him to perform when he was three years old.