Since his rise to fame, Bruno Mars has made a conscious effort to keep his personal life, especially his dating life out the reach of the media, so much that if you didn't consciously look for information, you might think that the musician is gay. Unlike his peers, you are less likely to find news about The Lazy Song singer's relationships trending on social media.
Although he is a big supporter of the LGBTQ community, Bruno Mars is not a gay man and he has been involved in several heterosexual relationships since he became an international music star in 2011. Check out some of Bruno Mars' relationships below.
Is Bruno Mars Gay?
For those who have taken the lack of ubiquitous information about Bruno Mars relationships as a sign he is gay, no he is not.
Unless Bruno Mars is still in the closet, the singer is a straight man who has been involved in a couple of heterosexual relationships since he moved to Los Angeles from Hawaii after he graduated high school in 2003.
The American musician is currently in a relationship with the model, Jessica Caban.
Timeline Of Bruno Mars' Relationships
Now that we know that Peter Gene Hernandez, better known by his stage name – Bruno Mars, is not gay, let's take a look at some of his past and current relationships.
Chanel Malvar
Bruno Mars was involved with the backup dancer, Chanel Malvar between 2009 and 2011. It is the first of two major relationships the singer has been involved in since he joined the music industry.
During their time together, Chanel frequently posted pictures of them together on her MySpace page, a fact that proves Bruno Mars' aversion to publicizing his relationships isn't a new phenomenon.
The relationship came to end after Mars was alleged to have cheated on Chanel on someone he was working with at the time.
Rita Ora
Bruno Mars' first known relationship as a major music star is believed to have ended because of infidelity with someone he was working with and that person may have been Rita Ora.
According to the British singer, they were together for a brief period between 2009 and 2011 after they met back when Bruno Mars as still a struggling songwriter and he was hired to write songs for her.
According to Rita's interview with a German magazine, their time together was brief and it came to an end after they both became successful and their respective busy schedules forced them to end it for good.
If the timeline is true, then it would appear the 24K Magic superstar was double dipping during the early days of his career.
Rocsi Diaz
The success of Bruno Mars' first album, Doo-Wops & Hooligans, combined with his charming good looks made him the toast of several women. In the midst of the gay rumors, Bruno Mars was still rumored to have had a relationship with Rocsi Diaz, the 106 & Park host, sometime in October 2011.
Unlike his first two relationships, this was never confirmed by either party and it may very well stay a rumor.
Amelle Berrabah
Another woman Bruno Mars reportedly had a fling with, before he got into a committed relationship, was Amelle Berrabah. Bruno reportedly had an encounter with the Sugarbabes member sometime in 2011. Just like his reported fling with Rocsi Diaz, this has never been confirmed by either of them and it will probably be nothing more than a rumor.
Jessica Caban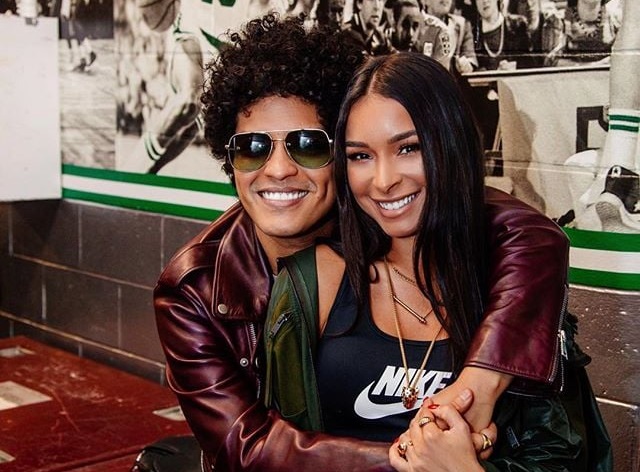 For those who have been curious about Bruno Mars' relationship history and if he is gay, the musician is currently in a relationship with Jessica Caban. The two began their relationship sometime in 2011, with many believed it began in the last month of the year. They reportedly met in a restaurant in New York City after Bruno Mars, upon spotting the beautiful model, approached her. They have been together ever since.

Bruno Mars' relationship with Jessica Caban became officially serious when she moved in with him into his $3.2 million Hollywood mansion in the summer of 2012.

It has remained the second most serious relationship he has been in since his first with Chanel and his longest since he became a professional musician.

In continuation of Bruno Mars' decision to keep his professional life out of the media, the two are rarely spotted out in public together, with their few public appearances being the 2014 and 2016 Grammys.

See Also: Logic (Rapper) – Biography, Wife, and Net Worth

His girlfriend, Jessica Caban, is a fashion model and an actress who also has a swimwear line, J. Marie Swimwear. She was also the first winner of the reality show, Model Latina. As an actress, she has appeared in shows like Jane the Virgin, and the films – Shades of Love and Are You for Great Sex.

Fact Check: We strive for accuracy and fairness. If you see something that needs updating,