Although he is one of the biggest artists who rose to fame in the 2010s, you are less likely to find anything about the personal life of Bruno Mars. In a relatively short period, he has attained the status of one of the best-selling musicians of all time, with albums like 'Unorthodox Jukebox', and 'Doo-Wops & Hooligans'. Obviously, his music style and gripping fashion sense must have contributed to his unprecedented career success. Outside of his widely beloved music, you are unlikely to learn anything about Bruno Mars' dating life, as he prefers to keep his personal life on the down-low.
Bruno Mars is a Multi- Award-Winning Music Artist
So far in his music career, Bruno Mars has won multiple awards, including eleven Grammy Awards, four Guinness World Records and three Brit Awards. He released his debut album 'Doo-Wops & Hooligans' on the 4th of October 2010. The album, which was released on the back of successful singles like 'Just the Way You Are', 'Liquor Store Blues' and 'Grenade', was a commercial success. It debuted at number three on the Billboard 200 and was number one on Billboard's Top Catalog Albums for eleven weeks.
Also, the album has been certified quintuple platinum, having sold over five million copies worldwide, turning Bruno Mars into an international star with public interest in his dating life. Since his first album, he has released two more albums, 'Unorthodox Jukebox' and '24K Magic', all of which, along with their respective singles, has helped him to over 200 million sold singles and 26 million album sales worldwide.
Having being born by musically inclined parents, Bruno Mars started performing at an early age with his family's band, The Love Notes at the age of three. Shortly after attending President Theodore Roosevelt High School, his sister played his demo track for an executive of Aftermath Entertainment. Consequently, the young artist was invited to Los Angeles and thus began his professional career.
He then relocated to Los Angeles, and originally signed with Motown Records but was only with the label for less than a year before he was dropped. Prior to kicking off his career as a solo artist, Bruno Mars sang with the band, Sex Panther and he was also a producer who wrote and produced for several artists like Adam Levine, Brandy, Flo Rida, and a couple of others. Over the past years, he has gone on to establish himself as one of the most popular music artists in the world, having recorded six best-selling singles of all-time.
His Musical Style Encompass Diverse Genres
Having been influenced by many music icons of different genres including Elvis Presley, Prince, Michael Jackson, The Police, Babyface, and Bob Marley, the handsome Hawaiian entertainer has displayed diverse musical genres in his songs including R&B, pop, soul, funk, hip hop, reggae, and rock. His first studio album, 'Doo-Dops & Hooligans' which most of its songs reflect carefree, feel good, and optimistic sentiments is chiefly of R&B and pop genre.
However, Bruno Mars adopted different genres such as balladry, rock, disco, soul, reggae, and funk in his second studio album titled 'Unorthodox Jukebox'. The lyrics of this album addresses the traditional concept of romance, male superiority, and sexuality which is quite different from its preceding album that details on loneliness, failed relationship, and pain.
More so, his third album, '24K Magic' was greatly influenced by funk, R&B, new jack swing, soul, and pop, with its lyrics revolving on sex and money themes. Generally, Bruno Mars is not a single genre artist but a mixed genre musician who loves to express his music through diverse musical influences.
The Gripping Fashion Sense of the Artist
The multi-Grammy award-winning artist has his own fashion line known as Bruno Mars XXIV Magic Merchandise & Vinyl that consists of over fifty products, ranging from clothing to jewels. Unlike some music artists who prefer a monotonous fashion style such as tracksuits and zip-up shirts, Bruno Mars dons a wide variety of costumes.
His fashion ensemble includes tuxedo, short-sleeve track jackets, color-blocked shirts with a necklace worn on the outside of the collar, bold tracksuit with Nike Cortezes, sweatpants with hat, and silky track jackets. He is also known to often wear bold chains, hats, and sunglasses irrespective of the weather, location or time of day.
Meet Bruno's Long-time Girlfriend
Bruno Mars' music personality suggests he is a flirt who engages in multiple relationships and flings, but a closer look at his dating life reveals that is very far from the truth for the musician. He has been in a relationship with the same woman since 2011, the woman is model, Jessica Caban.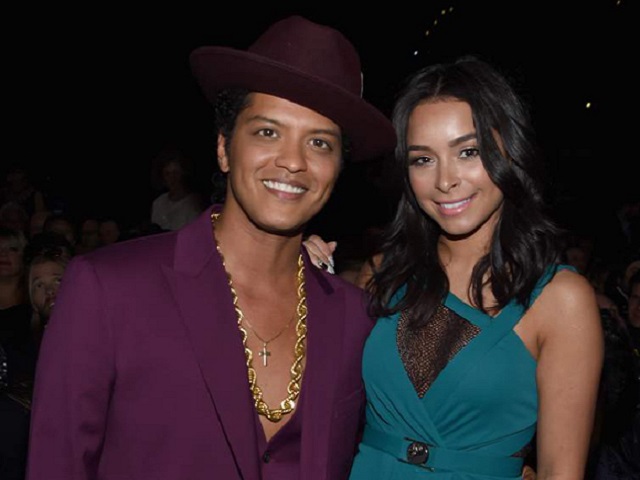 Both of them reportedly first met in a restaurant in New York City, after Bruno Mars approached her and they have been together ever since. As for marriage, even though they have been dating for over seven years, there is no report of Bruno and Jessica being a married couple. When Bruno was asked about the possibility of getting married to her, he responded defiantly to the implication, declaring that their relationship was fine as it is.
See Also: Who is Offset of Migos? His Relationship With Cardi B, Net Worth, Kids and More
Although, considering how private they both are, it would not be a total surprise if they got secretly married. The two currently live together in their mansion in Hollywood Hills where they parent a dog named Geronimo. According to a rare insight into his personal life, Bruno Mars once confessed that the song, 'When I Was Your Man', was written for Jessica during a period when it felt like he was going to lose her. Thankfully, he didn't.
Check Out His Past Romantic Partners
Chanel Malvar
Before his relationship with Jessica Caban, Bruno Mars was dating Chanel Malvar, a backup dancer between 2009 and 2011. The relationship reportedly died after Mars was alleged to have cheated on her with a co-worker, in the person of Rita Ora. Jessica was greatly disappointed with herself for not paying attention to her intuition when the red flags were there, as she turned blind eye to his late-night calls and texts.
Rita Ora
Rita Ora is an English singer, songwriter, and actress. Bruno Mars reportedly dated Rita the same period he was in a romantic relationship with Chanel Malvar. He kicked off his romance with the singer when he was hired to write songs for her by her record label, Roc Nation in 2009.
According to Rita, it was love at first sight and a wonderful experience for her as she was 18 years old then and was starting her musical career at that moment. However, the duo ended their relationship in 2011 because of the pressures of being famous and tight work schedules associated with it, but they are still close friends to date.