The famous wrestler cum fitness model Brooke Tessmacher is one proof of that famous line 'determination is a major key to success'. The three-time TNA Knockout champion and renowned one-time TNA Tag Team Knockout co-winner is now highly celebrated in the world of female wrestling. But whoever remembers that Miss Tessmacher (as she is also popularly called) comes from a family that was so poor that, at a time, they were homeless and lived in a car?
When she set out on her career path in order to enable her to overcome the ugly situations around her and her family, she encountered one severe discouragement after another. For instance, her own agent once told her that she was too ripped to model.
She first became involved with professional wrestling by trying out for the 2006 WWE Diva Search but failed to make the top 8 that was needed to pull through. despite all the odds, the athletic model weathered the storm of discouragement that came from all these instances to get named among the top fitness models and world-renowned female professional wrestlers in history. Read on to learn all the facts you need to know about Brooke Tessmacher and possibly learn one or two lessons from her life and career history.
Who Is Brooke Tessmacher?
The American female wrestler, model, and mother of two were born as Brooke Nicole Adams in Saint Louis Missouri on December 4, 1984. But while she was seven years of age, her family moved to Houston Texas where she was eventually raised alongside a non-identical twin sister, Brittaney Adams. Although we do not have many details about her family, there is this story that at a time, they were so poor that they couldn't afford an apartment and so they lived in her mother's Daytona car.
Brooke Tessmacher was educated through the American education system up to High School level. Her grades 9 through 12 were spent at Spring High School in Harris County Texas. We are yet to access details as to where she spent the earlier stages of her educational life.
Upon graduating from High School, Brooke Tessmacher began to pursue her modeling career. She started by competing in a couple of bikini pageants across the country, but she never won any.  That was when her agent was said to have suggested that she abandoned modeling.
The discouraging words from Brooke Tessmacher's agent impacted her negatively and saw her abandon modeling for a go at WWE wrestling. But as already hinted, she also failed there because she couldn't meet the basic requirements at the Diva Search. However, luck smiled on Miss Tessmacher as she was chosen to train under Ohio Valley Wrestling (OVW) in spite of her failure.
She was probably offered that opportunity as a consolation because, at that time, OVW was still a developmental WWE territory that had very little regard. But it was there that Brooke Tessmacher developed up to the point of eventually winning the TNA Knockout for a record three times helping to give the OVW the reputation it enjoys today.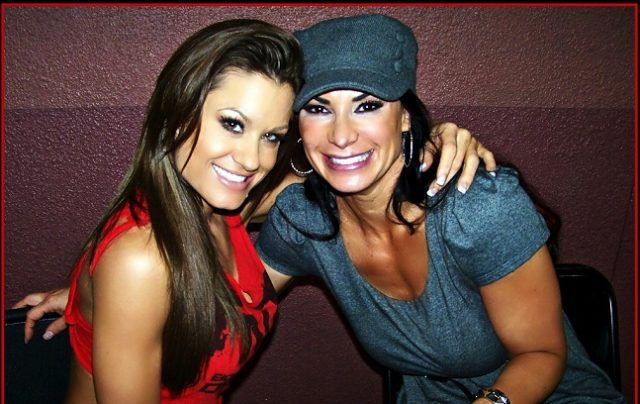 When Tessmacher was released by WWE, she returned to modeling to compete in those bikini contests she lost before and more, including the Hawaiian Tropic and Bikini USA. Among many other modeling accolades, Miss Tessmacher was the winner of the local round for the Face of Champ Car beauty contest at the 2006 edition of Grand Prix of Houston auto race contest. Two years later, she was crowned Miss Hawaiian Tropics Texas and in 2011, she received $10,000 as the winner of the Hooters Viewers Choice swimsuit contest.
See Also: Tara Babcock – Bio, Facts And Personal Life Of The Model And YouTuber
Family Life Including Children
Miss Brooke Tessmacher has been in a romantic relationship with Weston Wayne, a fellow model, and personal trainer. Although the two are still engaged and yet to get legally married, their relationship has produced two kids. They first welcomed a son named Jace on September 3, 2016. Two years later, on October 31st, 2018, they welcomed a baby girl who was named Phoenix Presley-Lee Piper. The family lives happily together in the city of Houston Texas.
Height, Weight, And Body Measurements
Brooke Tessmacher stands at the height of 163cm (that is 5 feet 3 inches). Her listed weight is 50.8kg (or 112lbs). As for her bust-waist-hip ratio, it is 31-24-33 in inches. While her bra size is 36D (US) or 80D (EU), her shoe size is 7.5 (US).
Being that Tessmacher is white by ethnicity, she has fair skin, brown hair, and hazel eyes.