| Net Worth: | $28 million |
| --- | --- |
| Age/Date of Birth: | July 12, 1977 |
| Height: | 6 ft 2½ in or 189 cm |
| Ethnicity/Race: | White |
| Nationality: | American |
| Wife or Girlfriend: | Sable (m. 2006) |
| Parents: | Richard Lesnar and Stephanie Lesnar |
Brock Lesnar is an American professional wrestler who is signed to WWE's Raw brand as of 2017. Also a mixed martial artist, Lesnar had a successful UFC career before his retirement on Valentine's day 2017.
He is currently one of the two top draws of WWE, the other being John Cena. According to Forbes' 2016/debut List of Highest-Paid WWE Wrestlers, Lesnar ranked second with earnings of $6 million.
Brock Lesnar's net worth stands at a staggering $28 million. His salary is $12 million, which makes him the highest-earning WWE Superstar
Brock prides himself as the only WWE wrestler with an in-ring corporate endorsement. Although he makes far fewer ring appearances than Cena, Lesnar uses his entertaining prowess as a bargaining chip to negotiate lucrative deals. Here are the things you need to know about Brock Lesnar's life and of course, his $28 million net worth.
His Early Life and Career Beginnings
Brock Edward Lesnar was born on July 12, 1977, in Webster, South Dakota. He was born to parents: Richard and Stephanie Lesnar who were dairy farmers in Webster. His siblings who are from the same parents include two elder brothers named Troy and Chad Lesnar and a younger sister named Brandi Lesnar.
Lesnar who is of German descent began wrestling in high school where he also played football. In amateur wrestling, Lesnar came 3rd in the state championships in his senior year. He continued playing both sports at Bismarck State College where he earned a wrestling scholarship transferring to the University of Minnesota. Lesner went on to stage an amazing collegiate career winning several titles, among them the 2000 heavyweight wrestling championship belt of the National Collegiate Athletic Association (NCAA) Division I. He left college with a 106–5 overall record.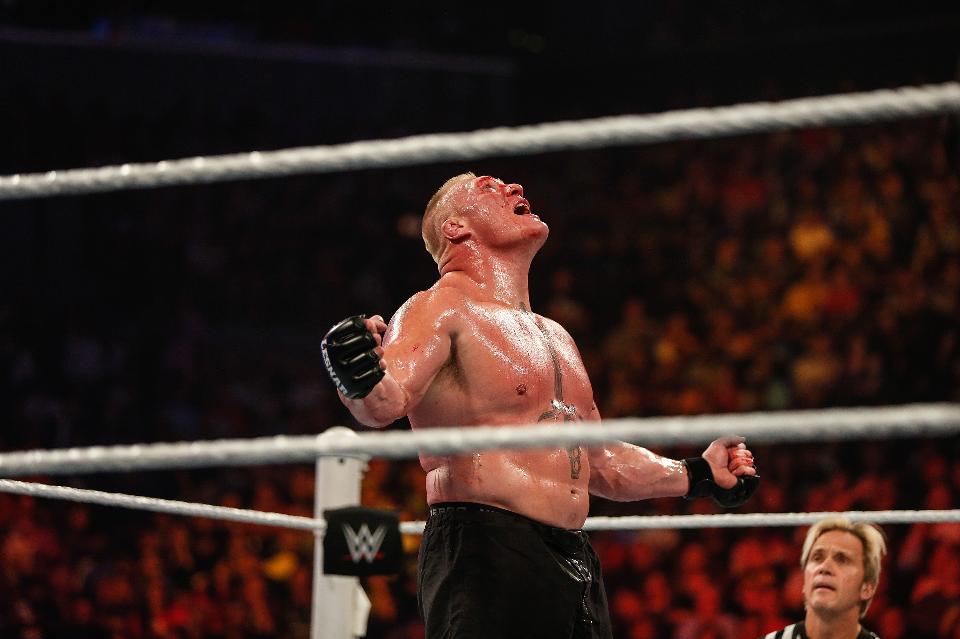 Professional WWE And UFC Career
Lesnar began his pro wrestling career in 2000 signing with the then-WWF (World Wrestling Federation). With the subsequent introduction of the brand extension, Lesnar was signed to the red Raw brand. Two years later, Lesnar won his first major title– The King of The Ring in 2002. After switching to the blue SmakDown brand, Lesnar at the age of 25 defeated the undisputed champion The Rock (Dwayne Johnson) to become the youngest WWE Champion. The following year, Lesnar also became the youngest wrestler to win The Royal Rumble.
Lesnar's reign at the top continued through until 2004 when he lost his championship defense to Eddie Guerrero. Following this, he took a break from the WWE to pursue a football career in the NFL. After an impressive performance at the NFL combine, Lesnar worked out with the Minnesota Vikings who named him as a defensive linebacker. However, a motorbike accident marred his performance during the preseason forcing him to be cut from the team before the start of the new season.
Lesnar then returned to pro wrestling, not the WWE but the New Japan Pro Wrestling (NJPW). After a brief period of success including winning the  IWGP Heavyweight Championship, Lesnar in 2006 made a foray into martial arts. He signed with the Ultimate Fighting Championship (UFC) in October 2007. A year later in 2008, he won the UFC Heavyweight Championship and subsequently emerged as the UFC undisputed champion.
Lesnar first retired from the UFC in 2011, returning to the WWE the following year in 2012 signing a $5 million contract. While still signed to WWE, Lesnar returned to the UFC in 2016 when he won the record $2.5 million fight purse in his fight against Mark Hunt at the UFC 200. After failing two drug tests, Lesnar was fined $250,000 and suspended for a year to return in July 2017.
However, reports surfaced on his second retirement on February 14, 2017. Upon returning to the WWE, Lesnar defeated The Undertaker, ending his Wrestlemania winning streak. He defeated John Cena in 2014 to regain the WWE World Heavyweight Championship belt.
Why Did Brock Lesnar Leave WWE In 2020?
The Beast was last seen at the main event of WrestleMania 36 (Part 2) which aired on April 5th, 2020. He lost the WWE championship to Drew Mclntyre in the event and has not participated in any match since then.
August came around and it circulated that Lesnar had parted ways with WWE. This was after WWE removed Brock's merch from its website. It was later claimed that Lesnar and WWE couldn't come to terms with a new contract which both parties had been discussing.
In essence, Lesnar is free to pursue whatever pleases him but that doesn't mean he's done with the promotion. Brock is easily one of WWE's finest stars and this isn't the first time he has left the promotion to pursue other interests. Whenever he feels the contract is right, we're certain he would return to WWE's ring.
Analysis of Brock Lesnar's Net Worth: WWE and UFC Earnings
How Much Does He Make from WWE?
In the WWE, Lesnar in 2003 inked a contract that guaranteed him a base salary of $1 million, the highest at the time. Although Lesnar makes around 20 WWE appearances a year, his ability to surge viewership anytime he does make an appearance makes him a major draw.
He has rightly been dubbed the most entertaining performer in the WWE. His 2012 contract was worth $5 million. Lesnar boosts his base salary by receiving a certain percentage of the pay-per-view match proceeds of which he has staged a lot since his 2012 return.
He also receives bonuses from the proceeds of merchandise sales. Lesnar's achievements in WWE have contributed in no small manner to his wealth estimated at $28 million. Before he left in 2020, he is said to be the highest-paid male star in promotion as he pulled a massive $12 million ahead of John Cena and Roman Reigns who respectively earn $8.5 and $5 million.
A Breakdown of the Over $5 Million He Has Made from His UFC Career
Brock Lesnar has earned substantially both from the WWE and UFC. He has participated in a number of pay-per-view matches in the UFC of which he gets a percentage cut of the total buys.
In a 2011 survey by ESPN on the highest-paid athletes in 30 sports, Lesnar emerged top as the highest-paid UFC fighter. Thus far, he has made over $5 million from the Ultimate Fighting Championship. The amount covers base salary, pay per view bonuses, and sponsorship deals.
Below is a breakdown of what he earned from each of his UFC fights.
UFC 81 2008 – Brock Lesnar (Loss) VS Frank Mir
UFC 87 2008 – Brock Lesnar (Win) VS Heath Herring

$450,000 ($250,000 to show; $200,000 win bonus)

UFC 91 2008 – Brock Lesnar (Win) VS Randy Couture

$450,000 ($250,000 to show; $200,000 win bonus)

UFC 100 2009 – Brock Lesnar (Win) VS Frank Mir
UFC 116 2010 – Brock Lesnar (Win) VS Shane Carwin

$475,000 ($400,000 to show; $75,000 submission of the Night bonus)

UFC 121 2010 – Brock Lesnar (Loss) VS Cain Velasquez
UFC 141 2011 – Brock Lesnar (Loss) VS Alistair Overeem
UFC 200 2016 – Brock Lesnar (Win) VS Mark Hunt

$2,255,000 ($2,500,000 to show, $5,000 Reebok sponsorship, and $250,000 fine for failed drug test)

Total UFC Earnings – $5,125,000
The Beast Incarnate Also Had a Professional Football Career 
It was in March 2004 that Lesnar decided to take a break from his WWE career to pursue a career as a professional American footballer. It had been since high school he played football but Brock was bent on seeing what he can accomplish in NFL and proving the naysayers wrong.
The Beast Incarnate performed well at the NFL Combine and was looking towards playing in the league when injuries he sustained in an accident hampered his chances; this was in April. By July, he had recovered to some extent and the Minnesota Vikings decided to give him a chance. He signed with the team and played with them in several preseason games.
However, he was released in August but would later receive an invite to play in NFL Europa as a representative of the franchise which he refused because he wanted to remain in the USA and close to his family.
Earnings from Video Games, Television Shows, and Movies
Being one of the finest wrestlers of his time, it is not surprising that Brock has been featured in several video games; from UFC to WWE games. In addition to that, he has made several television appearances and has played a handful of roles in movies and TV shows.
You will find him in productions like Rome Is Burning, True Giants, Foxcatcher, and Countdown. What he has been able to make through all of these avenues is not known but they must have contributed to his wealth.
The Major Sources of the WWE Star's Wealth
WWE salaries
UFC career earnings
NFL salaries
Income from video games, television shows, and movies
A Look at His Net Worth Over Time
2005 – $7 Million
2008 – $10 Million
2012 – $18 Million
2015 – $22 Million
2020 – $28 Million
Meet Brock Lesnar's Wife and Kids
Rena Marlette Lesnar (Sable)
Date of Birth: August 8, 1967
Occupation: Model, Actress, and Former Professional Wrestler
Duration of Marriage: 2006 – Present
No of Kids With Lesnar: 2 Sons (Turk and Duke Lesnar)
Brock is married to a former fellow wrestler, turned model, and actress who is known professionally as Sable but addressed formally as Rena Greek. The power couple lives together as one happy family with 4 kids on their farm styled house in Maryfield, Saskatchewan. They previously lived in a house worth $750,000 in Maple Plain, Minnesota.
Brock and Rena are proud parents of two sons named Turk and Duke Lesnar. They were born in 2009 and 2010 respectively. Lesnar also has a set of twins; a girl named Mya Lynn and a boy called Luke. Both were born to him by his former fiancee Nicole McClain in 2002.
Rena also has a child from a previous relationship. Her first husband was Wayne W. Richardson. They got married in 1986 and remained married until Wayne died in 1991. The marriage produced a daughter named Mariah. Before Lesnar came into the picture, Rena was the wife of another wrestler named Marc Mero; they got married in 1994 and parted ways in 2004.
Turk Lesnar
Date of Birth: June 3rd, 2009
Occupation: Undetermined
Turk is the first child Brock and Rena had together. Considering his age, it is only natural he is only known as a child of his parents. As the years roll by, people would get to know if Turk would follow his parents' path and pursue a career in wrestling. For now, he's busy growing up.
Duke Lesnar
Date of Birth: Sometime in 2010
Occupation: Undetermined
The second child the couple has had together, Duke joined the family in 2010. Like his older brother Turk, he has a lot of growing up to do and doesn't concern himself with thoughts about the future.
Mya Lynn Lesnar
Date of Birth: April 10, 2002
Occupation: Student-Athlete
Mya Lesnar is a Minnesota state champion, the sixth-best shot-putter in the country and a future Sun Devil!

Welcome to the #SunDevilFamily!#ForksUp???? pic.twitter.com/OAH7NySPF6

— Sun Devil TFXC (@SunDevilTFXC) November 22, 2019
The only girl child of the wrestler, Brock Lesnar had Mya with his former fiancée, Nicole McClain. Mya is probably the most famous child of the WWE superstar. She made news headlines when she was signed by Arizona State University to compete in track and field.
Luke Lesnar
Date of Birth: April 10, 2002
Occupation: Undetermined
Luke is the first son of Brock Lesnar and the twin brother of Mya; yeah, his mother is also Nicole McClain. Much is not known about Luke but there are claims that he is looking towards becoming a successful professional wrestler like his father.
Details of His Height, Weight, and Body Stats
Being an athlete whose success depends on his body build and height, Lesnar takes proper care of his body and have been known to stay out of the sports for almost a year when he was constantly battling with the wear and tear his body tissues are subjected to per appearance he makes in the ring.
He stands at 6.3 feet, weighing a powerful 129kg with a 54 inches chest measurement and 20 inches bicep measurement. He is undisputedly one of America's fittest sportsmen and a role model for most upcoming wrestlers.
Profile Summary
First Name:
Brock
Last Name:
Lesnar
Also Known As:

The Next Big Thing, Broccoli, Brock Solid, Bork Laser, The Conqueror, The Beast Incarnate
Sex/Gender:

Male
Profession:

Professional wrestler, former American football player, former mixed martial artist
Famous For:
Working as a WWE wrestler who has won Heavyweight Championship many times.
Colleges/Universities Attended:

Bismarck State College in Bismarck, North Dakota; University of Minnesota
Educational Qualifications:

N\ A
Religion:

Unknown
Birthday & Zodiac

Age/Date of Birth:

July 12, 1977
Zodiac Sign:
Cancer
Birth Place:

Webster, South Dakota, United States
Nationality:
American
Ethnicity/Race:

White
Country of Residence:

USA
Physical Attributes

Height:

6 ft 2½ in or 189 cm
Weight:

130 kg or 287 pounds
Eye Colour:

Blue
Hair Color:

Blonde
Other Body Measurements:

Chest – 55 in or 140cm, Arms / Biceps – 22 in or 56 cm,
Waist – 39 in or 99 cm
Relationships

Marital Status:

Married
Spouse/Partner:

Sable (m. 2006)
Family and Relatives

Father:

Richard Lesnar
Mother:
Stephanie Lesnar
Children:

Four biological children, sons Turk (b. June 2009), Duke (b. July 2010), and Luke (b. Brock Jr. in June 2001) and daughter Mya (b. April 2002). He is also the stepfather of Sable's daughter, Mariah
Siblings:
Troy (Older Brother), Chad (Older Brother), Brandi (Younger Sister)
Other Relatives:

N/A
Net Worth
Estimated Net Worth:

$28 million
Salary:
$12 million
Source of Wealth:

Wrestling career