An incredibly gorgeous woman who has been blessed with alluring facial looks and an enticing body, Brittany Bell is an American model who is widely regarded as one of the true goddesses of beauty in the industry. Her very good looks have attracted so many people to her and her stint in the modeling industry has seen her emerge winner of beauty pageants.
Apart from being known for her modeling work, she is also known for being an ex-girlfriend of Nick Cannon, a very popular American actor, singer, and television host. Their affair thrust her some more into the limelight as fans of the actor invaded her private life to learn more about her background. We have dug up some facts about this beauty for your reading pleasure.
Brittany Bell Biography
Brittany Bell was born on the 9th day of the month of November in the year 1987. The model was born in Barrigada, a village in the United States territory of Guam where she was also raised by her parents. Even though she is now known simply as Brittany Bell, it is noteworthy that her full birth name is actually Brittany Mesa Bell.
The model is of mixed descent. According to reports, her mother is a Chamorro woman and her father has Native American and West Indian roots. He is also said to have African-American heritage. Reports show that she was raised in a Christian household and is now a devout Christian.
Growing up, Brittany attended public schools in Barrigada. After finishing high school, she proceeded to attend Arizona State University from where she graduated with a bachelor's degree in broadcast journalism in 2009.
Apparently, Brittany had initially wanted to venture into the media industry and work as a reporter with news channels, however, her dazzling beauty and alluring looks drew her into the modeling world.
1. She has been crowned the winner of different beauty pageants
Brittany Bell is a very beautiful woman and it is not a surprise that she has beaten other beautiful girls to emerge the winner of beauty pageants during her modeling career. Shortly after she graduated from university, she participated in the Miss Arizona USA beauty pageant and emerged the winner, beating the other girls who participated in the contest to become Miss Arizona USA 2010. She was also crowned Miss Congeniality that year.
After being crowned as Miss Arizona, Brittany went on to compete in the Miss USA 2010 beauty pageant but did not win the contest. She later contested in the Miss Guam Universe 2014 pageant and beat all the other contestants to emerge the winner. She also went on to take part in the Miss Universe 2014 pageant.
2. Her relationship with Nick Cannon
Brittany Bell and Nick Cannon have had an interesting relationship in the past. The couple first started their romantic relationship in 2015. Nick Cannon was previously married to world-famous singer, Mariah Carey, but separated and filed for divorce in 2014. The next year, his relationship with Brittany came to light. Brittany's affair with Nick Cannon made her even more famous as those who had not heard of her were curious to know who was taking over Mariah Carey's place in Nick's life.
Even though Brittany and Nick Cannon were quite passionate about each other, their romance was not very smooth. They had an on and off relationship from 2015 to 2017. Eventually, the went their separate ways.
3. She has a son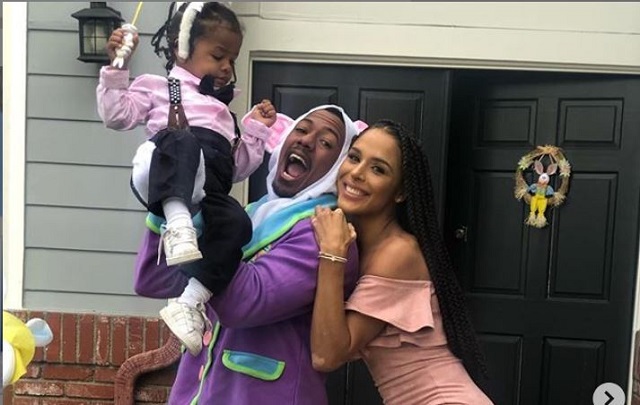 Brittany Bell's relationship with Nick Cannon produced a son whom they named Golden. The boy was born in February 2017. Brittany is super fond of Golden. In fact, a quick search through her Instagram page shows that she is an absolutely doting mother. She has splashed the boy's photos all over her page, showering him with very loving words.
Even though she and Nick Cannon are no more together as a couple, they have remained friendly to ensure the smooth co-parenting of their son, Golden.
4. She has acted in movies and TV series
Apart from her work as a model, Brittany has also acted in movies. The model kick-started her acting career in 2012 when she was cast to play Royal Flush Girl in World Poker Tour, a TV series. The next year, in 2013, she appeared in Good Cop Bike Cop, another TV series in which she played Jessie's Mom.
In 2014, she appeared as Jasmine Taylor in an episode of Taylor'd Problems. She then made a cameo appearance in The Last Movie Star, a 2017 drama movie. In 2018, she starred as Ava in Bromance & Betrayal, a short film.
5. She was a cheerleader for the Phoenix Suns
Brittany Bell has always loved dancing. Some reports say she started dancing since she was a little girl and continued showing off her skills while at the university.
While at Arizona State University, she served as a cheerleader for the NBA team the Phoenix Suns. She cheered for the team for three seasons from 2006-2009 and did very well. In fact, she did so well that in 2008, she was named the cheerleader of the week by Sports Illustrated.