Despite his stellar résumé and colossal success in the business world, Brad Zibung is best recognized as a celebrity spouse. Professionally, the sports enthusiast who turned his passion to profit, is a successful entrepreneur, realtor, and the brain behind a renowned sports publication – The Heckler. Nonetheless, the billionaire businessman was catapulted to the spotlight by his longterm romance with one of ESPN's hottest sportscasters. While fans may be well informed about Sarah Spain's professional life, not much is known about the man behind her smiles.
Going by public records, it is apparent that the journalist turned businessman leads a pretty private lifestyle. Besides the fact that he was welcomed into the world sometime in the year 1976, Brad Zibung has not disclosed other personal details including his birthplace, parents, and family background. For his tertiary studies, Zibung studied journalism and public relations at the University of Wisconsin-Oshkosh. Learn more facts about the man below.
Juicy Details About Brad Zibung You Probably Didn't Know
1. His Professional Accomplishments
If Brad Zibung's career profile and work experience are anything to go by, it is safe to say he has a knack for PR and has successfully practiced in this field of specialization. His earliest job record was a two-year stint as a PR assistant at his alma mater, UW Oshkosh. Thereafter, Brad moved on to Leo Burnett Group where he worked as a corporate communications associate for about half a decade. Next, he landed another job with StubHub. He had a ten-year stint with the company and served as its senior field operations manager.
After gaining the required work experience from several organizations, Brad Zibung went on to establish his own company, The Heckler. The print media publication specializes in sports and Zibung has been at the helm of affairs since its inception in the year 2003. The reputable sports newspaper which is known for its satirical content has recorded remarkable success in various cities across the country.
Refusing to rest on his laurels, Zibung has since spread his business tentacles to other fields, he ventured into real estate in 2014. Notably, he is a successful realtor who owns a renowned Chicago-based real estate firm called @properties.
2. His Love Life
Brad Zibung is happily married to his longtime heartthrob, Sarah Spain. The lovebirds reportedly first crossed paths in 2008 at a charity bowling event. They first got acquainted as friends and bonded over their common interests. Brad and Sarah later established a romantic connection about a year later. The pair courted for about seven long years before making their romance official.
Brad Zibung and Sarah Spain exchanged nuptial vows on May 2016 in a beautiful Chicago ceremony that was attended by friends and family. Thereafter, the couple jetted off to consummate their union in New Zealand and Australia. Brad and Sarah who have remained inseparable since 2009 still appear to be just as in love as ever. The couple continues to wax strong together with no signs to the contrary. Their union has not produced any children yet. Prior to Sarah Spain, there are no records of Brad Zibung's dating history.
3. He's an Animal Lover
An animal lover, dogs have a special place in Brad Zibung's heart and home. The businessman and his wife count two canines as part of their family and they all live together happily in their North River home.
4. Philanthropic Endeavors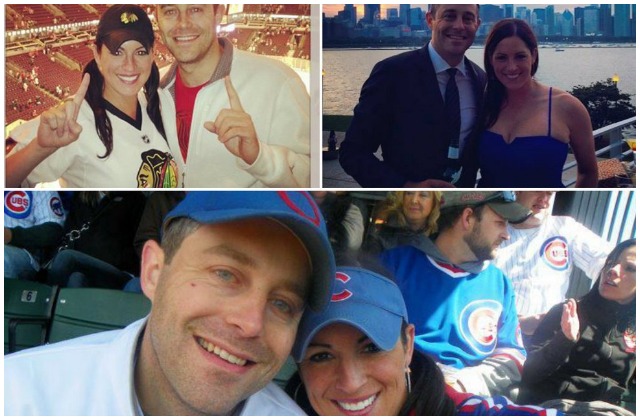 It is no news that Zibung is a sports enthusiast and a dedicated philanthropist. He has not only supported and contributed to sports organizations like Off the Street Club but also other causes he believes in. Notably, he has made charitable donations to the Parks Conservation Association as well as the Peace for Pits.
5. His Interesting Net Worth
Brad Zibung's numerous career endeavors over the years have undoubtedly yielded financial rewards. Although his yearly income has not been disclosed, the businessman currently enjoys a net worth that is pegged at about $1.5 billion.
On the other hand, although his broadcaster wife, Sarah Spain is considered one of ESPN's hottest sportscasters, her net worth is meager when compared to that of Brad. The English graduate from Ohio who is best recognized as a radio host and sportscaster for ESPN has a net worth that is estimated at about $900,000.
See Also: Scott Norby – Bio, Family, Facts About Heather Nauert's Husband
6. Brad Zibung's Height and Body Measurements
Brad Zibung has impressive physical features. The brown-haired journalist and businessman towers at a height of 6 feet 1 inch. His weight and other body measurements have not been disclosed but it is apparent that he has maintained a good physique over the years.