Brad Pitt and Jennifer Aniston's union was a celebrity match between one of the world's biggest movie stars and America's sweetheart. However, even the strongest relationships have cracks and Pitt's marriage to Aniston was no exception. From fame to fortune, and then to undeniable love for each other, Pitt and Aniston once seemed to have it all until everything came crumbling.
Formerly hailed as 'Hollywood's most perfect couple', their marriage was celebrated in all showbiz circles with their every move dissected. Though just a couple like anybody else, the former power pair was put on a pedestal and they were tabloid favorites. The media scrutiny their marriage got was always going to take some toll on the couple and it stays to be argued that hardly any marriage could have lasted under such circumstances.
It's been way more than a decade since Jen and Brad split, but the pair's relationship and divorce are still talked about as much as when they were together. Their relationship was quite 'full-on' from the outset, ending in an amicable split and continues to make the headlines. From the real reason why they fell apart to why their fans are still holding out hope that they will eventually reunite, find out everything you need to know about the former Hollywood power couple.
Brad Pitt and Jennifer Aniston's Lavish Malibu Wedding
Brad Pitt and Jennifer Aniston's love story actually began in 1998 after they were set up on a date by their agents. The actors' relationship soon developed into a whirlwind romance that propelled them to be seen as one of Hollywood's power couples. Within months of beginning their romance, Brad and Jen were engaged in 1999 and by July 29, 2000, they tied the knot in a Malibu wedding that was lavish in every sense of the word. The ceremony which cost the pair $1million was not only a media circus hounded by paparazzi, but it literally had fireworks.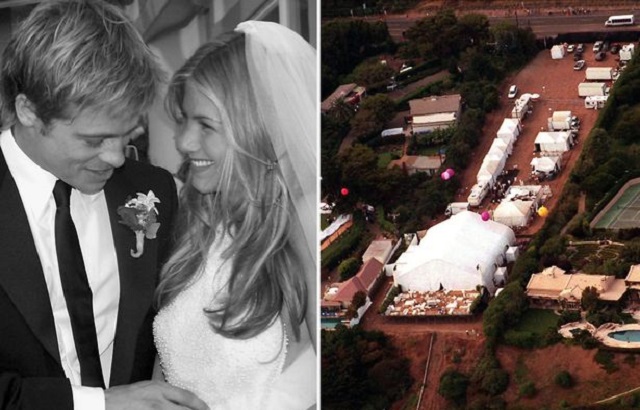 Pitt and Aniston were such a cute Hollywood power couple and even had some professional collaborations after Brad guest-starred in the popular Friends sitcom in 2001. The one-time It couple's chemistry led many to believe they were going to be an item for the long haul.
But Brad and Jen abruptly ended their marriage after seven years together. The exes officially split in January 2005 but their divorce was finalized a few months later in October that same year. At the time, the former couple explained that their separation was the result of much thoughtful consideration, contrary to several media speculations. Although Jennifer Aniston voiced her desire to start a family with Brad Pitt while they were married, there were no patters of tiny feet in their home. In fact, it was reported that while Jen wanted a family, it wasn't in Brad's life plans.
Their Divorce: What Really Happened?
After the end of Brad Pitt and Jennifer Aniston's marriage, the Inglorious Basterds actor struck up with Angelina Jolie. Jen was shattered when Brad walked into Jolie's arms post their divorce. The Mr. & Mrs. Smith co-stars met in 2004 on the movie set and sparks exploded all over the place. Though Brangelina initially denied their romance at the time, Jolie later admitted to falling for Pitt while filming the movie. Describing their unlikely romance, the actress stated that Brad was a huge surprise to her because he was a married man and she a single mom with a newly adopted son. Thus, they were both the last two people who were looking for a relationship, but things just progressed between them.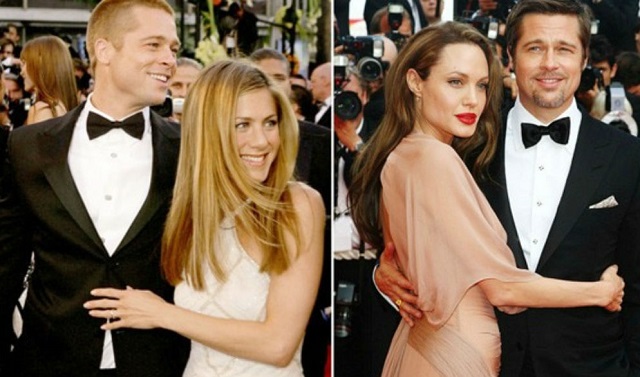 Angelina Jolie was mostly blamed for swooping in and maliciously ruining Pitt and Aniston's seemingly perfect marriage. The Mr. & Mrs. Smith star was accused of stealing Jennifer Aniston's man and the whole episode also became "an insane Bermuda Triangle". Moreover, given that Jen and Brad struggled to have children while Angelina gave Brad so many kids, the situation further left Jen "devastated and mentally torn".
While Angelina Jolie may have been a convenient person to blame for the collapse of Brad and Jen's marriage, it's not all Jolie's fault that the former power couple split up. The marriage was perhaps over long before Jolie arrived in their lives. The actress may have tainted Brad and Jen's marriage but it didn't alter the direction, as it seems the pair were destined to divorce regardless of whether Angelina arrived or not.
Firstly, it was speculated that prior to Jolie's arrival, there were some issues in the marriage which were born of professional 'jealousies' and had started to cause a rift between Jen and Brad. Moreover, six years after Brad split from Jen, the Once Upon A Time In Hollywood actor publicly admitted that despite being hailed as Hollywood's golden couple by onlookers, he was not really living his best life while married to the Friends alum.
According to Brad Pitt, he was only playing pretend in the marriage, trying to make it something it wasn't. The actor also admitted that he was 'bored' while married to Jen. But after the understandable backlash he got from fans, Pitt clarified his remarks, stating that Jennifer was not 'dull' but he had 'allowed' himself to become 'dull', partly taking responsibility for the split. Put differently, the actor may not have been looking for a new love but Angelina Jolie perhaps arrived at the right moment in his life.
As for Jennifer Aniston, the Friends alum stated that the reason for her and Pitt's divorce was quite complicated. While admitting that she was partly to be blamed for the fall out of their marriage, Aniston disclosed that they struggled to maintain intimacy because of their very busy working schedules. At the time, Jennifer Aniston and Brad Pitt's busy schedules prevented them from spending a lot of time together. While Pitt was building a stellar career for himself on the big screens, Aniston was very busy filming the hit sitcom, Friends. Particularly, the end of the series in 2004 was very emotional for the actress and there were speculations that the situation was worsened as Brad was barely available to comfort Jen during that minor crisis period.
Aniston also described herself as nurturer, adding that she gave so much of herself to her partner and forgot about herself along the way, which wasn't necessarily a good thing. In other words, Aniston tried to highlight that Pitt was perhaps not as committed to the marriage as she was.
See Also: How Did Kim Kardashian and Kris Humphries Meet, Why Did They Split After 72 Days
Brad Pitt and Jennifer Aniston: Post Divorce Relationships
As expected, the 'Jen-Brangelina Bermuda Triangle' resulted in Jennifer Aniston having bad blood with Angelina Jolie. Despite Aniston's statement that described Pitt as being devoid of sensitivity, Brad and Jen have remained reasonably amicable. Since splitting, the pair have maintained a reasonable relationship with each other.
A two-time "Sexiest Man Alive", Brad Pitt began dating Angelina Jolie in 2005, the same year he split from Jennifer Aniston but they officially became man and wife in 2014. Together, Brangelina adopted three children from orphanages around the world and had three children of their own. But after a two-year marriage and 11-year relationship, the former Hollywood power couple also parted ways. Angelina Jolie filed for divorce from Brad Pitt in September 2016.
As for Aniston, after her breakup from Pitt, the Friends alum who was named "The Most Beautiful Woman" and the "Sexiest Woman of All Time" in 2004 and 2011 respectively first sparked up a romance with Vince Vaughn. But a little over a year later, the pair called it quits. Aniston later found love in the arms of singer John Mayer. The pair were in an on and off relationship for about a year before also parting ways.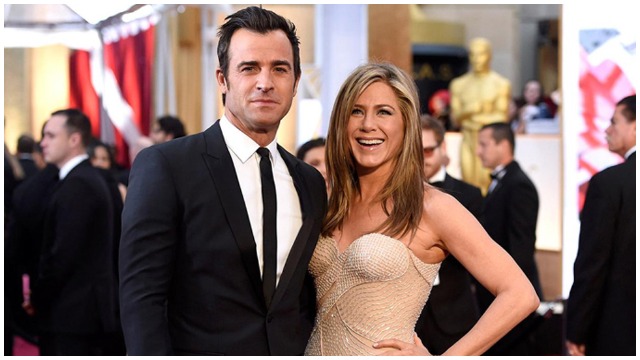 Jen met her second husband actor Justin Theroux in 2010 on the set of Wanderlust and they reportedly sparked off their romance while filming. Aniston and Theroux tied the knot in a surprise wedding ceremony in August 2015. But three years later, Aniston was left heartbroken again after their split in February 2018. Although the actors kept their distance from each another after the breakup, they hold no bad vibes and are good since they all share common friends and colleagues.
Are Brad Pitt and Jennifer Aniston Getting Back Together?
After Brad Pitt and Jennifer Aniston's second divorces, the former couple became single once again and rumours began swirling that they had rekindled their romance. In fact, it was later revealed that Jen was perhaps not over her first husband as she had allegedly kept notes from Brad during her marriage to Justin Theroux. Despite repeated refutation on the matter, Aniston and Pitt remain friendly.
While the Friends actress might not speak to Angelina Jolie again, it seems like she has forgiven the Inglorious Basterds actor. Brad Pitt stunned everyone and further got fans hoping for a possible reunion after he was spotted at Jennifer Aniston's star-studded 50th birthday celebration. Though fans can't help but keep fantasizing about the former couple getting back together someday, Jen has dismissed such hopes, stating that she is more focused on her career for now.