| Age/Date of Birth: | 10 May 1960 |
| --- | --- |
| Height: | 5′ 6″ or 1.68 m |
| Ethnicity/Race: | White |
| Nationality: | Irish |
| Wife or Girlfriend: | Alison Hewson (née Stewart) |
| Parents: | Iris (née Rankin) and Brendan Robert "Bob" Hewson |
| Net Worth: | $700 Million |
Bono is an Irish musician, businessman, and active philanthropist. He is popularly known as the lead vocalist of the rock band U2. Inasmuch as he is a musician, he has become popular of late as an investor who is not scared to invest in tech companies.
The Irish singer, songwriter, philanthropist, activist, venture capitalist, businessman, and actor, Bono has a net worth of $700 million, a considerable part of that comes from his investments
His Early Life
Bono was born Paul David Hewson on May 10, 1960, in Dublin, Ireland, and raised in a Christian family. He attended high school at Mount Temple Comprehensive School, Clontarf Dublin where he became part of a surrealist gang named "Lypton Village." It was from the gang that he got his nickname "Bono," which was originally Bono Vox meaning "good voice" in Latin.
In 1976, Bono and schoolmates David Evans aka The Edge, his brother Dik Evans, Adam Clayton, and Larry Mullen formed a rock band named "Feedback." However, the teenage group soon changed their name to "The Hype" and after the departure of Dik Evans, changed it again to U2.
Formation of U2
Although some reports had claimed in 2014 that as a result of the rockstar's investment in Facebook, he had reached the billionaire status, Forbes came out to point out that the report was entirely false.
In the early stages, the rock band began by doing the cover of other bands. However, when they realized they were poor at it, they began singing their own songs, most of which were written by Bono. His early lyrics contained mostly spiritual, political, and social themes.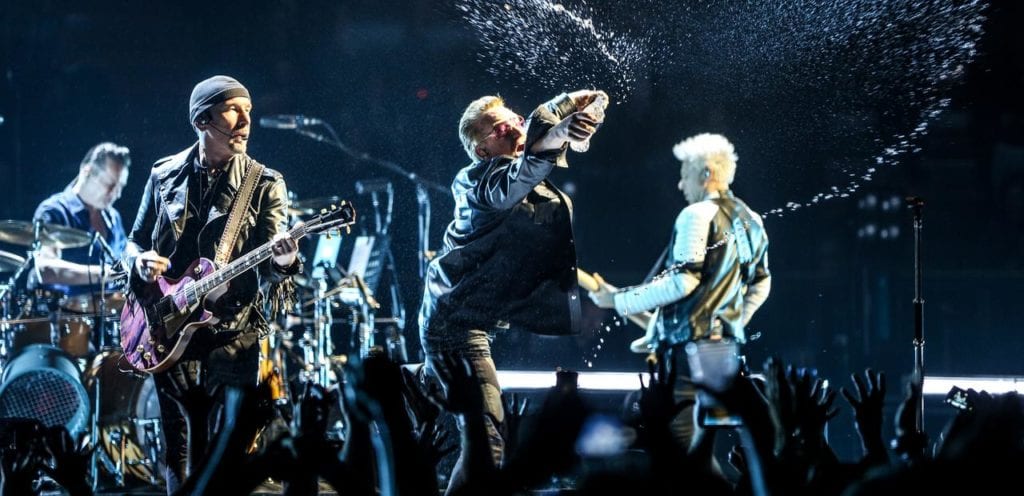 U2 in 1978 won a talent show in Limerick along with the £500 prize money and a chance to record a demo which landed them a deal with an Ireland label CBS Ireland. U2 released an EP with the label but was unable to attract much attention. The band released a single succeeded by an Ireland tour. At one of their shows, they were discovered by Island Records A&R who signed them to the label in 1980.
U2 released their debut album with a major studio "Boy" in 1980. The album received positive reviews and produced the hit single "I Will Follow." It was soon followed by a corresponding tour that showcased Bono's highly charismatic side. U2 released three more albums but found more success with touring than in album sales thanks to Bono's showman character which resonated well with fans.
However, the band found album sale success with their 5th studio album "The Joshua Tree" (1987) which sold 14 million copies in less than a year. In fact, the album is to date the band's best-selling album and one of the world's highest-selling albums, having sold over 25 million copies worldwide. The Rolling Stone Magazine credited the album for launching U2 "from heroes to superstars." In 1988, the album won a Grammy Award for Album of the year.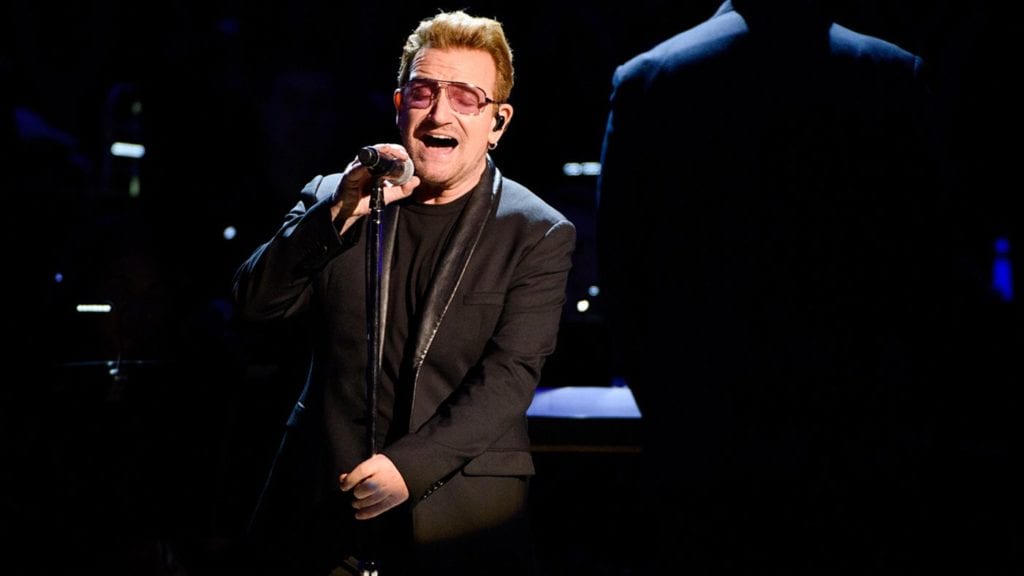 Continued Success With U2
U2 have since continued their success often featuring on Forbes list of highest-earning musicians. Following criticism, the band reinvented themselves, shunning their social and spiritual themes and embracing self-deprecation, instead, singing about their individual life experiences.
With fluctuating levels of success throughout the 1990s, U2 regained a high level of commercial success in the early 2000s. Their 10th studio album "All That You Can't Leave Behind" (2000) sold 12 million copies worldwide and won 7 Grammy Awards. The album was supported by Elevation Tour, which was equally successful, grossing over $142 million from 113 shows within a year.
Their 2004 album "How to Dismantle an Atomic Bomb" was another wild hit! selling over 10 million copies and winning 9 Grammy Awards. It's supporting Vertigo Tour grossed $389 million from 131 shows.
With over 170 million records sold worldwide, U2 is easily one of the world's most successful rock bands. As of 2016, they have released 13 studio albums and won 22 Grammy Awards, the highest of any other band. Their U2 360° Tour is the world's highest-grossing concert tour. It ran between 30 June 1999 and 30 July 2011 grossing $736 million in ticket sales. Thanks to the tour, U2 became the highest-earning music act of 2011 with a $195 million paycheck. In the year 2016, Forbes estimated their annual earnings at $55 million.
Elevation Partners And Other Businesses
As if being a member of one of the world's most successful rock band isn't enough, Bono boasts of a successful business portfolio. He is the managing director and managing partner of Elevation Partners, a private equity firm with total assets valued at almost $2 billion. The firm, which invests in entertainment companies and intellectual properties, once purchased about 45% of Forbes Media for an estimated $250 million. However, after Forbes was sold in 2014, Elevation partners seized to own a stake in the company.
Elevation Partners bought a 2% pre-IPO stake in Facebook in 2009/2010 for $210 million. After Facebook went public, the stake was valued at $1 billion leading to rumors that Bono had joined the billionaires club. However, Bono is only one of the several owners of Elevation Partners and only owns a fraction of the 2% stake, which is valued at about $50 million.
A Breakdown of His Net Worth: Just How Rich is Bono?
The Irish music star has a net worth of $700 million, according to Celebrity Net Worth. He made a large chunk of his net worth from his music career, as well as other endeavors. With his net worth of $700 million, he is currently regarded as the second richest rockstar in the world, after British star, Paul McCartney, who has a net worth of $1.2 billion.
From the 1980s when U2 came into the limelight, Bono and other band members started pocketing a good amount of money from their record sales. The singer made $3 million in 1980, $2 million in 1981, $9 million in 1983, and his net worth continued to record a significant improvement in the years that followed. During the 1990s, Bono made a whopping $115 million from the sale of the video album, Zoo TV: Live from Sydney, with U2. The album was also certified 2x platinum by ARIA and platinum by RIAA.
Through the sale of their 1980 to 1990 compilation album, the Irish singer made about $7.8 million in 1998. However, the figure increased to $12 million in the year 2000, through their earnings from the album, All That You Can't Leave Behind. Their No Line in the Horizon album fetched the singer $5 million in 2009, and the following year, he was reported to have earned $90 million from his stake at Facebook. However, that was not so as it was jointly owned. He actually made about $50 million from his Facebook shares.
U2 made a whopping $195 million in 2011, and Bono surely got a large chunk of that money. Aside from music, Bono also rakes in cash from his other endeavours, including his company- Elevation Partners, and his Facebook stakes. All these have helped him to net worth estimated to be $700 million.
Bono's net worth is currently estimated to be $700 million
He is the second richest rock star in the world after British star, Paul McCartney, who has a net worth of $1.2 billion.
In 2009, Bono was said to have joined the billionaires club after his company's shares in Facebook skyrocketed. However, the news turned out to be false, as his own stake is worth about $50 million.
In 2011, his band U2 surpassed Rolling Stones to become the world's highest-grossing rock band. However, the record was broken by Ed Sheeran in 2019.
Collectively, Bono's net worth and that of other U2 members is in the region of $1.7 billion
Alongside U2 bandmate The Edge, Bono owns a luxury hotel named The Clarence Hotel in Dublin.
 In 2019, Bono joined the Board of Directors of Zipline drone delivery.
He made his wealth majorly through his music career, businesses, and investments.
The Irish singer owns several mansions in Ireland, France, and the United States.
The U2 Star's Net Worth Compared to that of Other U2 Members
Among the U2 members, Bono is perhaps the richest, thanks to their record-breaking career. The group has earned money through endorsements, merchandise sales, back catalogue, and airplay. U2 surpassed Rolling Stones in 2011 to become the highest-grossing band of 2011, a record that was also broken by Ed Sheeran's 2019 tour of all time.
Collectively, the group is worth over $1 billion, but individually, the members have equally made strides through their solo careers and other endeavours. Alongside U2 bandmate The Edge, Bono owns a luxury hotel named The Clarence Hotel in Dublin. That being said, it is imperative to note that Bono is currently the richest member of the group with his net worth estimated at $700 million. But how does his net worth compare to that of other members of U2? Let's find out from the table below.
| | |
| --- | --- |
| Name | Estimated Net Worth |
| Paul Hewson (Bono) | $700 million |
| Dave Evans (The Edge) | $400 million |
| Larry Mullen | $300 million |
| Adam Clayton | $300 million |
How Bono Spends His $700 Million Net Worth
The Irish music star has made enormous wealth for himself and is currently living his best life. He owns several properties in choice locations around the world. More so, he has a fleet of luxury cars, as well as a yacht, and he also donates to charity. Let's take a look at some of these below.
A Look at His Mansions
Bono has three mansions in different parts of the world, including Ireland, the United States, and France as earlier stated. They include the following:
The Killiney Mansion – located in the suburb of Dublin; it's not know how much he bought the mansion.
New York Apartment – located in the north tower of The Sam Remo apartment building in Manhattan, New York; he bought it from Steve Jobs for $15 million.
Eze bord du Mer Mansion – located on the beachfront at Eze-bord de-Mre, France; it is also not known when he procured the mansion and how much it cost him.
Bono Has a Luxury Car Collection
When it comes to cars, the Irish music superstar has good taste, and some of the choicest cars can be found in his garage. They include the following:
Tesla Roadster: an eco-friendly Hybrid car with a capacity of 375 volts air-cooled electric motor, 0 – 60mph, and 288 hp. It is currently sold at about $200,000
Maserati Quattroporte: a luxury sedan powered by a 4.2L V8 engine, 425hp with a top speed of 167mph.  It costs over $116,000 to acquire one.
Volkswagen Tiguan: a sport utility vehicle with an engine capacity of 2.0 L TSI 200 PS, and a top speed of 150 km/hr. The ride currently costs between $25 – $40,000.
Ducati 916: an Italian Power Bike, which costs about $42,500 to own. It cruises at 114 bhp rpm and a top speed of 260km/hr.
He Also Owns a Yacht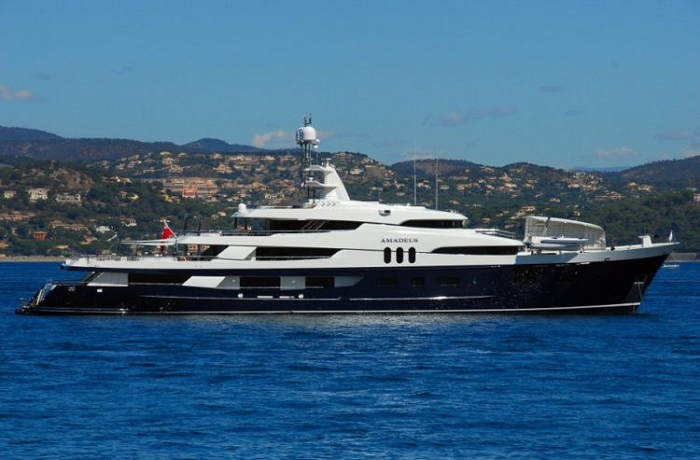 Bono acquired a luxury yacht called The Cyan in around 2007 with an estimated $25-$30 million. The medium-sized 140 feet yacht cruises at a maximum speed of 19 knots. It has six cabins with a room that can accommodate 12 guests. It also has fitted satellite TVs, plasma screens, DVD players, as well as an on-deck jacuzzi, water sports toys, and other amenities.
Philanthropy
A political and social activist, Bono is also a very charitable person who has used his celebrity status to advocate for multiple causes, with a major focus on poverty alleviation in African Nations. He executes his humanitarian activities via DATA, EDUN, the ONE Campaign, and Product Red. The latter focuses on curing diseases in Africa. Bono has played many benefit concerts to raise money for his various causes. For his outstanding services, he received an honorary knighthood by Queen Elizabeth II of the United Kingdom in 2007.
Bono Has Been Married to Irish Activist Ali Hewson
Apart from his career, one other thing that has always worked very well for Bono is his family life. The music superstar is happily married to Alison Hewson, an Irish businesswoman, and activist. Hewson was raised in Raheny, Ireland, and she is a graduate of the University of Dublin, where she got a degree in politics and sociology in 1989.
The couple first met when Alison was 12 years old. At the time, they were both students of Mount Temple Comprehensive School. However, on August 21, 1982, after being in a relationship for about seven years, the lovebirds exchanged marital vows in the presence of their friends and family members.
Although Bono and his wife have remained together for more than four decades and still counting, it might interest you to know that the couple didn't fall in love at first sight, but when they came around, they fell hard. They have remained inseparable ever, despite the obstacles they might have faced over the course of their union.
Interestingly, Ailson is one of Bono's biggest fans as she has inspired some of the U2 songs, including "Sweetest Thing." Aside from that, Bono's wife is the co-founder of Nude Skincare Products and EDUN Fashion Line, which was founded in 2007 and 2005, respectively. She is also a well-known anti-nuclear activist in Ireland. Despite her busy schedule and that of her husband, Ali and Bono always make out time to be with their children. They usually spend time in their houses in Ireland, France, and the United States.
They Have Four Adorable Children
For a union that has lasted for over four decades and still counting, it comes as no surprise that the Irish music star and his wife now have four children. They include two sons – Elijah Bob Patricus and John Abraham, as well as two daughters – Jordan and Memphis Eve. Let's meet them below.
Jordan Joy Hewson (Daughter)
Date of Birth: May 10, 1989
Education: 

Columbia University

Occupation: Social Entrepreneur
Jordan is the first out of Bono and Alison's four children. Born on May 10, 1989, in Dublin, Ireland, Jordan shares the same birth date as her father. She is a social entrepreneur and a graduate of Columbia University, where she got a Bachelor's degree in Political Science and a Masters Degree in Creative Writing. Jordan is the founder of Speakable, an organization that utilizes technology to make civic engagement easier to be a part of. In 2019, she was named among Forbes 30 Under30.
Memphis Eve Hewson (Daughter)
Date of Birth: July 7, 1991
Education: Tisch School Of The Arts, New York University, New York Film Academy.
Occupation: Actress
Eve is an Irish actress best known for portraying the character of Carol Donovan in Steven Spielberg's Cold War movie Bridge of Spies. The second daughter of Bono and Ali, she was born on July 7, 1991, in Dublin, Ireland. She attended Dalkey School Project and St. Andrew's College, after which she enrolled at New York University. Before her acting career began, Eve also graduated from New York's Tisch School of the Arts. Some of her notable movies include The Knick (2014), Robin Hood (2018), The True Adventures of Wolfboy (2019), Tesla (2020), The Luminaries (2020), and much more.
Elijah Bob Patricus Hewson (Son)
Date of Birth: August 17, 1999
Education: St. Andrew's College in Blackrock, Dublin
Occupation: Singer, Songwriter, Musician, Record Producer
Most Notable as: The Frontman of the Irish Rock Group, Inhaler
Elijah is the third born and Bono's first son. He was born on August 17, 1999, and he has since followed in the footsteps of his father by becoming a musician, singer, and songwriter. He is perhaps best known as the frontman and rhythm guitarist of the Irish rock band, Inhaler. A graduate of St. Andrew's College in Blackrock, Dublin, Ireland, Elijah began his music career in 2012 when they formed the rock group, Inhaler. The group launched its first EP I Want You in 2018. Since 2020, the singer has been dating Saoirse Alicia Behzadi.
John Abraham Hewson (Son)
Date of Birth: May 21, 2001
Education: N/A
Occupation: N/A
The fourth and last child of Bono and his wife Alison is John Abraham. He was born on May 21, 2001, and just like his older siblings, he was born and raised in Dublin, Ireland. Nothing much is known about John, but we believe he is currently in his college years. More so, it is not known if he would in the footsteps of his father and older brother Elijah, who have established themselves as music stars. Perhaps music runs in their blood, and it won't be a surprise to see that happen.
Profile Summary
First Name:
Paul
Last Name:
Hewson
Also Known As:

Bono
Sex/Gender:

Male
Profession:

Singer-songwriter, venture capitalist, businessman, and philanthropist
Famous For:
Being the lead vocalist and primary lyricist of rock band U2.
Colleges/Universities Attended:

Mount Temple Comprehensive School
Educational Qualifications:

N/A
Religion:

Christianity
Birthday & Zodiac

Age/Date of Birth:

10 May 1960
Zodiac Sign:
Taurus
Birth Place:

Rotunda Hospital, Dublin
Nationality:
Irish
Ethnicity/Race:

White
Country of Residence:

USA
Physical Attributes

Height:

5′ 6″ or 1.68 m

Weight:

174 lbs or 79 kg
Eye Colour:

Blue
Hair Color:

Dark Brown
Other Body Measurements:

N/A
Relationships

Marital Status:

Married
Spouse/Partner:

Alison Hewson (née Stewart)
Family and Relatives

Father:

Brendan Robert "Bob" Hewson
Mother:
Iris (née Rankin)
Children:

daughters Jordan (born 10 May 1989) and Memphis Eve (7 July 1991) and sons Elijah Bob Patricius Guggi Q (17 August 1999) and John Abraham (20 May 2001)
Siblings:
Norman Hewson
Other Relatives:

N/A
Net Worth
Estimated Net Worth:

$700 Million
Salary:
N/A
Source of Wealth:

His music career, businesses and investments