Bono is an Irish musician, businessman and active philanthropist. He is popularly known as the lead vocalist of the rock band U2. Inasmuch as he is a musician, he has become popular of late as an investor who is not scared to invest in tech companies.
Early Life
Bono was born Paul David Hewson on May 10, 1960, in Dublin, Ireland and raised in a Christian family. He attended high school at Mount Temple Comprehensive School, Clontarf Dublin where he became part of a surrealist gang named "Lypton Village". It was from the gang that he got his nickname "Bono" which was originally Bono Vox meaning "good voice" in Latin.
In 1976, Bono and schoolmates David Evans aka The Edge, his brother Dik Evans, Adam Clayton and Larry Mullen formed a rock band named "Feedback". However, the teenage group soon changed their name to "The Hype" and after the departure of Dik Evans, changed it again to U2.
Formation of U2
Although there were some reports that had claimed in 2014 that as a result of the rockstars investment in Facebook, he had reached the billionaire status, Forbes came out to point out that the report was entirely false.
At the early stages, the rock band began by doing the cover of other bands. However, when they realized they were poor at it, they began singing their own songs, most of which were written by Bono. His early lyrics contained mostly spiritual, political and social themes.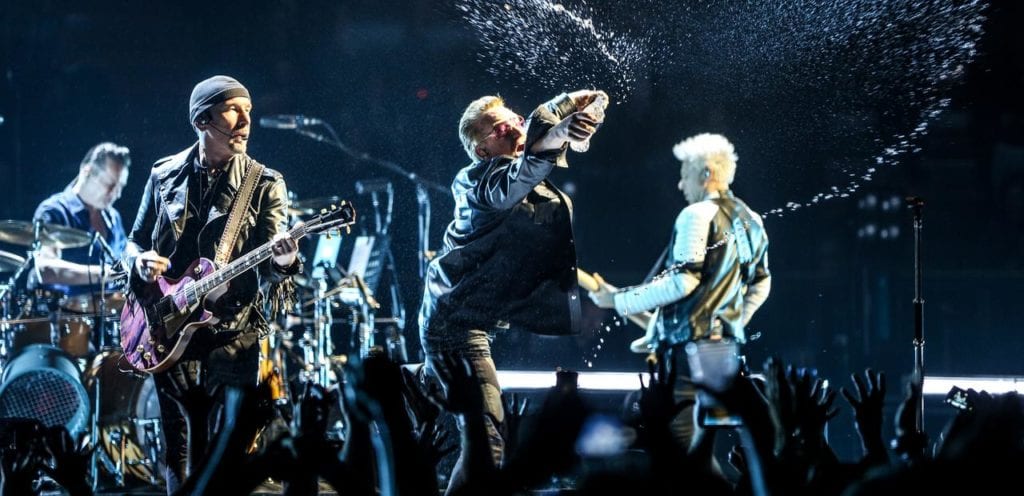 U2 in 1978 won a talent show in Limerick along with the £500 prize money and a chance to record a demo which landed them a deal with an Ireland label CBS Ireland. U2 released an EP with the label but were unable to attract much attention. The band released a single succeeded by an Ireland tour. At one of their shows, they were discovered by Island Records A&R who signed them to the label in 1980.
U2 released their debut album with a major studio "Boy" in 1980. The album received positive reviews and produced hit single "I Will Follow". It was soon followed by a corresponding tour which showcased Bono's highly charismatic side. U2 released three more albums but found more success with touring than in album sales thanks to Bono's showman character which resonated well with fans.
However, the band found album sale success with their 5th studio album "The Joshua Tree" (1987) which sold 14 million copies in less than a year. In fact, the album is to date the band's best-selling album and one of the world's highest selling albums, having sold over 25 million copies worldwide. The Rolling Stone Magazine credited the album for launching U2 "from heroes to superstars". In 1988, the album won a Grammy Award for Album of the year.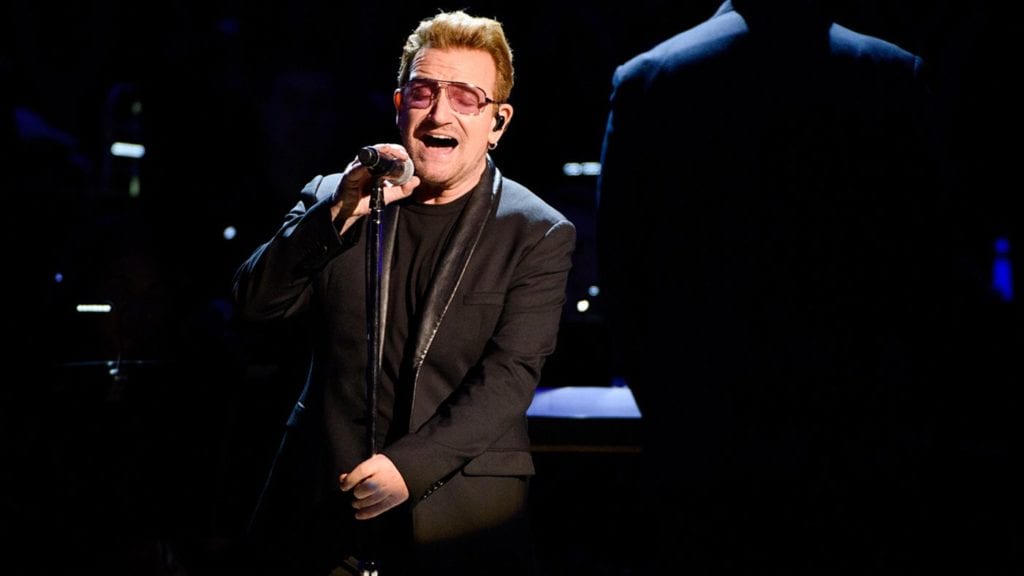 Continued Success With U2
U2 have since continued their success often featuring on Forbes list of highest earning musicians. Following criticism, the band reinvented themselves, shunning their social and spiritual themes and embracing self-deprecation, instead, singing about their individual life experiences.
With fluctuating levels of success throughout the 1990's, U2 regained a high level of commercial success in the early 2000s. Their 10th studio album "All That You Can't Leave Behind" (2000) sold 12 million copies worldwide and won 7 Grammy Awards. The album was supported by Elevation Tour which was equally successful, grossing over $142 million from 113 shows within a year.
Their 2004 album "How to Dismantle an Atomic Bomb" was another wild hit! selling over 10 million copies and winning 9 Grammy Awards. It's supporting Vertigo Tour grossed $389 million from 131 shows.
See Also: Gene Simmons Wife, Kids And Mother
With over 170 million records sold worldwide, U2 is easily one of the world's most successful rock bands. As of 2016, they have released 13 studio albums and won 22 Grammy Awards, the highest of any other band. Their U2 360° Tour is the world's highest-grossing concert tour. It ran between 30 June 1999 and 30 July 2011 grossing $736 million in ticket sales. Thanks to the tour, U2 became the highest-earning music act of 2011 with a $195 million paycheck. In the year 2016, Forbes estimated their annual earnings at $55 million.
Elevation Partners And Other Businesses
As if being a member of one of the world's most successful rock band isn't enough, Bono boasts of a successful business portfolio. He is the managing director and managing partner of Elevation Partners, a private equity firm with total assets valued at almost $2 billion. The firm which invests in entertainment companies and intellectual properties once purchased about 45% of Forbes Media for an estimated $250 million. However, after Forbes was sold in 2014, Elevation partners seized to own a stake in the company.
Elevation Partners bought 2% pre-IPO stake in Facebook in 2009/2010 for $210 million. After Facebook went public, the stake was valued at $1 billion leading to rumors that Bono had joined the billionaires club. However, Bono is only one of the several owners of Elevation Partners and only owns a fraction of the 2% stake which is valued at about $50 million.
Bono alongside U2 bandmate The Edge owns a luxury hotel named The Clarence Hotel in Dublin.
See Also: Top 25 Luxury Hotels You Never Knew Were Owned By Celebrities
Is Bono Married? Who Are The Wife And Children?
Apart from his career, one other thing that has always worked very well for Bono is his family. He married Irish businesswoman, Ali Hewson in 1982. The two met seven years before then, and since then have remained extremely close.
Inasmuch as Bono and his wife have remained together for more than 40 years, Bono and Ali didn't fall in love at first sight, but when they came around, they fell hard. They have four children; two sons and two daughters from their union. Their daughter, Eve Hewson who was born in 1991, is an actress who has featured in quite a handful of films.
Philanthropy
A political and social activist, Bono is also a very charitable person who has used his celebrity status to advocate for multiple causes, with a major focus on poverty alleviation in African Nations.
He executes his humanitarian activities via DATA, EDUN, the ONE Campaign and Product Red. The latter focuses on curing diseases in Africa. Bono has played many benefit concerts in order to raise money for his various causes. For his outstanding services, he received an honorary knighthood by Queen Elizabeth II of the United Kingdom in 2007.
Bono Height, Body Measurements, and Quick Facts
Height: 5′ 6″ (1.68 m)
Body Weight: 174 lbs (79 kg)
Shoe Size/Feet Size: 9 (US)
Birth Name: Paul David Hewson
Date of Birth: 10 May 1960
Wife: Ali Hewson (1982-)
Children: Jordan Hewson (1989), Eve Hewson (1991), Elijah Hewson (1991), and John Hewson (2001).