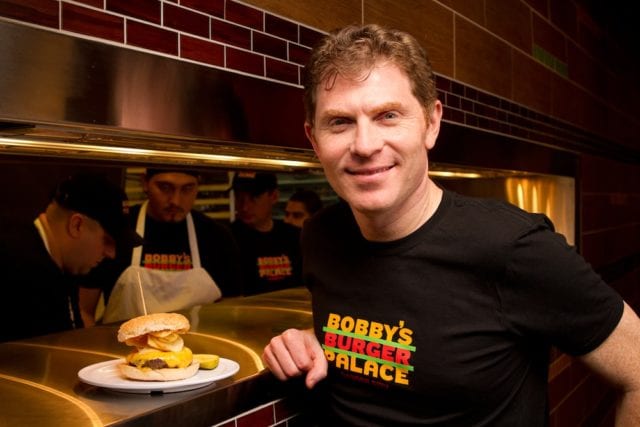 Bobby Flay is an American celebrity chef, restaurateur, and reality television personality.
He was born Robert William Flay on December 1, 1964, in New York. He grew up on Upper East Side of Manhattan. Bobby, from a very young age, showed great interest in cooking. After he returned from school, he'd spend hours in the kitchen making snacks and most times helped his mom with the grocery list. At 8, Bobby requested from his dad an Easy-Bake Oven for Christmas which he received.
Flay's passion for cooking soon overshadowed his academic performances and at the age of 17, he dropped out of high school. Thereafter, he began working in restaurants including a pizza parlour and a Baskin-Robbins ice cream shop.
Bobby's dad Bill Flay was also involved in the restaurant business, though as an administrator. He was a manager at the famous Joe Allen Restaurant in Theater District, Manhattan, New York. When a worker at the restaurant called in sick, Bobby's dad immediately ordered him to fill in the position.
Bobby's role of salad making at the famed restaurant soon turned into a full-time job. His boss and owner of the restaurant, Joe Allen was so impressed with Bobby's skills that he offered to pay his tuition at the French Culinary Institute. He graduated with a degree in culinary arts in 1984.
See Also: Guy Fieri Wife, Sister, Family, Son, Kids, House, Car, Wiki
Subsequently, Bobby worked for a handful of other restaurants in New York; notably, for restaurateur Jonathan Waxman whose signature use of southwestern spices rubbed off on Bobby. Bobby took a brief hiatus from the kitchen to work on Wall Street.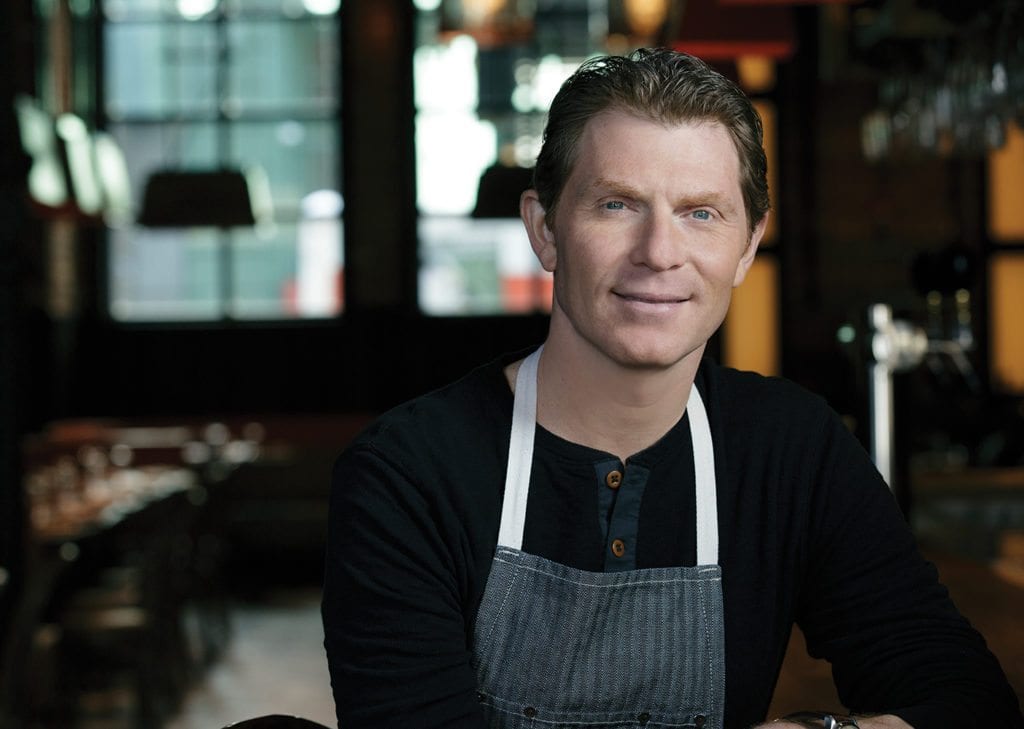 Bobby Flay Success And Rise To Stardom
In 1991, Bobby's mastery of southwestern cuisine landed him a job as an executive chef at Jerome Kretchmer's Mesa Grill. He soon became a part owner of the restaurant which received much critical acclaim. A year later in 1992, Mesa Grill won the much coveted New York Magazine Award for Best Restaurant of the Year.
The following year (1993) came with more success. Flay received an Outstanding Graduate Award from his Alma mater. He also opened his second New York restaurant – Bolo Bar and Restaurant – which enjoyed much success until its closure on December 31, 2007.
Flay went on to open several other successful and popular restaurants. The Mesa Grill Las Vegas opened its doors in 2004 and the Bahamas location was opened in 2007. The original Mesa Grill which opened in 1991, shut its doors in December 2013 following rent increment.
Flay also owns Bar Americain in Midtown Manhattan and Bobby Flay Steak in Atlantic City, New Jersey. Perhaps his most successful venture is his burger chain – Bobby's Burger Palace – which opened its first location in Lake Grove, Long Island on July 15, 2008. BBP now has at least 19 locations in 11 states across the US.
Bobby Flay Wife, Married, Divorce, Daughter
The famous chef is presently not married but, he has been married and divorced three times. His first marriage was to chef Debra Ponzek in 1991. They divorced two years later in 1993. He then married Kate Connelly in 1995 and divorced 3 years later – in 1998. His third marriage was to actress Stephanie March in 2005. They were together for 10 years before the union collapsed. That was in 2015.
Flay's marriage to his second wife Connelly produced a daughter named Sophie who was born on April 16, 1996, in New York. Sophie made her first TV appearance alongside her dad at the age of 17 on The Rachael Ray Show.
See Also: World's Most Expensive Dining Experience Comes With A Diamond Ring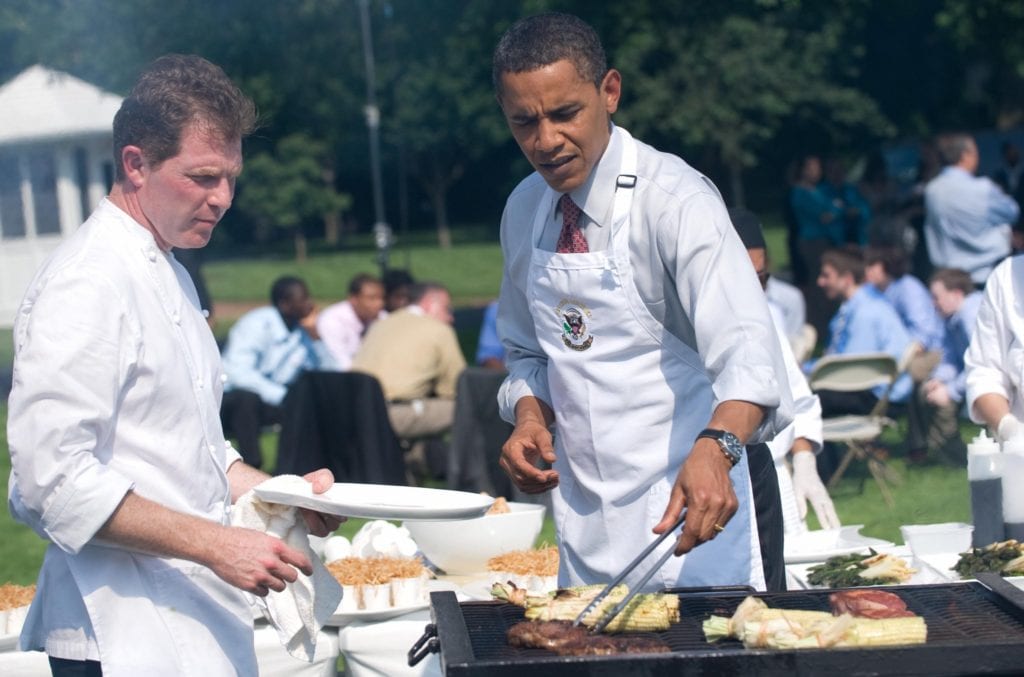 Bobby Flay Affair and Divorce
Shortly after Chef Bobby Flay filed for divorce from his last wife, she accused him of cheating on her. In divorce documents, Stephanie March alleged that the renown chef had three affairs during their 10-year marriage, one of which was with American actress and model, January Jones.
According to March, in the early months of 2010, Bobby slept with January many times in different places including the London hotel in Los Angeles.
The Law And Order: SVU star also claimed that Bobby cheated on her with a singer/actress named Elyse Tirrell, who worked as a hostess at his Bar Americain in Midtown in 2008 before becoming his assistant.
Bobby Flay Dating, Girlfriend
Not long after he finalised his divorce from Stephanie March, precisely in February 2016, Bobby started a relationship with actress Helene Yorke and the spark between both of them has not grown dim ever since.
Unlike Bobby who's been divorced thrice, the actress who is 20 years younger than her chef boyfriend has never been married.
His Food Network Shows
Bobby Flay's success is greatly linked to his popularity on television where he also takes top dollar. He made his debut appearance on the Food Network in 1994 and has since been a staple. Flay has hosted over a dozen cooking shows and specials on the Food Network and Cooking Chanel. They include Beat Bobby Flay, Bobby's Dinner Battle, Boy Meets Grill, The Best Thing I Ever Ate and Brunch @ Bobby's.
Bobby also stars on Iron Chef America which has been running since 2005.
Earnings
In addition to overseeing his numerous restaurant chains and hosting several shows on The Food Network, Flay makes money from the sales of his own merchandise including cookbooks of which he has written at least a dozen. He also markets his own line of signature spices, dishes, sauces, and cookware. In 2012 Forbes estimated his yearly earnings at $9 million.

An avid horse racer, Flay owns investments in Thoroughbred horse racing. He owns several graded stakes race winner horses including More Than Real, and  Creator both of which have won prestigious races.

The Food Network staple is estimated to be worth $20 million.

Fact Check: We strive for accuracy and fairness. If you see something that needs updating,