Not many songwriters can say they have won the Nobel Prize in Literature. Indeed, not many singers can say they have sold nine-figures worth of records. These standout qualities and more, have earned Bob Dylan a massive net worth, with a current estimate of $200 million.
With his massive wealth, Bob is not just one of the greatest songwriters of all time, but also one of the richest musicians in the world. The bulk of his wealth has understandably come via music, from album sales to tours. But there are other sources like personal memorabilia and artworks, fueling the singer's ever-rising wealth.
Bob Dylan's $200 Million Net Worth Comes from Over 100 Million Sold Records
Multiple books have been written about the transformative effect of Bob Dylan's music, particularly in the 60s and 70s. But they did not just transform pop culture. His albums have the source of a magnanimous amount of wealth, directly or indirectly. He has released over 80 of them, selling more than 100 million worldwide.
Bob Dylan's albums include 39 studio albums, 12 live albums, 19 compilation albums, and 12 video albums. Several of them have either gone platinum, silver, or gold. Notable examples include Bob Dylan's Greatest Hits and More Bob Dylan Greatest Hits compilation albums. Both have sold more than 10 million copies combined in the US alone. Albums like Blonde on Blonde and The Essential Bob Dylan have sold more than two million copies each.
Asides albums, his singles, of which there are over 94 of them, are also part of his commercial draw. Several of them, like the iconic Like a Rolling Stone, has featured on the chart of several major music markets. The 1965 hit peaked at #2 on the US Billboard Hot 100 and reached Top 10 in the UK, Netherlands, Ireland, and Australia, among others.
A look at the distribution of his record sales shows that Bob Dylan's net worth comes from being as popular in the US as he is in other parts of the world. According to the RIAA, at least 35.6 million out of his total album sales have come from the US, with another 44 million coming from the rest of the world.
Some of his highest-selling works include:
Blonde on Blonde (1966) – Over 2.3 million copies
Blood on the Tracks (1975) – Over 2.3 million copies
Desire (1976) – Over 2.1 million copies
Bob Dylan's Greatest Hits (1967) – Over 5.16 million copies
More Bob Dylan Greatest Hits (1971) – Over 5.16 million copies
The Never Ending Tour Has Earned Him Several Million Dollars
Record sales are a great source of income for artists, but tours are even better, as a larger fraction of the revenue ends up in the artist's pocket. A significant portion of Bob Dylan's $200 million net worth has come from tours, starting from the 60s when he found his breakthrough to the late 80s when he began The Never Ending Tour.
As named, it is the prevalent name for Bob's endless touring schedule since June 1988. Although the famous songwriter has disputed the name, it has stuck and represented his high number of shows per year. Between 1988 and 2007, Dylan played 2000 shows, hitting 3,000 shows a little over a decade after in April 2019.
The revenue for tours from each year varies, depending on whether the singer released new songs, or his old works got a surge in popularity. However, since the 2010s, his Never Ending tour, with a minimum of 100 shows a year, has made between $4 and $12 million yearly.
Of the 12 live albums recorded from his concerts and tours, one of them, Before the Flood, has sold more than one million copies. Others like Hard Rain, Bob Dylan at Budokan, MTV Unplugged and Dylan & the Dead, have gone gold, selling more than 500,000 copies each.
Outside of his tours, playing special events like the Desert Trip Festival is also a huge moneymaker for the rock and folk music singer. According to reports, alongside other icons like Paul McCartney and Elton John, Bob Dylan makes up to $7 million per set. Asides special occasions, it costs an estimated $250,000 to book Bob Dylan for private events.
To recap, Bob Dylan live performances have been a major source of income, with high earnings from:
Never Ending Tour – Between $4 – $12 million yearly since 2010
Desert Trip Festival – $7 million per set
More than three million live album copies sold
Earns $250,000 for booked shows
Owning His Publishing Rights Have Contributed to Bob Dylan's Net Worth
If there is one thing that is guaranteed to earn a musician a lot of money even when they no longer earn from album sales and tours, it is publishing rights. It allows them to make money from the usage of their music in any published work. As one of the greatest songwriters and singers in history, a lot of his Bob Dylan's songs have been used in other creative ventures.
According to IMDb, his songs have over 820 credits across movies and television shows. How much each publishing contract fetches him remains unknown. However, he signed a deal in 2010 that netted him $22 million in publishing rights over four years. Between 2006 and 2010, he earned $4 million per year in publishing royalties, bringing his total earnings to $42 million in publishing rights in a decade alone.
More recent figures remain out of reach. However, considering Audiam, a licensing company he partners with recorded over $120 million in revenue between 2015 and 2019, Bob Dylan is still clearly raking in millions in rights per year.
He Has Made Over $50 Million from Sold Artworks, Books and Personal Memorabilia
It is not just music that has fueled Bob Dylan's astronomical wealth. The Duluth-born singer is also a visual artist, whose works have featured in galleries around the globe. His visual artistry first took prominence in 1970, when he used one of his paintings, as the cover of the album, Self Portrait.
Over the years, he has held exhibitions of his works in Germany, Denmark, US, England. He has also published eight books of paintings and drawings. Other than art, Bob is also an author, with multiple published books.
Since 1971, he has published seven books. Some of them are compilations of his lyrics and poetry. They also include a memoir, Chronicles: Volume One and his Nobel Prize lecture. One of the books, The Lyrics: Since 1962, consists of 50 limited edition copies signed by Dylan that cost $5,000 apiece.
Speaking of his lyrics, their global impact and Dylan's mythical status has made material items associated with them high-earning items. In April 2016, he sold up to 6,000 items of memorabilia, including hand-written songs and a leather jacket, to George Kaiser's family foundation and the University of Tulsa. The deal fetched him between $15 and $20 million.
In summary, Bob Dylan's non-music income include:
Sold Artworks and Gallery Exhibitions
Published Books (Once sold 50 books at $5,000 each)
Sale of Personal Memorabilia worth $15-20 million
Ad Campaigns for Chrysler and Victoria Secret
He Once Lost $36 Million in a Divorce
Bob Dylan's $200 million net worth has not come without its share of significant losses. Most prominently is his 1977 divorce from his first wife, Sara Lownds. They got married in 1965, and the couple gave birth to four children, including Jakob Dylan, renowned for his work with The Wallflowers.
However, their marriage was not the forever-after they hoped it would be. Due to infidelity on the part of the legendary songwriter, the marriage came to a costly end. After a protracted period of negotiations, the couple settled in a deal worth $36 million to Sara. She also received half the royalties from the songs he wrote during their marriage between 1965 and 1977. Considering the singer wrote several of his iconic works during this period, the royalties are substantial.
Despite His $200 Million Net Worth, Bob Dylan Has Been Living in the Same House Since 1979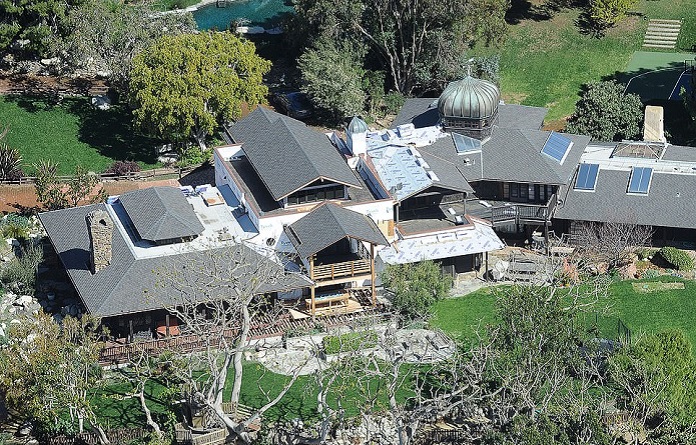 One would expect a man of his resources to have a slew of properties he weaves in and out as symbols of his fortune. Not Dylan though. Despite having a $200 million net worth, he has been living in the same estate he bought for $105,000 in 1979.
Of course, he has made some expensive additions to the Point Dume, Malibu home, such as a basketball court and trampoline. The estate has several houses, which he bought from previous owners over the years. The main house spans 6,000 feet and has six bedrooms and seven bathrooms. The estate also has a swimming pool and an outdoor cabin.
However, despite the amount of luxury and privacy afforded to him by the property, he only spends one month a year in it, because he is always on tour. During his one-month break in the summer, he spends his time with his children and grandchildren.