People with a combination of Blonde hair and brown eyes are very rare, research has shown that there is no genetical link between blonde hair and brown eyes, blonde hair has only been proven to be genetically linked with blue eyes, which has also thrown more light on the reason why blonde hair and brown eyes are very rare. The few people with blonde hair and brown eyes are known to be very beautiful. What do you think about this? is there anyone else know of any with this combo?
Here are 11 Rare Pictures of People with Blonde Hair and Brown Eyes
Paris Hilton 
One of the most notable personalities with the blonde hair and brown eyes combo is none other than Paris Hilton. For several years, the socialite/actress/deejay rocked platinum blonde hair which became her signature style. She utilized the look for several alluring magazine shoots. She also used same to portray the dumb blonde in some movies and TV shows. Fast-forward to 2018, Hilton decided to switch things around by dying her hair a light brown color. This new look caused quite a stir as many fans had come to associate her with the blonde look. Since that time, Hilton has vacillated between blonde and brunette but we can boldly say that the former remains our all-time fave.
Emma Watson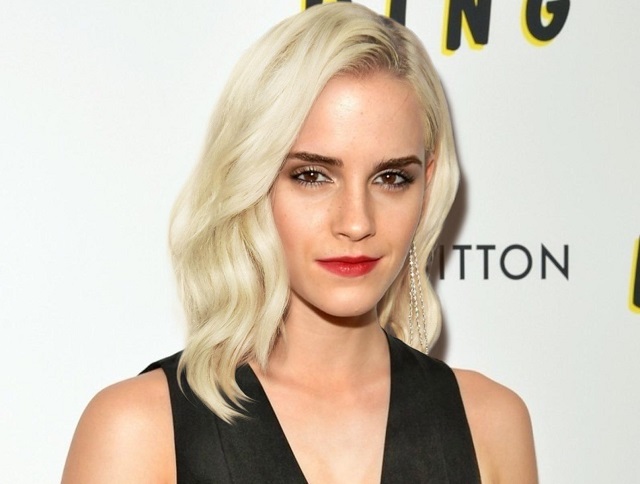 One celebrity who is a natural shoo-in for our list is Emma Watson. The Harry Potter star is gifted with natural light-blonde hair as well as natural light-brown eyes. Watson has since risen to become one of the most remarkable hair icons in contemporary Hollywood. She has spotted diverse styles ranging from a loose ponytail, mused-up waves, choppy fringe, simple chignon, blow-dried long bob, retro curls to straight center-parted style. The British actress has also occasionally dyed her hair brown. For a Chanel event at the Museum of Modern Art in November 2016, Watson opted for a chocolate-brown hair styled in a curled chignon.
Dianna Agron
Third on our list of celebrities with blonde hair and brown eyes is TV star, Dianna Agron. Agron is a wave-making American actress, singer, and dancer. She has featured in several movies and TV series including Heroes, Veronica Mars, Zipper and Bare. She is also a notable activist and is passionate about issues such as LGBT, animal and refugee rights. Back to her looks, Agron is blessed with greenish-brown eyes. Her hair, on the other hand, is naturally dark-brown but she has been dying it blonde for a very long time and this has made many fans assume that she is a natural blonde.
Ellie Goulding 
Another personality who is naturally endowed with blonde hair and brown eyes is Ellie Goulding. The award-winning English singer and songwriter has endeared herself to fans all over the world with several hit songs. She has also stolen many hearts with her gorgeous hair and sultry brown eyes. The aforementioned gorgeous hair fetched Goulding a sponsorship deal with renowned shampoo maker, Pantene, in 2016. The crooner has since revealed that she inherited her long voluminous hair from her mother and grandma.
Julia Roberts 
A rundown of celebrities with blonde hair and brown eyes will not be complete without the mention of Julia Roberts. The Oscar winner is endowed with natural blonde hair as well as brown eyes. Thanks to these features, as well as her dazzling smile, Roberts has established herself as one of the most beloved thespians in tinsel town. The Pretty Woman has also built a reputation as a hair icon thanks to her creative stylings over the years. Some of them include voluminous blonde curls, side-swept bangs, fringed bangs and even a flamingo pink tint in 2018!
Orlando Bloom 
Bloom may not be a natural blonde but you cannot fault us for adding him to our list seeing as his most popular role to date remains his turn as Legolas in the Lord of the Rings trilogy. For the career-defining role; Bloom spotted unforgettable long blonde tresses, which together with his soulful brown eyes, melted many hearts all over the world. Regrettably, since Lord of the Rings wrapped up, Bloom has gone back to his dark origins in a variety of cuts. The fact, however, remains that fans would forever miss his blondie days.
Katherine Heigl  
Katherine Heigl may have a somewhat controversial reputation in Hollywood but there is nothing controversial about her looks. The actress-cum-producer is a natural blonde. She is also blessed with dark brown eyes which have become quite familiar to her fans around the globe. To keep things fresh and interesting, Heigl has occasionally changed her looks over the years. She has however remained faithful to her signature buoyant retro hairstyles which are reminiscent of old Hollywood.
Keira Knightley 
Another brit who makes it to our list is Keira Knightley. Knightley is not only renowned for her brilliant performances in several acclaimed movies but also for her physical transformations over the years. The English actress is a natural brunette with dark brown eyes. She has however been known to dye her hair blonde on several occasions and this has not come without a cost. In 2016, Knightley revealed that constant dying had made her hair to literally fall out of her head. She thus had to spend several years wearing wigs to allow her hair to heal. 
Carrie Underwood 
Carrie Underwood is often hailed as an All-American celebrity and the reason is not hard to see. The Oklahoma native has dropped several hit songs, such as Jesus, Take The Wheel, and has established herself as one of the best country singers in contemporary times. Looks-wise, Underwood boasts of quintessential blonde hair as well as dark brown eyes. In a 2018 interview with an online magazine, the singer disclosed that she handles her hair and makeup by herself and that her hair essential is hot rollers.
Justin Bieber 
Another singer who made it to our list is none other than the Biebs himself. Even though the Canadian singer naturally has brown eyes and brown hair, he went through an extensive platinum blonde hair period which music fans would not forget in a hurry. Bieber debuted the blonde look on The Today Show in September 2015. This stunt predictably sent several of his devout fans into a frenzy with many of them sharing their high-pitched reactions on social media. 
Justin Hartley 
Last but not least on our ranking is Hollywood actor, Justin Hartley. Hartley is popular for his appearance on several hit TV series, including Arrow, Smallville and This Is Us. He has also appeared in some acclaimed movies. Justin is a natural blonde and also has dark-brown eyes. These attributes, coupled with his muscled physique and chiseled jaw, have fetched him near-universal acclaim as the hot guy. In a 2018 GQ profile, Hartley disclosed that he maintains his perfect scruffy look by consistently trimming his hair and facial hair to the same length each time.