Comedy is often looked at as lesser performance art; but through the efforts of comedians like Bill Burr, the field has become one of the most appreciated entertainment fields in the world.
Bill Burr is widely considered one of the big shots in the comedy. The American stand-up comedian is also an actor, writer, and podcaster but he is best known for his cynical observational humor. The comedian always refers to himself as 'that loud guy in the bar' with 'uninformed logic'. He has remained one of the finest and funniest comedians in the country for years thanks to his 'rage-fueled humor' and his failure to heed to political correctness.
Bill Burr's life before he became popular
William Frederic Burr, commonly known as Bill Burr, is a native of Massachusetts. He was born on the 10th of June 1968 in Canton, Norfolk County, Massachusetts. The comedian is of German, French, and Irish descent.
After graduating from High School in 1987, Bill went to Emerson College in Boston, Massachusetts, where he bagged a bachelor's degree in radio. After his education, he worked in warehouses and as a dental assistant before finally settling in the entertainment industry as a comedian, a passion he had nursed since his childhood years.
Bill Burr's career officially started in 1992 after he moved to New York City and since then, he has been able to release a good number of comedy albums and specials. In one of his early years as a stand-up comedian, Bill Burr dedicated himself to making 300 stand-up shows for a single year.
His first stand-up album, Emotionally Unavailable, was, later released in 2003; and in 2007, he started a weekly podcast, Bill Burr's Monday Morning Podcast, where he offers his sharp and forthright view on experiences and events of the week. The following year, he released his Why Did I Do This?, an hourlong stand-up special which made it on the Billboard Comedy Albums chart. He often mentions Richard Pryor, Bill Cosby, Sam Kinison, and George Carlin, as his biggest influences.
While improving his skills in comedy, he appeared on several radio programs as a guest and took up roles in films and TV series some of which include Date Night, Stand Up Guys, Breaking Bad, and Netflix's adult animated sitcom F for Family. His debut movie, however, is a comedy thriller Perfect Fit which was released in 2001.
Bill Burr's excellence as a comedian earned him a place as the first stand-up comedian to be hosted on The Tonight Show With Conan O'Brien. Other shows he appeared on include The Jim Gaffigan Show, Black or White, Passionada and Twisted Fortune, among many others.
Some of the notable awards he has received so far include the Comedian of the Year Award which he received in 2011 at the Boston Comedy Festival and the Alumni Distinction Award which he received from his alma mater Emerson College in 2013. Among his achievements is 'All Things Comedy', a digital media studio he co-founded with Al Madrigal.
How Much Is He Worth
Following his talents as a stand-up comedian, actor, and podcaster, Bill Burr has been able to earn an impressive amount for himself. With a career that is over a decade long, the American star has an estimated net worth of $12 million.
Aside from his career as a comedian and actor, the Massachusetts native has garnered credits as a producer and as a writer, which no doubt added to his total net worth.
Who are His Brother and Parents?
Bill grew up with his parents who are in the field of medicine; his mother, Linda Ann, was a nurse while his father, Robert Edmund Burr, was a dentist. He has a brother whose name is Robert, but unfortunately, no other information has been given about him.
Is He Married and Does He Have a Daughter?
Bill Burr is happily married to Nia Hill, a producer, screenwriter and director who was his girlfriend for a long time. The pair exchanged their marital vows in 2013 and on January 20, 2017, they welcomed their daughter, Lola. A few days after the birth of their daughter, Bill made a joke about him not being ready to take on fatherhood on the popular Jimmy Fallon's Late Night Show.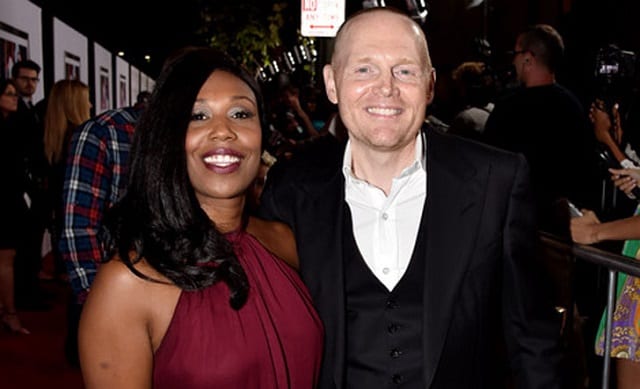 Nia is a Black American who was raised in Los Angeles, California. She gained attention as an actress when she appeared in Lila, Long Distance, and Carpool; however, she made her first lead role in the movie Divorce: A Love Story. Bill Burr and his wife are still living together happily with no rumor of divorce between them.
See Also: Who Exactly Is Maggie Geha And Why Did She Leave Gotham?
Height & Weight 
Bill Burr is not just known as one of the leading stand-up comedians in the entertainment industry, but he is also known for his good looks, The stand-up comedian stands at a height of 5 feet 10 inches with a body weight of 63 kg. His other body measurements are not available at the moment