While the Obamas prepare to move into their new home next week, Sasha Obama decided to take some time out to give herself a treat at one of Miami's beaches.
Joining Sasha Obama on the Florida enjoyment over the weekend were her four friends, including Joe Biden's granddaughter Maisy.
The beautiful soon-to-become ex-first child beguiled in bikini shorts with some of her friends while she towered over them.
Sasha later covered up in a white off the shoulder top.
Also, the beautiful Obama girl who grew up before our eyes with her sister Malia didn't go with just her friends. She, particularly, was surrounded by Secret Service agents who looked different in the sand as they wore heavy black suits and serious face.
This is her first appearance since after the 15-year-old stunner missed her father's farewell address due to a school exam.
She was also spotted on Saturday night with the same group of friends dancing and dining in a private room at STK South Beach.
Here's Sasha taking a walk around the beach with her friends.
You can clearly see that she has grown into a great young woman, smart and beautiful.
On Tuesday night, many Americans watched Barack Obama's farewell speech in Chicago while others were left with one burning question; where was Sasha Obama?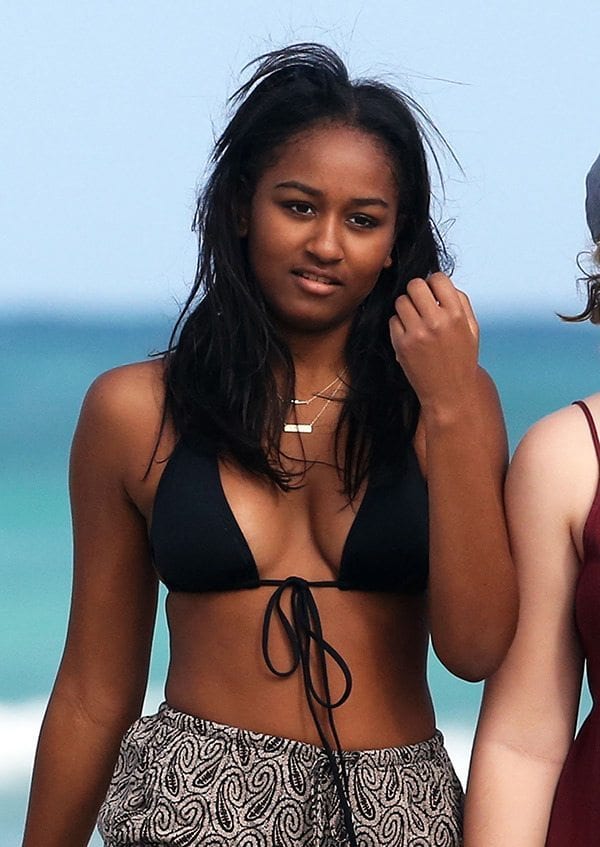 The simple clarification is that she stayed in Washington because she had an exam at Sidwell Friends private school on Wednesday morning. Though the reason is a little boring or mundane, that's the best reason anybody can give for missing a president's speech.
Plus, the school has produced many high-profile American children, including Chelsea Clinton and thus, will be used to dealing with students severely for trying to miss class because of official presidential engagements.
Soon President Obama and his family will leave the White House for their new home. Moving vans were already spotted on Monday outside the DC residence where they are expected to stay post-White House.
That being said, the Obamas will be taking up residence in the 8,200-square-foot-home they have leased in DC.
The family will allegedly be staying there for only 2 years till Sasha finishes high school.
The $4.3 million home has many rooms (nine bedrooms and eight-and-a-half baths) that can take the Obamas and Sasha's friend any day they plan a sleepover night – with separate dressing rooms and his and her bathrooms, entertaining space, and a cool garden.
The impressive apartment was constructed in 1928.
The house is given out on lease to the Obamas by Joe Lockhart, who worked as press secretary for Bill Clinton, and his wife Giovanna Gray, an editor for Glamour.
Meanwhile, Vice President Biden and his wife Jill will depart DC on Friday for Delaware on Amtrak.
Fact Check: We strive for accuracy and fairness. If you see something that needs updating,