Lately, it appears celebrities tend to fancy the posh condos available on Airbnb more than the exquisite suites available in luxury hotels. And at the current this pace it puts the future of luxury hotels in a real worry. Formation singer, Beyonce has counted herself among the growing users of the Airbnb after renting a gorgeous Airbnb mansion in Los Altos Hills California for an eye-watering $10,000 per night which honestly is a chicken feed for Bey. The star stayed at the mansion together with rapper hubby Jay Z and daughter, Blue Ivy during the Super Bowl 50 weekend. Her half-time performance still has people talking.
The contemporary masterpiece, as described by the listing, sits on an 11-acre estate and features 5 bedrooms and 8 bathrooms. Other features include; a 14-seat formal dining room, a vanishing edge pool with Jacuzzi, outdoor lounge area with fire pit, spa, fitness center, wine cellar, game room with a full bar and pool table, outdoor and indoor kitchen with the latter featuring a breakfast bar, steam oven, 3 dishwashers, and a 5-oven baking center.
The patios and floor-to-ceiling windows make it easy to appreciate the sweeping views of San Francisco which includes the bay, Silicon Valley and the Levi stadium which is a 30-minute drive away.
Also described as a zero-energy home, there is an orchard with 60 fruit trees, a rooftop vegetable garden that provides fresh vegetables and chickens that provide fresh eggs all year round. The amazing mansion is said to be valued at $50 million.
See Also: Beyonce's Bespoke $312,000 Diamond Heel Sandals
The singer took to social media sites to post photos of herself lounging in her weekend rental. See Pictures below;
Notice the smart fireplace, wall arts and you just can't ignore the views
Bey posted a photo of her posing just by the infinity pool, it appears she just finished having dinner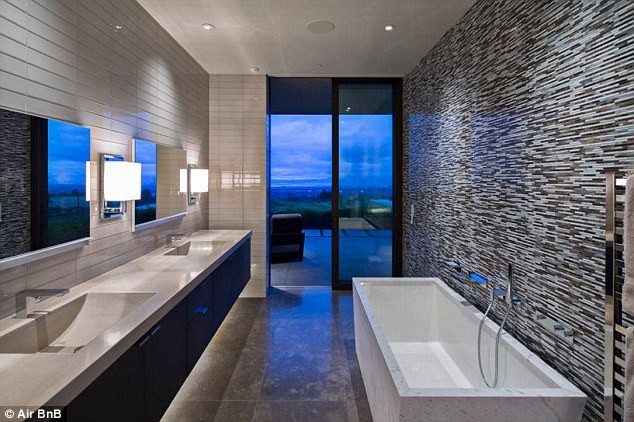 One of the 8 bathrooms, this one features clean lines.
The fully equipped kitchen with wood paneling as designed by Studio Baker.
The master suite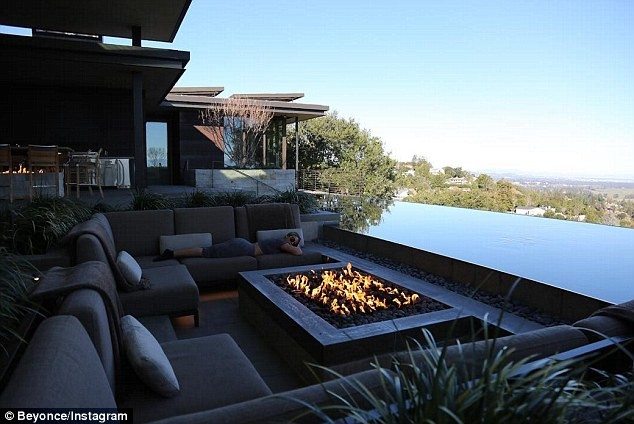 Another pic poster by the star. This one shows her lying on her belly just by the fire pit. It is obvious she enjoyed her stay.