If love must be a beautiful experience for you, there is a need to find the right partner; someone who would share your passion, admire your aspirations and help you become a better person. There are many people who may be the ideal partners but how does one get to meet them in a world that's very vast and diverse? Thanks to the internet, that's no longer a problem. Thousands of online dating websites are out there to help you find your soul mate.
But then, given the large number of such sites out there and the fraudulent activities linked to them, it becomes important for one to identify and patronize the best online dating websites. Below are 15 of them that have stood the test of time.
Dating Sites That Are Worth Paying For
1. Match.com
According to Online Dating Magazine, the act of dating online is the third most popular way for people to meet. Because it is such a popular activity, there are thousands of online dating websites to choose from and Match.com takes a top spot as one of the best online dating websites. Being the first dating website launched online, Match has come a long way and continues to reign as one of the most popular. Success stories abound from this service which uses a detailed personality profile to match users with other compatible users.
One of the finest features of this site is that it caters to people with diverse dating needs and orientation, from gay people to Christians, Asians, Jews, and what have you. While Match offers a free trial, it is primarily a dating site based on billing and subscription with many features to enjoy. In all, Match.com is worth paying for and the cost is based on the subscription you pick.
2. eHarmony
Launched in 2000, eHarmony has become one of the best online dating websites for various reasons. Some of these include its "free dating weekend" which avails users the chance to try out the services and find matches for free. Also, the platform's services are tailored to meet users' preferences. Even though it refused to offer same-sex matches when it kicked off, eHarmony adjusted to this after it faced lawsuits.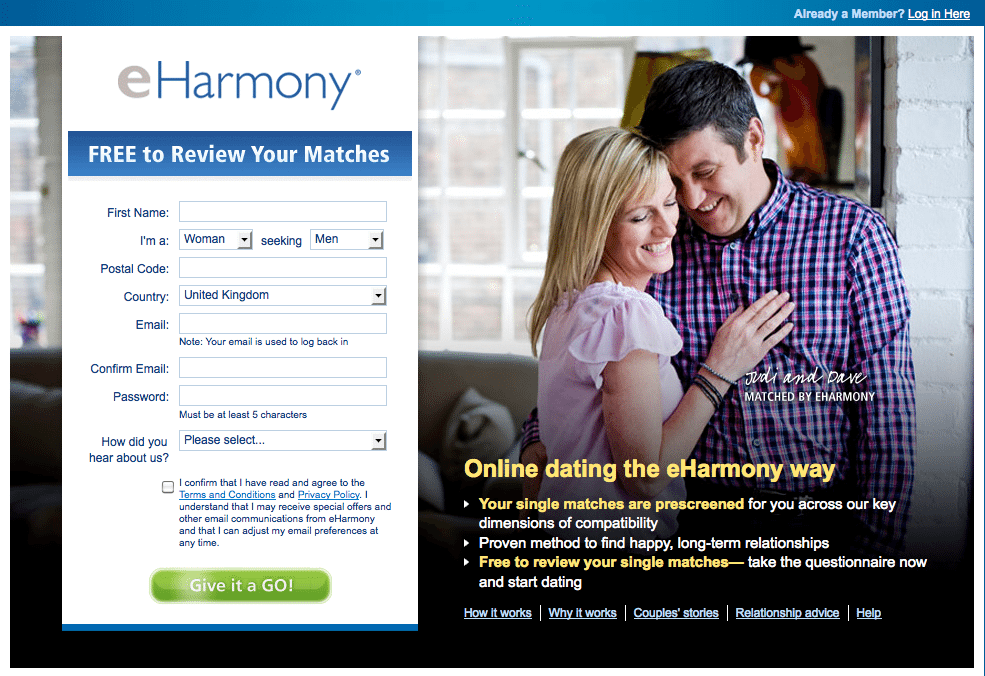 Among other things, this dating site has gained the trust of users because of its strict policy and rejection rate. About 7 years after the site came into existence, it disclosed that it had rejected millions of applicants because most of them were married and provided inconsistent answers while applying. This shows that the site is serious about helping people find their dream partners.
You should know that eHarmony matches members irrespective of their subscription status. As such, non-paying members wouldn't get to communicate with paying members who are compatible.
3. Zoosk
With several online dating apps designed for Facebook, Android, and iPhone, Zoosk boasts over 30 million downloads. Its services are available in at least 80 countries and are offered in about 25 languages. Vastly regarded as one of the serious online dating platforms, Zoosk takes pride in its matchmaking technology which monitors the behaviours of its users in order to match them with people who are right for them.
Apart from helping people find the love of their lives, Zoosk offers other services that range from how to deal with breakups to practically everything that revolves around one's love life. You can use Zoosk for free but a subscription is a must if you want to chat with people matched with you. While it is a perfect dating site for people looking for a long-term and monogamous relationship, it is not a platform to recommend for those seeking a polyamorous experience.
Best Online Dating Websites That Are Free
4. Plenty of Fish
Plenty of Fish (POF) started restructuring the services it offers to help people build meaningful relationships sometime in 2013, but it was a decade earlier (2003) that it was founded. Designed to serve users in about nine languages, the online dating site which originated from Canada is available for users in select countries, including Spain, New Zealand, United Kingdom, Ireland, Australia, France, Brazil, Italy, Germany, and of course, the United State of America.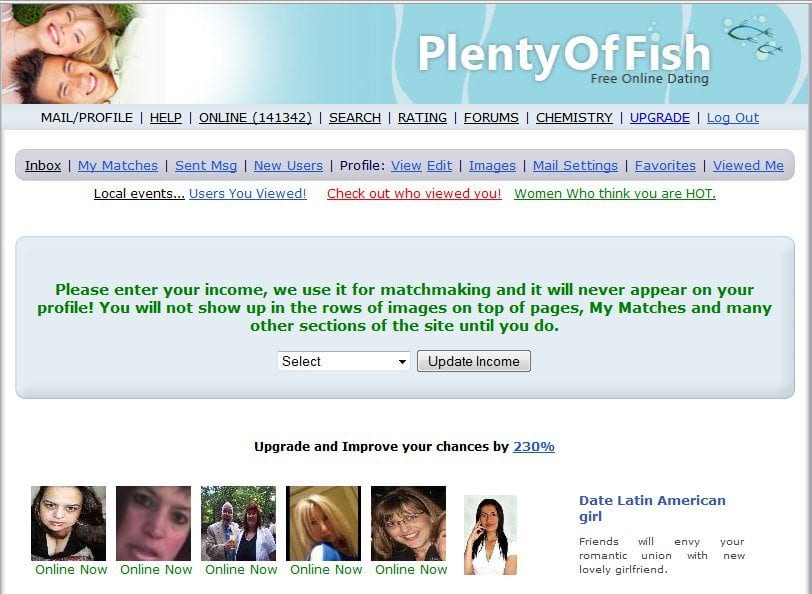 While this site is widely celebrated as a free online dating platform, it offers what has been described as "premium services" which requires one to pay roughly $10 a month. If you are not willing to pay for love, POF still allows you to participate in forums, create a profile, and email members.
5. OkCupid
Branded as a free dating platform, OkCupid's biggest selling point is helping people find love through connections that are meaningful. Its match-making algorithm is based on evaluating who people are and using that to find the partners who are suitable for them. Essentially, users are exposed to a personality questionnaire and questioned based on things that matter for them; then those with similar answers are matched.
With 13 orientation and as much as 22 genders to choose from, OkCupid's versatility and inclusiveness have seen it rank among the best online dating websites. Launched in 2004, the platform now has millions of users and pulls off as much as 50 thousand dates every week and over 91 million connections each year. You don't have to pay anything to use OkCupid but there are a few premium features, which are not a must-have for using the site.   
6. Tinder
For a platform that was only launched in 2012, it is amazing that Tinder is now one of the most popular and best online dating websites around. Being a global platform, Tinder is available in over 190 countries and its services largely revolve around helping people who are interested in dating to meet new people. All one has to do is to Swipe Right or Left to go through people's profile. A match would be made when someone likes you back and things can kick off from there.
Tinder takes pride in regarding itself as the largest community of singles in the world and it is not difficult to see why this is so: it has been estimated that about 50 million people use the platform. Its services are available in more than 40 languages and according to the site, it pulls off over 26 million matches each day. Widely considered a free dating site, an upgrade to Tinder Plus would require one to subscribe for some premium services.
Best Christian and Religious Dating Sites
7. Christian Mingle
It was in 2001 that Sparks Networks launched Christian Mingle and from its name, the mission is clear from the get-go: to offer a meeting point for single Christians who are interested in building a relationship in line with the tenets of their faith. As a user of this site, you will have to specify the religious body within Christianity you identify with, be it Baptist, Anglican, Catholic, Pentecostal, and what have you. This is only one of the things the site utilizes for matchmaking.
Christian Mingle is free, users can search the site and look for people who are likely to meet their dating needs, but will have to subscribe to communicate with them. As one would expect, the platform was initially unwilling to open its doors to gays and lesbians but that changed in 2016 after they faced a lawsuit.
8. Jdate
True to their claim, Jdate is the go-to site for Jews. Existing since 1997, it is only natural that this platform ranks among the best online dating websites. Although one may be tempted to think that Jdate isn't popular for a site that started operating over 3 decades ago, it is imperative to regard the fact that it was tailored to meet the relationship needs of Jewish singles, exclusively.
This dating site has gained a lot of recognition within the Jewish community. In fact, it was once claimed that the site is responsible for as much as 52 percent of the Jewish marriages that started online. You don't have to have Jewish affiliation to join Jdate, while it is Jewish-oriented, it is open to those seeking Jewish mates and practically everyone, including homosexuals. Like a good number of other dating sites, Jdate is free but you will have to part with a few bucks for some premium features.
9. Muslima
As of the last time this piece was updated (April 2020), Muslima claims that its membership base has exceeded 4.5 million users scattered across the world, especially the Middle East, Europe, Asia, and the United States of America. It regards itself as a leading site for Muslim marriages, which has assisted many Muslims to find their ideal partners. Muslima's mission is a defined one: to help those seeking Muslim singles for marriage find what they are looking for in a way that adheres to the tenets of courtship in Islam.
Muslima has three membership options that range from Standard to Gold and Platinum. The Standard membership is free and with it, you can explore the site and find potential lovers. Having said that, you can deduce that Gold and Platinum services come with a price. To the best of our knowledge, this platform hasn't made any provision for homosexuals.
Finest Dating Sites for Lesbians and Gays
10. Grindr
Why Grindr joined the ranks of the best online dating websites is not far fetched: it is one of the not-too-many dating sites that decided to mainly focus on the relationship needs of homosexuals, trans, bi, and queer people. Like some of its kind, Grindr utilizes a location-based technology to connect millions of its daily users to potential romantic partners. The site was launched in 2009 and has evolved over the years to offer other services tailored to care for the well-being of its users and the LGBTQ community at large.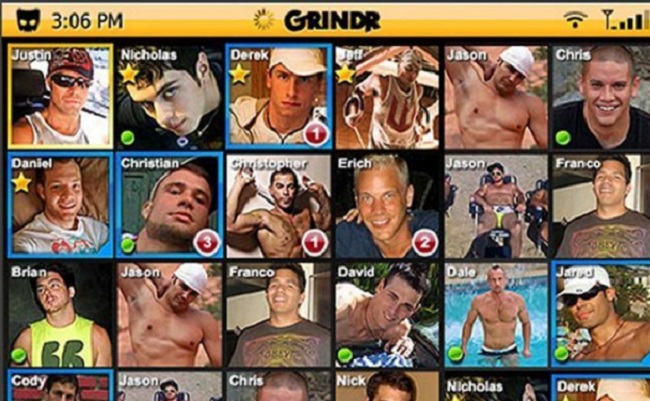 While Grindr's location-based technology has been effective in matchmaking, it has been used against members of the LGBTQ community in anti-gay countries. It was once reported that police in Egypt used the app to track and arrest gay people. Also, you can't access the services of Grindr if you are in countries like Indonesia, the United Arab Emirates, and Turkey.
11. Scruff
Founded in 2010, Scruff has gained a good reputation for being an efficient establishment that helps GBTQ people find lovers. It also offers other services like travel advice and provides information and social guide to GBTQ events; from parties to festivals. Specifically created for gay, trans, bi, and queer guys, Scruff essentially makes it possible for users to view and chat with guys around their areas or even across the world who are looking for the same thing.
With over 15 million users scattered in about 180 countries, this dating site has made its services available in at least 10 languages. Like other online dating set-ups, Scruff is free but has a pro version that offers premium services like unlimited chat history, the ability to browse anonymously, send and receive videos, an ad-free experience, and much more.
12. PinkCupid
It was in 2006 that PinkCupid came into existence with the sole aim of helping single lesbians find partners who are right for dating. As one of the best online dating websites, this platform was created by Cupid Media Network to exclusively carter to lesbian dating and their services are accessible in many countries, including Australia, Canada, the UK, and the United States of America.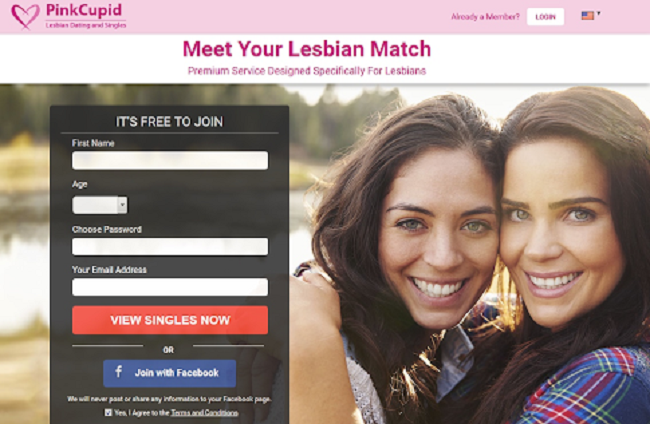 To use PinkCupid, all you have to do is create a profile, which can be easily done, browse through photos and search for potential lovers, then send out messages to those you fancy. PinkCupid is free for Standard membership but Gold and Platinum services come with a price like in Muslima.
Best Online Dating Site For Elderly
13. OurTime
Ageing makes us look at life differently, the things we have experienced and the knowledge acquired over the years makes it easier for us to know what we want as we become older. Given that, the elderly have dating needs that are quite peculiar and OurTime understands that. The online dating community designed for people from 50 years and above largely dwells on the interests and desires of people for matchmaking.
For those who have been busy with life and out of the dating game for a good time, OurTime offers other services like tips for meeting offline and dating articles that are useful for people within the age bracket it serves. For basic members, OurTime is free but you can upgrade for a paid plan.
14. SilverSingles
For SilverSingles, they are among the best online dating websites because they look at compatibility first before other things. Created for elderly people looking for serious relationships, this online community is structured in a way that only connects like-minded people. To join the community, one must take a personality test; the results are then used for the matchmaking strictly based on compatibility.
15. SeniorMatch
With a sophisticated matchmaking system, SeniorMatch maintains a consistent age range for mature members who are over 50 years old and looking for anything from serious relationships to casual dates, travel companions or activity partners. This dating site has thus far recorded almost 37,000 success stories and has more than a million users. It's a good platform for elderly people looking to spice up their love life.