| Net Worth: | $130 million |
| --- | --- |
| Age/Date of Birth: | August 15, 1972 |
| Height: | 6 ft 3½ in or 192 cm |
| Ethnicity/Race: | White |
| Nationality: | American |
| Wife or Girlfriend: | Ana de Armas. He was formerly married to Jennifer Garner (m. 2005; div. 2018) |
| Parents: | Timothy Byers Affleck and Christopher Anne "Chris" Affleck |
Ben Affleck is an American actor, screenwriter, producer and director. He got his big break in 1997 – thanks to the script of "Good Will Hunting" which he co-wrote with longtime friend and fellow actor, Matt Damon. The duo snapped the Golden Globe and Oscar awards for Best Original Screenplay.
Affleck has gone on to stage more critically acclaimed roles as well as box office hits, winning accolades and fat paychecks in the process.
Like most Hollywood businessmen, Affleck has had his fair share of flops. Nevertheless, The Batman actor, Ben Affleck has managed to amass an estimated net worth of $130 million. Here is everything you need to know about his fame and wealth.
How Ben Affleck Began
Benjamin Geza Affleck-Boldt was born on 15th August 1972 in Berkeley, California and raised in Cambridge, Massachusetts. Affleck together with his younger brother Casey started their show business career at an early age – thanks to their mom's friendship with a local casting director. At the age of 7, Affleck was already a professional actor when he played a small role in 1979's independent film, "The Dark End of the Street". Commercial gigs followed afterwards.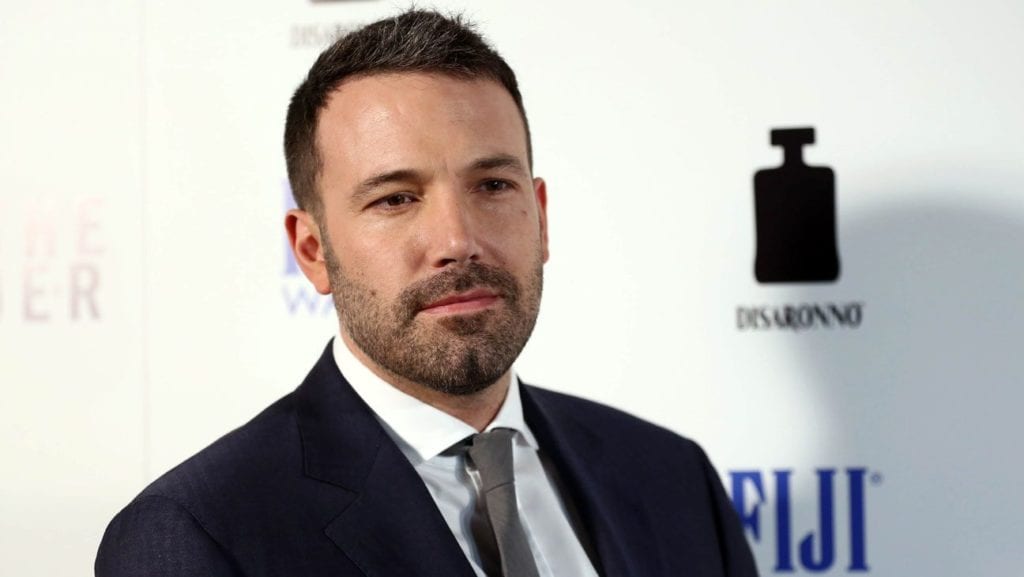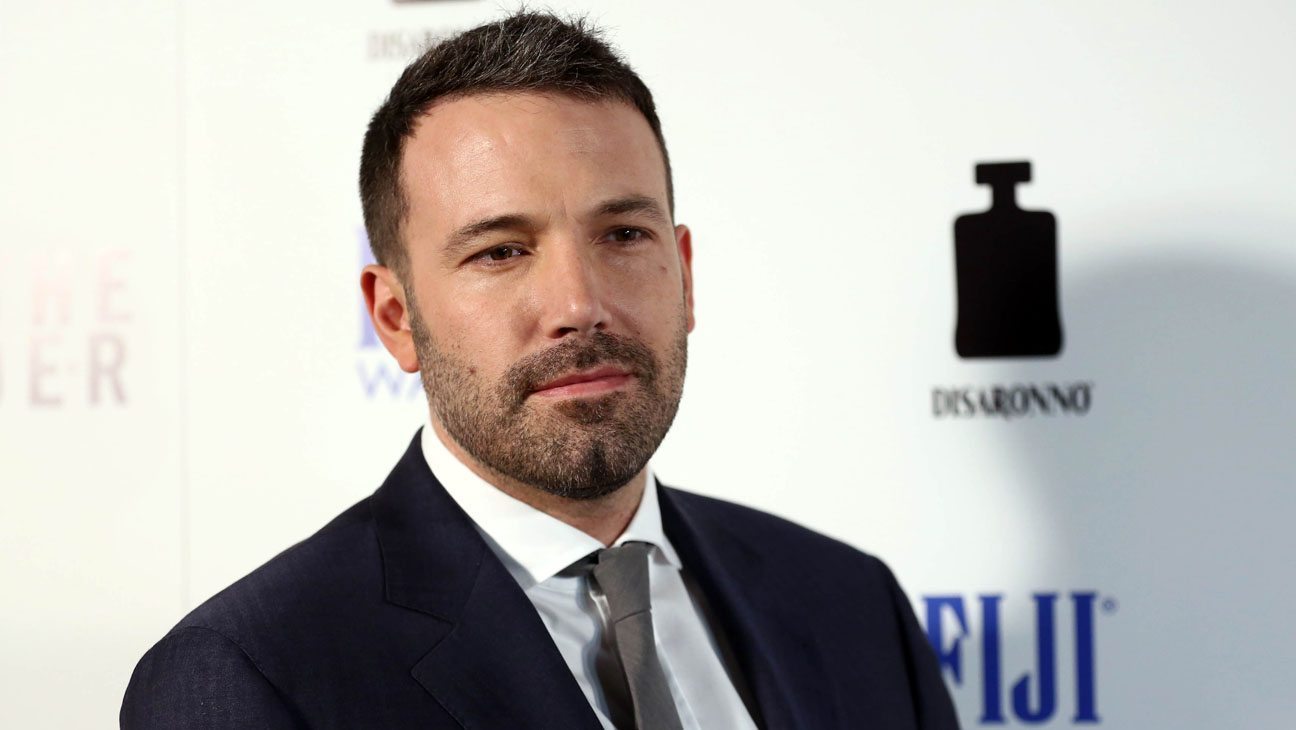 The next year (1980), Ben, 8, met Matt Damon, 10, who lived in the same neighbourhood as him. Both became best buddies and attended the same elementary and high school. At Cambridge Rindge and Latin School, they solidified their interest in theatre, performing in many high school productions.
His film works saw him travel around the country and to Mexico where he learned to speak Spanish. Some of his early appearances include educative children/teen shows like "The Voyage of the Mimi" (1984) ABC's "Afterschool Special" (1986) and "The Second Voyage of the Mimi" (1988).
Analysis of His Net Worth and Acting Career Earnings
From all his earnings and business endeavours, it is believed that the value of Ben Affleck's net worth is $130 million. As a young adult, Affleck began earning decent paychecks for his acting. He received $20,000 for NBC TV film "Daddy" (1991) and $30,000 for "School Ties" (1992). He parlayed his performance with "Dazed and Confused" (1993) which became a cult classic.
While Affleck's career enjoyed an exponential increase, it was his writing and acting role in 1997's Good Will Hunting that really opened up his career. His friend Matt Damon was the brainchild behind the script originally written in 1992. Subsequently, the duo modified the script to produce the final outcome. They first sold it to Castle Rock Entertainment in 1994 for $675,000. However, following a starring disagreement, Damon and Affleck got Miramax to purchase the rights from Castle Rock, so they could both star in the movie.
"Good Will Hunting" became a critical and commercial success, grossing over $225 million against a $10 million budget. Affleck alongside Damon won their very first Golden Globe and Oscar Award for Best Original Screenplay. Also, the legendary Robin Williams who also starred in the movie won his first Oscar for Best Supporting Actor.
The next year 1998 was particularly successful for Ben as he went on to solidify his star status. He starred alongside Bruce Willis in the science fiction film "Armageddon" (1998) which grossed $553.7 million against $140 million budget. He had a leading role in rom-com "Shakespeare in Love" which was a major critical success winning a whopping 7 Oscars. It grossed $289.3 million against a mere $25 million budget.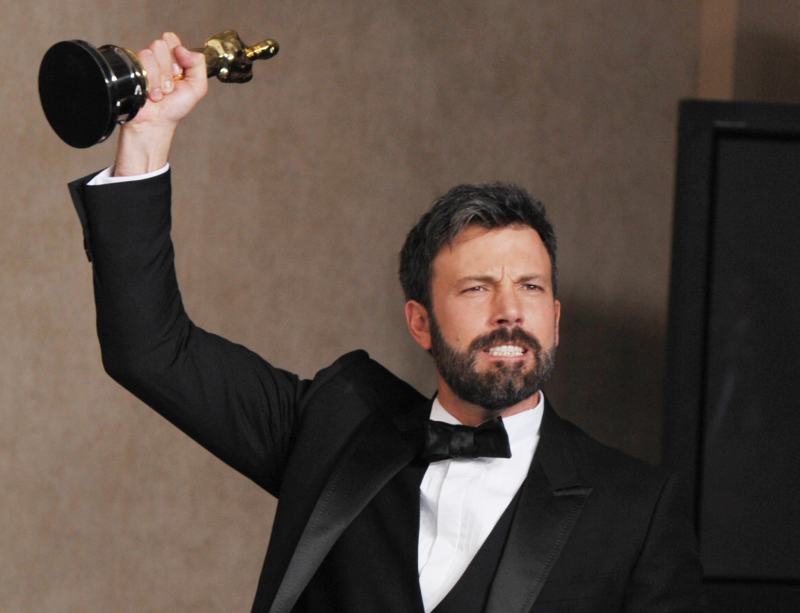 His Highest Paying Films
Bounce (2000) – $12.5 million
Pearl Harbor (2001) – $10 million ($650,000 plus 7% of backend profits)
Changing Lanes (2002) – $10 million
The Sum of All Fears (2002) – $10 million
Daredevil (2003) – $11.5 million
Gigli (2003) – $12.5 million
Paycheck (2003) – $15 million
Hollywoodland (2003) – $10 million
Jersey Girl (2004) – $10 million
Gone Girl (2014) – $10 million
Suicide Squad (2015) – $12.5 million
In between the aforementioned feats, Affleck had some woes in his career, like in 2001 when he checked into rehab as a result of his alcoholism. He also endured critical rave for numerous movies and a failed ABC series "Push, Nevada" in 2002.
Ben Affleck as a Director, Producer, and Writer
In addition to acting roles, Affleck has enjoyed much success as a filmmaker; writing, directing, and producing movies. Together with his buddy Damon, he has co-founded two production companies Pearl Street Films and LivePlanet. Both companies have recorded a number of successes including docu-series "Project Greenlight".
Affleck made his professional directorial debut in the 2007 mystery drama film "Gone Baby Gone". The film received positive reviews from critics and audiences alike, winning numerous accolades and grossing well at the box office. He parlayed his performance with "The Temple" (2010) and "Argo" (2012) which were both massive box office hits. However, his "Live by Night" (2016) which he also wrote and starred was a major failure grossing only $19 million from $65 million budget.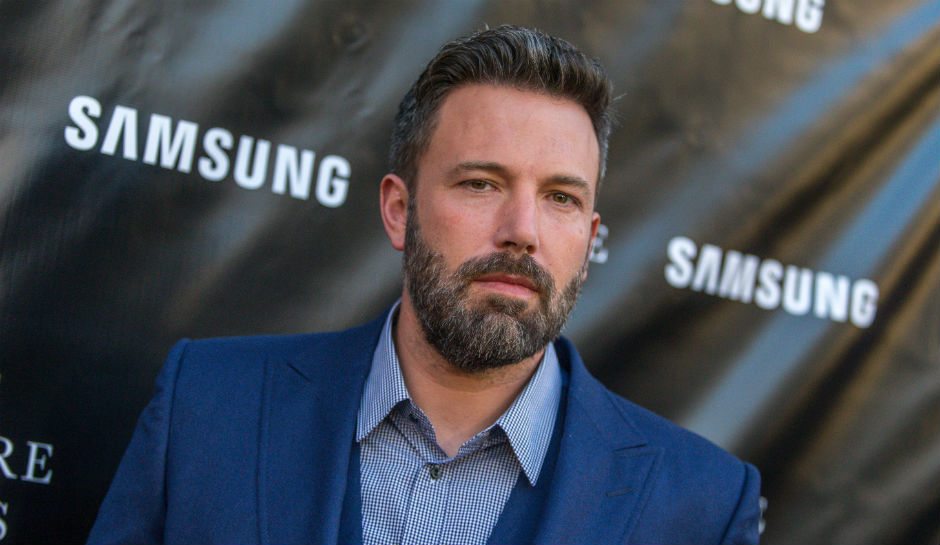 Nevertheless, Affleck is still at the top of his game. He inked a deal with DC Extended Universe to portray Batman. Though the idea of him in a superhero role didn't sit quite well with most fans, his first Batman movie "Batman v Superman: Dawn of Justice" grossed over $873 million to become the highest-grossing film of his career. Thanks to the commercial success, DC signed him on to play Batman in more movies, ignoring rave reviews from critics. Per Forbes estimate, his Batman role was the major contributor to his 2015/2016 paycheck of $43 million, the highest ever in his career, making him the 6th highest-paid actor of that year.
In addition to showbiz, Ben Affleck has earned substantially from playing poker. In 2001, he won $800,000 in a single night playing blackjack at the Hard Rock Hotel in Las Vegas. He won the 2004 California State Poker Championship alongside its $356,400 prize. Affleck's enormous wealth has seen him live in a number of opulent mansions including an 83-acre secluded estate in Savannah, Georgia.
A Look at Ben Affleck's Marital Life with Ex-Wife, Jennifer Garner
Full Name: Jennifer Anne Garner
Date of Birth: April 17, 1972
Occupation: Actress (since 1995)
Spouses: Scott Foley (m. 2000; div. 2004)​, Ben Affleck (m. 2005; div. 2018)
No. of Children: 3
Ben Affleck married actress and ex-wife of actor Scott Foley, Jennifer Garner in 2005, precisely on the 29th of June. They started dating in mid-2004 after starring together on set for the movie, "Daredevil". This resurfaced the nickname "Bennifer" after it was being used to describe his relationship with songbird, Jennifer Lopez by fans and some media outlets.
However, 10 years later (2015) the marriage fell apart. The couple separated for two years and officially filed for divorce in April 2015 which they subsequently finalised in October 2018. Although the estranged couple cited irreconcilable differences as the reason for their separation, speculations were rife that Affleck's alcoholic life contributed in ruining their marriage.
With Jennifer Garner, Ben Affleck has three children – two girls and a boy, namely:
Violet
Full Name: Violet Anne Affleck
Date of Birth: December 1, 2005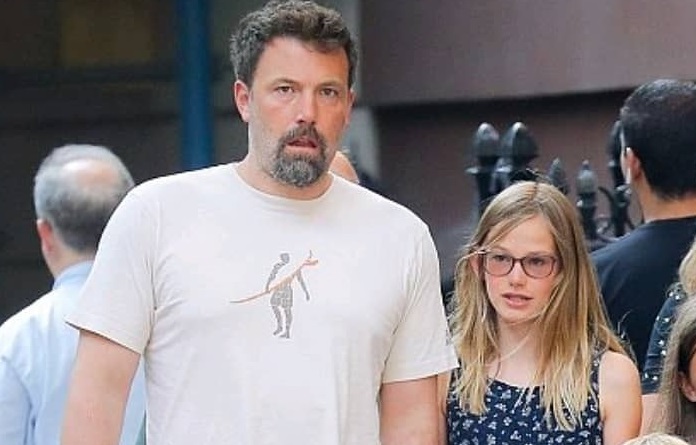 Violet is Ben Affleck's first child and daughter whom he had with his wife (now ex), Jennifer Garner. She was born in Los Angeles in 2006, the same year her parents wedded. Violet obviously has a striking resemblance with her mom and is fast growing into a young adult. Violet hasn't settled for a career as of the time of writing this article but she loves cooking.
Seraphina
Full Name: Seraphina rose Elizabeth
Date of Birth: January 6, 2009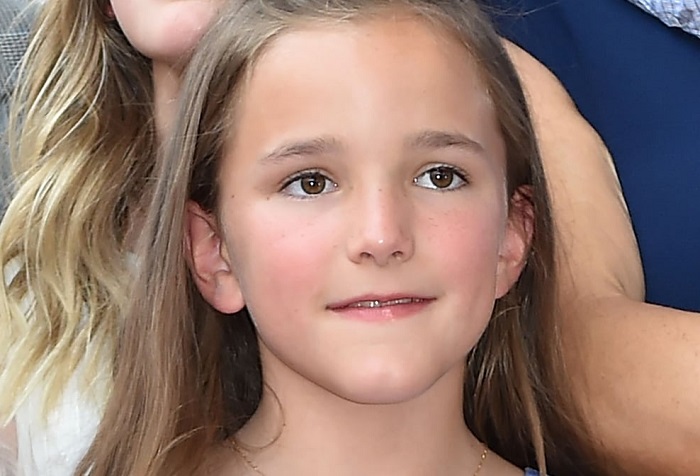 Seraphina is Ben Affleck's second child and daughter with Jennifer Garner. Although Sera loves athletics and plays soccer, she's still such a lovely and beautiful girl.
Samuel
Full Name: Samuel Garner
Date of Birth: February 27, 2012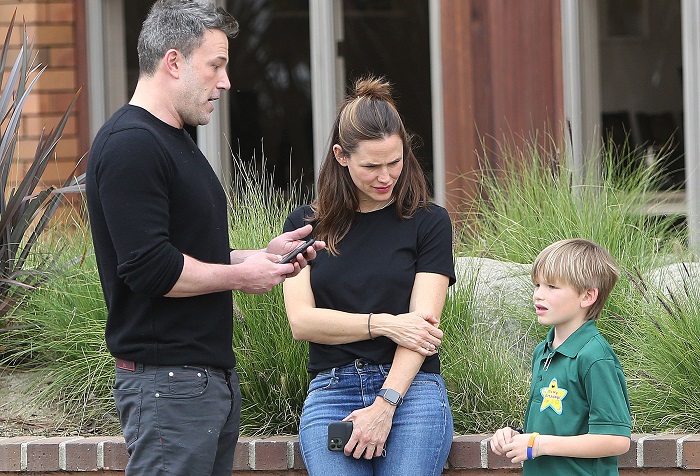 Samuel is Affleck's youngest child and only son with Garner. He was born in Los Angeles and is growing up alongside his older siblings in the Hollywood spotlight.
Ben and his ex-wife Jennifer share custody of their three children and have really made marks in jointly raising them despite their divorce. Above their much-value showbiz career, Affleck and Garner prioritize their children's wellbeing and hence, do all within their powers to remain amicable co-parents. Among their co-parenting goals is always being available for the kids during holidays and other important celebrations such as birthdays and so on.
Meanwhile, the ex-couple prefers to keep their kids out of the limelight and scarcely share photos of them on social media. Affleck is particularly an advocate for protection children from paparazzi and insists that their faces be blurred should photos of them ever appear on the media for whatever reason.
Meet The Actor's Girlfriend, Ana De Armas
Full Name: Ana Celia de Armas Caso
Date of Birth: April 30, 1988
Occupation: Actress (since 2006)
Spouse: Marc Clotet ​(m. 2011; div. 2013)
About five years after officially parting ways with his wife, it emerged that ben Affleck has begun a relationship with Cuban-Spanish actress and Deep Water co-star, Ana de Armas. That was in March, 2020. The pair has since waxed stronger in their love, with Ana moving in with the Daredevil actor in December 2020. Although rumors emanating from Gossip Cop early in January 2021 claim that the love birds have split, they are yet to confirm it.
Apart from his ex-wife Jennifer Garner and Ana de Armas, Ben Affleck has had romantic relationships with a number of women in the past. While he dated Shakespeare in Love star, Gwyneth Paltrow from 1997 to 2000, he had a well-publicised relationship with songstress, Jennifer Lopez from 2002 to 2004. The Hollywoodland actor had back then proposed to his Gigli co-star with a $2.5 million ring in November 2002 but called off their wedding which was scheduled for September 14, 2003, due to "excessive media attention". They eventually decided to end everything too for good.
Before dating Gwyneth Paltrow, Affleck dated his high school girlfriend, Cheyenne Rothman between 1990-1997. They broke up after Affleck became famous following his first movie hit, Good Will Hunting. He also had a brief affair with Boston aristocrat, Enza Sambataro before meeting Jennifer Garner in 2004.
What You Should Know About His Brother, Casey Affleck
Full Name: Caleb Casey McGuire Affleck-Boldt
Date of Birth: August 12, 1975
Occupation: Actor, Director (since 1988)
Spouse: Summer Phoenix ​(m. 2006; div. 2017)
No. of Children: 2
Casey Affleck is Ben's younger brother and both are the only children of their parents. Just like his older brother, Casey is in the film business and is also a shining light in Hollywood. While Ben is making waves as an actor and sculpting himself as a legendary filmmaker, Casey on the other hand, has won a career-defining best actor Academy Award at the 2017 Oscars for his outstanding role in the 2016 movie, "Manchester By Sea".
The brothers started off as child actors and have developed a healthy support with mutual respect for each other. There have been stories about a rivalry between them but such stories have been debunked by the duo.
Like his brother too, Casey also faced a divorce proceeding from his wife, Summer Phoenix after being together for 11 years. The Casey-Summer union produced two sons – Indiana August, born in 2004 and Atticus, born in 2007.
Profile Summary
First Name:
Benjamin
Last Name:
Affleck-Boldt
Also Known As:

Ben
Sex/Gender:

Male
Profession:

Actor and filmmaker
Famous For:
Playing Bruce Wayne / Batman in the 2016 superhero film Batman v Superman: Dawn of Justice
Colleges/Universities Attended:

University of Vermont, Occidental College
Educational Qualifications:

N/A
Religion:

Protestant
Birthday & Zodiac

Age/Date of Birth:

August 15, 1972
Zodiac Sign:
Leo
Birth Place:

Berkeley, California, U.S.
Nationality:
American
Ethnicity/Race:

White
Country of Residence:

Los Angeles, California, U.S.
Physical Attributes

Height:

6 ft 3½ in or 192 cm
Weight:

98 kg or 216 pounds
Eye Colour:

Hazel
Hair Color:

Dark Brown
Other Body Measurements:

Chest: 44 Inches - Waist: 36 Inches - Biceps: 17 Inches
Relationships

Marital Status:

Dating
Spouse/Partner:

Ana de Armas. He was formerly married to Jennifer Garner (m. 2005; div. 2018)
Family and Relatives

Father:

Timothy Byers Affleck
Mother:
Christopher Anne "Chris" Affleck (née Boldt)
Children:

Daughters Violet Anne (born – December 2005) and Seraphina Rose Elizabeth (born – January 2009), and son Samuel Garner (born – February 2012)
Siblings:
Casey Affleck (Younger Brother) (Actor)
Other Relatives:

Elizabeth Shaw (née Roberts) (Maternal Grandmother), O'Brien "Obie" Boldt (Maternal Grandfather) (Democratic activist & professor of political science at the City University of New York)
Net Worth
Estimated Net Worth:

$130 million
Salary:
N/A
Source of Wealth:

Acting, filmmaking, professional
gambling, public appearances, speaking engagements, and endorsement deals.