No matter how good you are at dishing out advice and helping people build their lives and relationships; when it comes to your relationship, you'll realize that things might not be as easy as you think. Tony and Becky Robbins might have gotten together initially for the wrong reasons, but they continue to share a rare friendship even after divorce.
Becky's marriage to Tony Robbins brought her into the limelight and several years after their divorce, she continues to live a 'privately public' life, giving the world glimpses into the aspect of her life she chooses to.
Becky Robbins' Life Before She Met Tony
As far as life goes, Becky Robbins has had quite her share of it. Becky, who was born Rebecca Jenkins has been in the spotlight since her relationship with Tony Robbins, the famous motivational speaker. Not much is known about Becky Robbins – from her date of birth to her parents and her place of birth. We only know she was born in the United States and to parents who were academics.
What was supposed to be a well-defined life got overturned when Becky got married to her first husband at the age of 18. Her somewhat premature exposure to adult responsibilities led to the collapse of her development, including her education and she drifted until she met Tony Robbins.
How The Former Couple Met
Becky as she is fondly called has had to face lots of challenges in her life. She ventured into marriage early and went through divorces. By the time she met Tony, she had gone through two marriages and was already a single mother to three children. She really was in a bad place but all that changed when she met Tony.
Tony Robbins on the other hand also had a difficult upbringing. He grew up in a home that was abusive and chaotic which prompted him to leave home, never to return at age 17. Even though he didn't attend college, he began his career as a motivational speaker by promoting seminars for Jim Rohn before he became successful.
In search of a direction for her life, Becky Robbins found herself at a 3-day "Unleashing the Power Within" seminar by Anthony Robbins. Becky who was then desperate for a change in her life sat in the front row to absorb every bit of the teaching. This was how she caught Tony's attention who struck up a conversation with her after the event. They became fast friends before they began to date and got married in 1984.
Do They Have Kids Together?
Becky and Tony do not have any biological children together but as at the time of their marriage, Tony who was then 24 years old adopted Becky's 3 children from her previous marriages aged 17, 11, and 5. The children, who were minors when Tony and Becky got married, have so far maintained life away from the spotlight with their names and precise date of birth currently unknown.
In addition to her children, she was also a stepmother to Jairek Robbins, the son of Tony Robbins, born from a relationship with Liz Acosta, a former girlfriend of the motivational speaker.
Here's Why Their Marriage Collapsed
For a motivational speaker who portrays the image of someone who has life figured out, a failed marriage is the last thing that would have been expected from him but it turned to be the case of Tony Robbins and Becky Robbins in 1998 when they filed for a divorce after 13 years of being together.
Going by what Tony said in a series of interviews after their divorce, it appears that he knew their marriage wasn't a 'forever thing', even from the onset. One then wonders why he went ahead with the wedding. Tony himself has come to realize that this might be due to his constant need to please people even to the detriment of his desires. He also admitted that he just didn't want to disappoint anyone, especially Becky.
As their marriage progressed, they continued to grow apart especially with both of them having different visions about life. Despite all this, Tony was reluctant to abandon their marriage. Firstly due to his public image and then because of the children which he has committed himself to raise with Becky.
They finally filed for divorce in 1998 after being together for 14 years. As at the time of their divorce, the smallest of their brood was already 19 years of age. Tony who admits the divorce was one of the hardest decisions he has made in his life experienced some serious backlash especially after marrying Sage Robbins in 2001.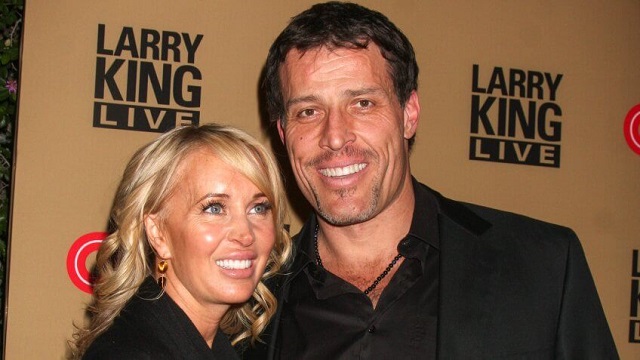 In his defense, Tony has revealed that although he teaches several skills and tools to enhance relationships, he has never led his audience to believe they should stay in an unsuccessful relationship after series of deep and honest communication, and discovery that you do not share the same life vision. Even though they could have continued to compromise to make things work, a continued compromised life for both parties isn't a good thing.
Her Life After The Divorce
Her relationship with Tony Robbins may not have ended on a happily-ever-after note but it gave her direction and she was able to recover years of her life that had been lost to bad decisions. Through a series of good decision making, aided by her ex-husband Tony, Becky grew to become the Vice President of Robbins Research International, a business management consulting company based in California and led by Tony Robbins.
Moreover, Becky has remained quiet through all that has happened. Even after their divorce and Tony's new marriage, she has chosen to continue to focus on the positive aspect of her life which includes her children, work, and philanthropic endeavors. To the best of our knowledge, she has remained a single woman since the divorce.
Becky Robbins' Finances Improved After She Met Tony
Becky Robbins is a very versatile individual who has stretched herself and adapted to the different jobs and roles she has had to play in her life. After training and qualifying as a nurse, Becky became unfulfilled at this profession and soon turned to business.
Due to her financial and family responsibilities, she went into sales which she mostly did in the evenings, leaving her free to be with her children during the day. Even though she worked hard, what she earned was barely enough to take care of her and her kids.
This changed after she met and married Tony as she began to work with him at his business management consultant company. As at the time of their divorce and to date, she continues to work as the Vice President of Robbins Research International Inc. She is now an inspirational speaker, writer, explorer, and painter. She currently owns a studio in California and runs a blog titled 'Everything Becky' where she often shares various artworks.
Her Net Worth Compared to Tony Robbins' $500 Million
Her net worth can't be compared to her ex-husband's staggering $500 million and with their divorce settlement being very private, it is difficult to pin down how much Becky is worth; although there are speculations that she is worth about $1 million which could be more.
As far as we can tell, a large portion of her wealth came from salaries she has earned as the Vice President of Robbins Research International Inc. Being married to a motivational speaker for many years, Becky Robbins has been inspired to explore all her interests and profit from them. She runs at least two websites where she sells her paintings.