As far as being famous goes, the popular and most prominent ways to achieve this has been through the entertainment industry, journalism, sports, and politics. However, due to the global demand and acceptance of motivational speaking, public speakers who have the ability to incite positive feelings in people have also found themselves on the Fame Scale, with names like Tony Robbins leading the charge for motivational speakers. With that fame comes an interest in their personal life, and like for Tony, his wife, Becky Robbins, whom he was married to for 13 years, becomes the obvious target.
While Becky Robbins was married to a motivational speaker for a considerable number of years, she never took up the mantle to be a motivational speaker but instead, she worked behind the scenes as Vice President of Robbins Research International. You can learn more about her and life so far by reading below.
Becky Robbins' Bio
As far as life goes, Becky Robbins has had quite her share of it. Becky, who was born Rebecca Jenkins has been in the spotlight since her relationship with Tony Robbins, the famous motivational speaker. Not much is known about Becky Robbins – from her date of birth to her parents to her place of birth. We only know she was born in the United States and she was born to parents who were academics.
What was supposed to be a well-defined life got overturned when Becky Robbins got married to her first husband at the age of 18. Her somewhat premature exposure to adult responsibilities led to the collapse of her natural development curve, including her education and she drifted until she met Tony Robbins.
Her relationship with Tony Robbins may not have ended on a happily ever after note but it gave her direction and she was able to claw back years of her life that had been lost to bad decisions. Through a series of good decision making, aided by her husband, Tony, Becky grew to become the Vice President of Robbins Research International, a business management consulting company based in California led by Tony Robbins.
Family and Relationship with Tony Robbins
Perhaps the most significant part of Becky Robbins life is her relationship with Tony Robbins. Not only has the relationship brought her fame and made her a public personality, but it has also helped shape her life in a positive direction.
They met during one of Tony Robbins's seminars – Unleashing the Power Within. The seminar, which Becky attended as part of her effort to correct her life and improve her decision making going forward, brought her in contact with the man who would be her third husband (she had earlier married two unknown men, marrying the first man when she was 18).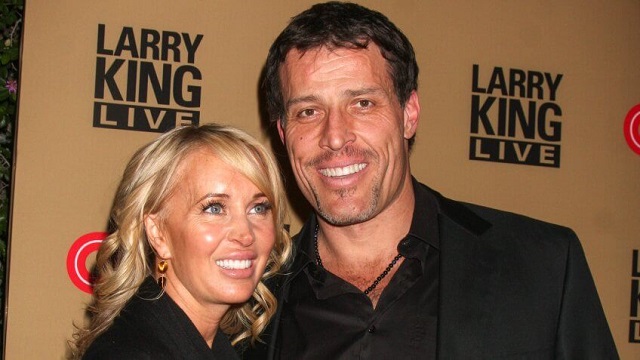 During the seminar, both of them developed an attraction for each other and it continued long after the seminar was over, blossoming into a relationship and later into a marriage in 1984.
For a motivational speaker who portrays the image of someone who has life figured out, a failed marriage is the last thing that would have been expected from him but it turned to be the case of Tony Robbins and Becky Robbins in 1998 when they filed for a divorce after 13 years of being together.
Since their divorce, Tony Robbins has gone to marry Sage Robbins, marrying her in 2001 while all indication suggests that Becky Robbins has remained a single woman since the divorce.
Who Are Her Kids?
Although her relationship with Tony Robbins did not birth children of its own, Tony adopted Becky Robbins' children, which she had given birth to from her two previous marriages. The children, who were minors when Tony and Becky got married, have so far maintained life away from the spotlight with their names and date of birth currently unknown.
See Also: Brooke Pumroy – Everything to Know About Tyler Summitt's Wife
Along with her own children, she was also a stepmother to Jairek Robbins, the son of Tony Robbins, born from a relationship with Liz Acosta, a former girlfriend of the motivational speaker.
Becky Robbins' Net Worth
As far as having a professional career that earns you a ginormous amount of wealth goes, the scale might tip towards her ex-husband, Tony Robbins who is estimated to be worth over $500 million, but as an integral part of his company and over 13 years spent together as a couple, Becky Robbins has been able to accrue a significant sum for herself as a person, in the region of $1 million.

With continued work with the organization even after their divorce, Becky Robbins has been able to maintain her status as a rich woman.

Fact Check: We strive for accuracy and fairness. If you see something that needs updating,