Apart from uplifting one's mood instantly, music is one form of art which tells a lot about both the singer and the listener. The American singer and songwriter Bart Millard probably could not fathom just how far and how well his music would impact the world when he was penning down the song, 'I Can Only Imagine'. The artist composed the song in a few munites and from the lyrics, you could easily be in touch with his pains.
One of the reasons why Millard's 'I can only Imagine' was a huge success, recording millions of sold copies and making it as the best-selling Christian single of all time, is that the song speaks volumes about the artist's horrifying experience with his father. Obviously, songs, like the above-mentioned, did not only heal the American artiste but it also, among other things, generated huge financial backing for him and his band, MercyMe. Let's take a quick look at the life of the contemporary Christian music band leader.
Who is Bart Millard?
Bart Marshall Millard was born on December 1, 1972, in Greenville, Texas and he grew up with his brother, Stephen Millard. The two were raised by their parents Arthur Wesley Millard Jr. and his wife.
While growing up Millard was so much interested in sports that he hoped to become a professional football player, only for his young dream to be squashed by an injury he sustained while playing in a high school football game. Interestingly, young Millard saw singing as a better option. He joined his school choir and his church's youth group worship band and the rest was history.
Bart Millard's musical career began after his trip to Switzerland with his worship band group. Inspired by his experience at the trip, the Texas-born singer moved with two of his friends-James Phillip Bryson and Michael John Scheuchzer to Oklahoma City and there, they formed MercyMe. The band has since 1994 when it was officially formed, been able to record about nine studio albums, six independent, two exclusive and one compilation album.
With his band group, Bart Millard grew to become not just a singer but also their songwriter. As a solo vocalist in his own right, Bart has released his solo albums 'Hymned, No. 1' and 'Hymned Again'. With his music band, Millard has released more songs like the widely sold songs, "Spoken For" and "I Can Only Imagine" which have earned them gold and platinum status.
Net Worth
The music artiste from Texas was in 2005, named the Best Male Vocalist by Christianity Today- a Carol Stream, Illinois-based Christian magazine. Bart Millard was recognized as so following his role in the success of his band's Hymned No. 1 as well as The Christmas Sessions, the band's first Christmas album.
Millard's single, I can Only Imagine, is notably the band's first breakthrough as it reportedly sold over 2.5 million copies and was named as the best selling Christian single of all time. Thanks to his wide musical career, Millard is believed to have generated quite a lot as net worth for himself. Some net work-calculating sites put his net worth at $5 million but his annual salary is not known.
Details About Bart Millard's Family
Despite growing up in an abusive family, Bart Millard is still well connected to every member of his family. Although not much is known about his mother, Millard and his brother Stephen were apparently raised by their father, Arthur Wesley Millard Jr. who was an All-American football player for Southern Methodist University but a knee injury ended his football career in his sophomore stage.
Bart's father was quick-tempered and fond of physically abusing him. His mother, Adele, worked with the state's transportation department. Although he barely beats their mother, Millard's father would practically destroy anything belonging to her whenever he is upset about anything. Fed up by his acts, Adele left the family when Millard was in third grade.
Bart Millard lived with his father all through his formative years and he witnessed how his father's rage transformed him into a monster. The boys were left with no other choice but live with it. Things, however, turned around for the music artist after his father was diagnosed with Pancreatic cancer. Finding himself in the face of death, Arthur Miller had his life transformed as he frequently attended church service and read his bible.
One of Bart's special moments was when he would hear his father pray for him and his brother at night. Gradually, the music artist found peace with his father. Millard's father eventually passed away on November 11, 1991. The song I Can Only Imagine was written about his dying father. The artist credits his father for inspiring his musical career.
A film also titled I can Only Imagine, has also been created and it premiered on March 16, 2018. The film which has been seen in more than 1600 theatres features J. Michael Finley who plays the role of Millard and Dennis Quaid who played the role of Arthur Millard.
Meet The Brother 
Bart has a brother named Stephen Millar who is five years older than him. Not much has been said about the music artiste's older brother but what we do know is that Stephen is also a football player. He recently got into a brawl with Bart after the release of the theatrical film, I Can Only Imagine which has Bart talking of his experience with his violent father. Stephen accused his brother of practically exaggerating the whole story in order to sell more tickets. While Bart's brother finds the film quite hard to watch, their mother, on the other hand, said that the film's storyline was accurate
Who Are His Wife and Children?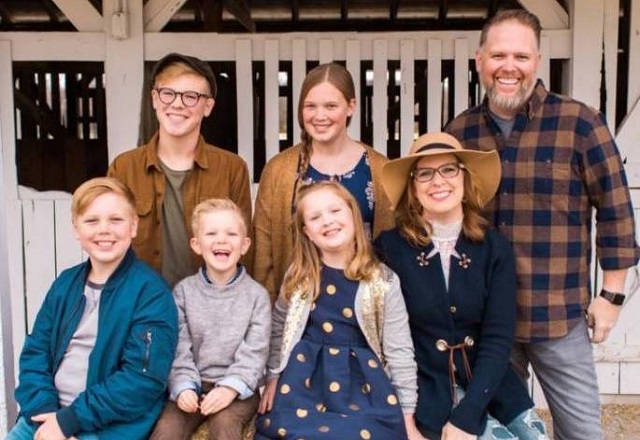 Millard is happily married to his High School sweetheart, Shannon Millard. The couple met for the first time when Millard was in his 8th grade in high school. Shannon is not only his first and only wife but also his first girlfriend. Although the date they got married cannot be ascertained, the couple is said to have marked two decades of their marriage. They are blessed with five adorable children. They include three boys namely Sam, Charlie and Miles, and two daughters namely Gracie and Sophie.