Even before their father, Donald Trump became president of the United States, the Trump family has always been a fascinating and interesting one to the American public. Members of the family have come under intense scrutiny by fans and observers for their physical looks and with the family's last born already showing signs of physical greatness, many are already asking, how tall is Barron Trump?
The appearance in late 2018 followed with another in the second half of 2019 sparked interest among those whose interests in the family went beyond its governance of America. We now know how tall Barron Trump is since his last major appearance in public as well as how he compares to his father. Find out more below.
How Tall is Barron Trump?
Barron Trump is the fifth child of Donald Trump and his only child with his third wife, Melania Trump. Unlike other children of the family, he has very little relationship with the public and has spent his life practically away from media attention.
Still, carrying the Trump last name has meant he can only avoid the attention for so long and it has often been reignited whenever he makes appearances in public with members of his family.
Born on the 20th of March 2006, Barron Trump, who is now a teenager has already begun enjoying some of the finer aspects of teenhood and is currently going through a growth spurt.
So how tall is Barron Trump? Well, he is now estimated to be at 6 feet tall, having grown taller than his mother, Melania Trump who is 5 feet 11 inches without heels.
How Does His Height Compare To Donald Trump?
Already surpassed his mother in height, Barron would set his sights for his father, Donald Trump who has a height of 6 feet 2 inches, if his rapid growth is anything to go by, the fifth child of the 45th President is heading for well over 6 feet 2 inches.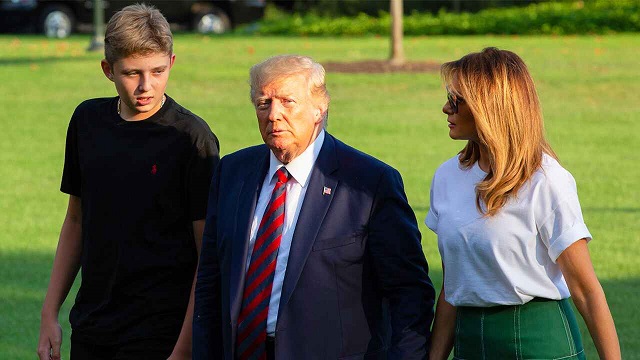 His growth spurt is not just remarkable when compared to his parents but also across the national average. At 6 feet, he is already several inches taller than the national average according to the Center for Disease Control and Prevention growth charts, the average 12-13-year-old has a height of 5 feet 2 inches. Simply put, he has grown to be a young giant.
And Barron Trump is already putting his tall height to use with his style. In the few occasions he has been spotted in public, he has been seen wearing long trousers and fitted shirts that show off his slender and tall body.
He has also been seen wearing a stylish new haircut that completes his look as a good-looking young man, a far cry from his look when his father took the oath of office in 2017.
Some Other Interesting Facts About Him
Having learned how tall Barron Trump is, here are some quick facts about him –
He is of German and Scottish descent through his father's ancestry and of Slovenian descent through his mother. He is both fluent in English and Slovene and has been baptized at The Episcopal Church of Bethesda-by-the-Sea.
Following the inauguration and subsequent relocation of his father into the White House, Barron Trump did not move immediately into the White House. Instead, he remained until the end of the school year in 2017 before moving on June 11, 2017. He now attends St. Andrew' Episcopal School in Potomac, Maryland.
Barron Trump is believed to be a fan of soccer, particularly London football team, Arsenal F.C. As a player, he played with the Arlington Soccer Association and as a fan, he has met D.C United players and had a private dinner with soccer icon and Manchester United legend, Wayne Rooney who played for D.C United. Considering how tall Barron Trump has gotten, a career as a soccer player may be on the cards.
During the entire campaign and well up to the inauguration of his father, he only appeared in public three times – first, during a campaign rally in South Carolina, another at the Republican National Convention acceptance speech and the Presidential victory speech. He was also present at the inauguration ceremony of his father in January 2017.
See Also: Who is Rory Farquharson – Malia Obama's British Boyfriend?
The closest person in age to Barron was born in October 1993 and that is Tiffany Trump. She is a half-sister whose mother is Marla Maples. She is a graduate of sociology and urban studies from the University of Pennsylvania. His older siblings are Donald Trump Jr., Ivanka Trump and Eric Trump who were all executive vice presidents at the Trump Organization. Since his father became president, his older half-sister, Ivanka has held a position as a Senior Advisor to the President.