Millennials of the 1980s would likely remember the 1985 science fiction feature film named D.A.R.Y.L. (Data-Analyzing Robot Youth Lifeform) which many commentators now say was well ahead of the age in its projections. Well, Barret Oliver was the child actor who starred as the android 'Daryl' (the central character) in the film.
Barret was twelve years old when he filled that role for which he eventually won Saturn Award for Best Performance by a Younger Actor. However, his acting credit dates back to when he was only 8 years old in 1981. Then, by the time he left acting in 1989, he had been nominated for at least 4 more prestigious awards.
With such an acting pedigree as related above, everyone certainly expected Barret Oliver to soon become one of the go-to actors in Hollywood, often scooping big roles with dollars dropping. But no, instead, as already hinted, he chose a different career path as a photographer while he grew older. Having received his last role as an actor far before his seventeenth birthday, one wonders why he abandoned such a promising career in the movies and chose instead to move from before the cameras to behind them.
Why did Barret Oliver abandon his acting career to become a photographer instead? How has he fared in his former and current occupations? Where is he now? Such questions are what we shall be trying to answer in this short biographical account of the man. So, read on, and don't go away.
Who is Barret Oliver?
The former child actor turned photographer and printer was born as Barret Spencer Oliver on August 24, 1973. He was born right inside the World Capital of the movies, Los Angeles, California to Kent Oliver and his wife, Kathy. He was raised still in Los Angeles with his elder brother Kyle Oliver who was also a child actor in the 1980s.
Barret Oliver's father was an interior designer in Los Angeles. Although he was not in the entertainment industry, he had friends who were. It was with their help that he got his too talented boys to start auditioning for movie roles that early. So, while they were still in elementary school, they began receiving movie roles with their mother Kathy acting as their manager.
He attended Los Feliz Elementary School on Hampshire Avenue Los Angeles from pre-school to sixth grade – alongside his brother Kyle. However, we cannot yet account for where their education continued or to what level after that. Most child actors are homeschooled to enable them to pursue their educational and working career goals side by side. So, we have reason enough to presume that the same was the case for the two young Olivers who began their acting careers at such an early age.
Barret Oliver's Movies
Barret Oliver started with minor roles while he was eight years old in 1981. His first credited role was as 'Jimmy the Kid' in one episode of the CBS series The Incredible Hulk which ran from 1977 to 1982. His next TV role was in the NBC series Night Rider where he acted simply as a 'buddy' again in one episode. He also got three film roles in 1983 which include as a child in a supermarket in the comedy Jekyll And Hyde…Together Again. The other two roles in 1982 were as a little boy in the romantic comedy film Kiss Me Goodbye and as 'Q.P' in the TV movie The Circle Family.
Then came 1984 which was Barret's year of a breakthrough: Out of nowhere, he landed one major role after another. First of all, he was 'Bastian' in the 1984 West Germany fantasy film The NeverEnding Story. Then, he was 'Robbie Winslow' in the supernatural horror film Invitation To Hell. Still, in 1984, Barret was 'Frankenstein' in the short film Frankenweenie. In TV, Barret's 1984 was also prosperous. First of all, he played an unknown role in the ABC drama series Lottery! Then, he was Arthur Neally in NBC TV drama series High Way To Heaven. Still more, he acted as Matthew Powell in ABC drama series Finder Of Lost Loves.
In 1985, Barret Oliver took what may be considered his biggest acting role ever, 'Daryl' in the science fiction film D.A.R.Y.L. as said before. Next, he was 'David' in the science-fiction fantasy comedy-drama film Cocoon. After that, he took about three minor roles in both film and TV before his last appearance which was in the 1989 black comedy film Scenes From The Class Struggle In Beverly Hills where he acted as 'Willie Saravian'.
SEE ALSO: Gary Anthony Williams – Biography, Wife – Leslie Williams, Family
Where Is Barret Oliver Now?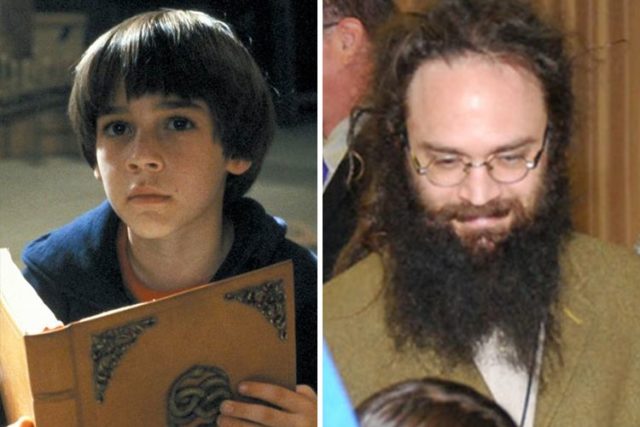 As we said before, Barret stopped acting at sixteen and started a career in printing and photography. But it is not the usual type of printing and photography because Barret specializes in outdated processes which he would reinvent and reinvigorate – such processes as Woodburytype and collodion. He, therefore, brought outmoded processes back in vogue and then, began to teach it to others, which became yet another career path and source of income. Yes, he holds workshops in Los Angeles where he teaches people his reinvention of older forms of printing. He also resides in Los Angeles.
Career Achievements
As already mentioned, Oliver Barret was the 1986 Winner of Saturn Award for Best Performance by a Younger Actor. He won the prize for his 1985 role in D.A.R.Y.L. That was the only notable award he ever won. But, he was nominated for Young Artist Award in the following categories: Best Young Actor in a Television Special (1983) for his work in The Circle Family, Best Young Actor- Guest in a TV series (1985) for his work in Highway To Heaven; Best Young Actor in a Motion Picture – Musical, Comedy, Adventure, or Drama (1985) for his work in NeverEnding Story, and Best Starring Performance by a Young Actor – Motion Picture (1986).
The account of Barret Oliver's achievement as an actor has been given above. But, he has been a photographer/printer/teacher of printing for longer. So, what are his achievements in this second respect? Well, he has won no awards in his new career – none that we know about. But, he must be feeling as fulfilled now as someone leaving a legacy for the next generation, much like an inventor. And yes, he has also written a book to help him reach a wider audience with the teaching of his life's work. The book is uniquely entitled as A History of the Woodburytype (ISBN 978-1-887694-28-5) which shows you how the old printing method developed up till Barret's reinvention of it. The book was published in 2007 by Carl Mautz Publishing.