Net Worth:
$450 million
Age/Date of Birth:

April 24, 1942
Height:

5 feet, 5 inches (1.65 m)
Ethnicity/Race:

Mix of Galician (Polish) Jewish and Russian Jewish decent
Nationality:
American
Husband or Boyfriend:
James Brolin
(m. 1998)
Parents:
Father: Emanuel Streisand
Mother: Diana (née Ida Rosen)
Barbra Streisand is an American singer, songwriter, actress, and filmmaker. AKA "The Queen of the Divas", Barbra is arguably one of the most versatile entertainers Hollywood has ever seen. She has established herself as an icon in virtually all the entertainment fields she's dabbled into, making her a recipient of the hugely coveted EGOT (Emmy (5), Grammy (10), Oscar (2) and Tony (1)) regarded as the biggest honor in the entertainment industry. She was awarded the Presidential Medal of Freedom by President Barack Obama in 2015.
Barbra Streisand's net worth is estimated to be $450 million as of 2021
With over 200 million records sold worldwide, Barbra is the best-selling female artist of all time. She's also the female artists with the most #1 albums (11) and the third-most No. 1 albums among all artists, ousted by only Jay Z (13) and The Beatles (19).
Barbra is showing no signs of slowing as her 2016 tour "Barbra: The Music, The Mem'ries, The Magic" grossed over $46 million while her 2016 album "Encore" topped the charts to become her 11th #1 album.
Before The Fame and Glamour
Barbara Joan Streisand was born on April 24, 1942, in Brooklyn, New York. Streisand's journey to fame and wealth can successfully pass as "rags-to-riches." Following the death of her father Emanuel Streisand when she was just 15 months old, her family came to the brink of penury. Her mother Diana's income from her job at the New York City public school system was barely enough to cater for the family which included Barbra and her older brother Sheldon. Barbra herself has described her childhood as "painful" recalling that her mom was so busy striving to make ends meet that she ignored her emotional needs.
However, despite the difficulties, Barbra remained focus and active in her education, beginning from elementary school where she was an outstanding pupil and maintained a high level of curiosity. She inherited her amazing vocal ability from her mother and wasn't afraid to showcase it. As a kid, she'd often sing in the hallway of their apartment building. The neighbors knew her for it. Sadly, her mother wasn't one of her fans. Diana remained highly critical of her daughter, she, however, showed her some support when she was 13, helping her make a demo tape. But that was all, as Barbra grew, her mom kept persuading her to refrain from the show business, but it only served as fuel for Barbra's passion to one day become a star.
Barbra also developed an interest in acting and sought more to become an actress. While attending Erasmus Hall High School she traveled often to New York City to study acting. At 16 years old, Barbra graduated 4th in her class from Erasmus in 1959. With eyes fixed on her show business dreams, Barbra in 1960 moved away from her mom to a rented apartment in Manhattan in the heart of the theatre district. During this time, Barbra worked several menial jobs including anything related to the stage. And when she was out of rent, she'd sleep at friends'.
While no acting job was forthcoming, Barbra following advice from a Broadway casting director and decided to put more effort into pursuing music. Her first breakthrough, small but significant came when she won a talent contest at a Manhattan gay club. This immediately opened the doors to her first professional job at Bon Soir nightclub where she was paid $125 per week. Within a year, Barbra's fame increased as she landed another singing job at the Blue Angel nightclub.
Breakthrough With Broadway
While she kept up with her nightclub gigs, Barbra never gave up on her acting dreams. And in 1962, just two years after moving away from her mom, she landed her Broadway breakthrough! She was performing at Blue Angel when theatre director Arthur Laurents brought to her knowledge a chance to audition for the musical comedy "I Can Get It for You Wholesale" (1962).
Barbra got a role and her performance propelled her to national fame. She received a Tony nomination and won the New York Drama Critics Award for Best Supporting Actress. She went on to appear as a guest on many shows from Tonight Show, to Ed Sullivan Show and  Mike Douglas Show.
Thanks to the success of the musical, Barbra landed her first record deal with Columbia Records still in 1962. Her next theatre endeavor "Funny Girl" (1964), brought her international fame. Later in 1968, she reprised her role in the movie adaptation of the same title. It was her debut film role and she won an Oscar and Golden Globe Award for Best Actress. The movie made $58.5 million against a $14.1 million budget.
Analysis of Barbra Streisand's Net Worth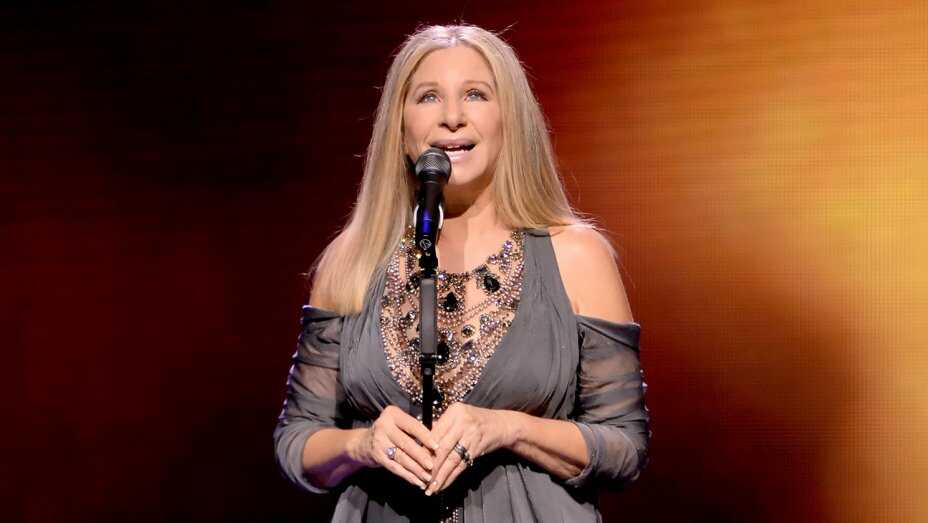 Barbra Made Millions from Acting Between 1968 and 1980 
Streisand's numerous endeavors in over 6 decades brought her personal net worth to at least $450 million, making her one of America's richest self-made women.
After her success with the film version of her Broadway hit "Funny Girl" (1968) for which she was paid $200,000, Barbra went on to star in other acclaimed and commercially successful roles. For her next film "Hello, Dolly!" (1969) she received $750,000. She was paid an estimated $1 million for "The Owl and the Pussycat" (1970).
In 1972, she set up her own movie production company "Barwood Films". Under the company, she wrote, directed, produced, and starred in her own movies including Yentl (1983) for which she earned $3 million, The Prince of Tides (1991) and The Mirror Has Two Faces (1996) which brought her $20 million.
One of her most acclaimed films in the 1970s was "A Star Is Born" (1976). She also performed the film soundtrack "Evergreen" for which she won her second Oscar for Best Original Song. The film grossed $80 million against a budget of $6 million and Barbra reportedly received $15 million.
Barbra's Best film years were between 1968 and 1980 when she appeared in the Top Ten Money-Making Stars Poll which ranks the year's highest money-making stars according to questionnaires given to movie exhibitors.
Streisand's Highest-grossing Movies
Meet the Fockers (2004)

Budget – Unknown
Box Office – $522.7 Million

Little Fockers (2010)

Budget – $100 Million
Box Office – $310.7 million

The Prince of Tides (1991)

Budget – $30 Million
Box Office – $135 Million

A Star is Born (1976)

Budget – $6 Million
Box Office – $80 Million

Funny Girl (1968)

Budget – $14.1 Million
Box Office – $58.5 Million

What's Up, Doc? (1972)

Budget – $4 Million
Box Office – $66 Million
She Has an Extensive Body of Work as a Singer and they've Contributed Massively to Her Wealth
As of 2020, Barbra has released a total of 36 studio albums and 11 compilations, 9 live albums, and 15 soundtracks. At least 14 of her albums have been certified multi-platinum, 31 platinum, and 52 gold.
She is the only artist in the world to have #1 albums in each of the last 6 decades. Her most successful album remains "Guilty" released in 1980. The album reached #1 in 11 countries including the UK, where she became the first woman to have a #1 album and single in the same week. The single being the album's lead single "Woman in Love". The album went on to sell about 20 million copies worldwide.
Her debut album "The Barbra Streisand Album" was released in 1963. The album peaked at No. 8 on the Billboard 200 and made her America's best-selling vocalist. It won 3 Grammy Awards including for Album of the Year and Best Female Vocal Performance. Six months later, she released her second album "The Second Barbra Streisand Album" which peaked at #2 on the Billboard 200. Both albums went on to sell 1 million copies, propelling her to millionaire status.
Based on the foregoing, one can see that her body of work as a singer contributed in no small manner to her $450 million fortune.
Barbra Streisand Has Made Over $350 Million from Concert Tours
In addition to album sales, Streisand has also made substantial amounts from touring. Her first full tour "Barbra Streisand in Concert" (1993 – 1994) grossed $55 million from 26 shows including 4 in Europe. Her next tour "Timeless" (1999/2000) grossed $70 million from just 10 shows.
Earlier in 1994, Barbra became the highest-paid performer in history after tickets for her live album "Barbra Streisand: The Concert" sold out within an hour despite the $50 – $1500 ticket price. Its massive success was as a result of the anticipation it created as it was her first public concert appearance in 27 years. Streisand donated $10 million of the proceeds to charity.
Her 2006/2007 concert tour "Streisand" became the biggest of her career. It was her first US tour in 12 years and grossed $119.5 million from 29 shows. The tour's success was hugely responsible for ranking her 2nd on Forbes' list of highest-earning female musicians with earnings of around $60 million.
A Breakdown of What She Earned from Her Popular Tours
Barbra Streisand in Concert (1993 – 1994) – $55 million
Timeless (1999/2000) – $70 million
Streisand (2006/2007) – $119.5 million
The Actress Has Invested Heavily in Real Estate and Arts
Barbra and her husband James live in an oceanfront clifftop house in Malibu, California. According to various reports, the mansion is contained in a compound of five houses. It has been claimed in some quarters that the property which she acquired for a bit below $20 million has appreciated to a massive $80 million.
Disregarding the Malibu property, it is believed that she owns other property that includes a house in Beverly Hills and a New York apartment.
As the entertainer has been an avid collector her entire adult life, it is natural that she has invested in art a great deal. While details of her collectibles are best known to her, it has been expressed that they amount to a few million dollars, or even more.
A Look at Her Net Worth Over the Past Decade
2011 – $285 Million
2012 – $310 Million
2013 – $325 Million
2014 – $340 Million
2015 – $350 Million
2016 – $370 Million
2017 – $390 Million
2018 – $400 Million
2019 – $415 Million
2020 – $435 Million
2021 – $450 Million
List of the Major Sources of Her Wealth
Paychecks from acting
Proceeds from record sales
Earnings from concert tours
Profits from investing in real estate and arts
Things To Know About Her Husband And Children
The Entertainer's First Marriage Began in 1963
First Husband's Name: Elliott Gould
Date of Birth: August 29, 1938
Occupation: Actor
Duration of Marriage: 1963 to 1971
No. of Kids with Barbra: 1 (Jason Gould)
Aside from her super-star status, Streisand is a wife and mother. She was married to Elliott Gould and together they had a son named Jason Gould. Roughly five years after his birth, Barbra and Elliott decided to end their union; they signed their divorce papers in 1971, after a two-year separation.
Barbra Streisand met Gould when she was 19, they were both working on Broadway together. After they started dating and got married, they were one of the most notable power couples of the era. As such, news of their separation was a big deal. But then, the public was left in the dark about what led to the failure of the marriage.
In recent times though, the former couple has been dropping hints here and there. Gould once offered that they grew apart because they didn't grow together. According to him, the actress became more important than what they had.
Meet Barbra and Elliott's Son
Full Name: Jason Emanuel Gould
Date of Birth: December 29, 1966
Occupation: Actor and Singer
The only child of Barbra Streisand and Elliott Gould, many expected Jason to take after his parents and he did. He has been a part of the entertainment industry since 1972 when he pulled off an uncredited role in Up the Sandbox, a comedy-drama film starring his mother. Much wasn't heard from him thereafter until in 1989 when he played Mike Cameron in Say Anything…, a teen romantic comedy-drama film.
Jason featured in other projects like The Big Picture, Listen to Me, The Prince of Tides, and Subterfuge before branching out to work as a screenwriter, director, and producer. While he has remained relevant in the competitive industry, he may never get to attain the level his parents reached.
Much isn't known about Jason Gould's love life, especially as it relates to his romantic partners. Nevertheless, it is no secret he's gay. It is said that he informed his parents about his sexuality when he was 21. A few years later, the media outed him. This forced Barbra to proclaim her support for Jason publicly.
Barbra Streisand Is Currently Married to James Brolin 
Full Name: Craig Kenneth Bruderlin (James Brolin)
Date of Birth: July 18, 1940
Occupation: Actor, Director, and Producer
Duration of Marriage: 1998 –
No. of Kids with Barbra: Nil
Following the failure of her first marriage, Barbra was romantically linked to several popular figures. She dated Richard Baskin from 1983 to 1987 and before him, Jon Peter. They started dating in 1973 and parted ways in 1982.
It was not until 1998, 27 years after her divorce from Elliott Gould, that Barbra decided to give marriage another shot. She got married to James Brolin after they met on a blind date.
Like her first husband, James is a prominent figure in the entertainment industry. Sometime in August 1998, the same year he got married to Barbra Streisand, he received a star on the Hollywood Walk of Fame. In addition to that, he has won at least two Golden Globes and an Emmy.
Key Take-Aways
Barbra Streisand has been married twice, first to Elliott Gould and then to James Brolin.
She has only one child, a son named Jason Emanuel Gould and he's gay.
Barbra's current husband, her ex, and son are all entertainers.
She made most of her wealth from record sales, acting, and concert tours.
Streisand has invested heavily in real estate, arts, and other collectibles.
Profile Summary
First Name:
Barbra
Last Name:
Streisand
Also Known As:

Babs
Sex/Gender:

Female
Profession:

Singer, actress, and filmmaker
Famous For:
Owning the longest span of number one albums in history: 50 years
Colleges/Universities Attended:

N/A
Educational Qualifications:

N/A
Religion:

Jewish
Birthday & Zodiac

Age/Date of Birth:

April 24, 1942
Zodiac Sign:
Taurus
Birth Place:

New York City, U.S.
Nationality:
American
Ethnicity/Race:

Mix of Galician (Polish) Jewish and Russian Jewish decent
Country of Residence:

United States of America (USA)
Physical Attributes

Height:

5 feet, 5 inches (1.65 m)
Weight:

110 pounds
Eye Colour:

Blue
Hair Color:

Brown
Other Body Measurements:

Breast: 36 inches (91cm)
Waist: 30 inches (76cm)
Hips: 37 inches (94cm)
Relationships

Marital Status:

Married
Spouse/Partner:

James Brolin
(m. 1998)
Previously married: Elliott Gould
(m. 1963; div. 1971)
Family and Relatives

Father:

Emanuel Streisand
Mother:
Diana (née Ida Rosen)
Children:

Jason Gould (Son, 29 December 1966)
Siblings:
Sheldon Streisand, Rosalind
Other Relatives:

Roslyn Kind (half-sister)
Josh Brolin (stepson)
Net Worth
Estimated Net Worth:

$450 Million
Salary:
Unknown
Source of Wealth:

Album sales, films