Barbra Streisand is an American singer, songwriter, actress, and filmmaker. AKA "The Queen of the Divas", Barbra is arguably one of the most versatile entertainers Hollywood has ever seen. She has established herself as an icon in virtually all the entertainment fields she's dabbled into, making her a recipient of the hugely coveted EGOT (Emmy (5), Grammy (10), Oscar (2) and Tony (1)) regarded as the biggest honour in the entertainment industry. She was awarded the Presidential Medal of Freedom by President Barack Obama in 2015.
With over 200 million records sold worldwide, Barbra is the best-selling female artists of all time. She's also the female artists with the most #1 albums (11) and the third-most No. 1 albums among all artists, ousted by only Jay Z (13) and The Beatles (19).
Barbra is showing no signs of slowing as her 2016 tour "Barbra: The Music, The Mem'ries, The Magic" grossed over $46 million while her 2016 album "Encore" topped the charts to become her 11th #1 album.
What To Know About Her Husband And Children
Aside from her super-star status, Streisand is a wife and mother. She was married to Elliott Gould in 1963 but divorced in 1971. Together they had a son, Jason Gould.
Jason is a media personality, writer, and singer like his mother.
Streisand married her second husband actor, filmmaker James Brolin in 1998, 27 years after her divorce from Elliott Gould. The couple met on a blind date.
See Also: Say Hello To The 15 Richest Families In Hollywood
Before The Fame
Barbara Joan Streisand was born on April 24, 1942, in Brooklyn, New York. Streisand's journey to fame and wealth can successfully pass as "rags-to-riches." Following the death of her father Emanuel Streisand when she was just 15 months old, her family came to the brink of penury. Her mother Diana's income from her job at the New York City public school system was barely enough to cater for the family which included Barbra and her older brother Sheldon. Barbra herself has described her childhood as "painful" recalling that her mom was so busy striving to make ends meet that she ignored her emotional needs.
However, despite the difficulties, Barbra remained focus and active in her education, beginning from the elementary school where she was an outstanding pupil and maintained a high level of curiosity. She inherited her amazing vocal ability from her mother and wasn't afraid to showcase it. As a kid, she'd often sing in the hallway of their apartment building. The neighbors knew her for it. Sadly, her mother wasn't one of her fans. Diana remained highly critical of her daughter, she, however, showed her some support when she was 13, helping her make a demo tape. But that was all, as Barbra grew, her mom kept persuading her to refrain from the show business, but it only served as fuel for Barbra's passion to one day become a star.
Barbra also developed an interest in acting and sought more to become an actress. While attending Erasmus Hall High School she traveled often to New York City to study acting. At 16 years old, Barbra graduated 4th in her class from Erasmus in 1959. With eyes fixed on her show business dreams, Barbra in 1960 moved away from her mom to a rented apartment in Manhattan in the heart of the theatre district. During this time, Barbra worked several menial jobs including anything related to the stage. And when she was out of rent, she'd sleep at friends'.
While no acting job was forthcoming, Barbra following advice from a Broadway casting director and decided to put more efforts into pursuing music. Her first breakthrough, small but significant came when she won a talent contest at a Manhattan gay club. This immediately opened the doors to her first professional job at Bon Soir nightclub where she was paid $125 per week. Within a year, Barbra's fame increased as she landed another singing job at the Blue Angel nightclub.
Breakthrough With Broadway
While she kept up with her nightclub gigs, Barbra never gave up on her acting dreams. And in 1962, just two years after moving away from her mom, she landed her Broadway breakthrough! She was performing at Blue Angel when theatre director Arthur Laurents brought to her knowledge a chance to audition for musical comedy "I Can Get It for You Wholesale" (1962). Barbra got a role and her performance propelled her to national fame. She received a Tony nomination and won the New York Drama Critics Award for Best Supporting Actress. She went on to appear as a guest on many shows from Tonight Show, to Ed Sullivan Show and  Mike Douglas Show.
Thanks to the success of the musical, Barbra landed her first record deal with Columbia Records still in 1962. Her debut album "The Barbra Streisand Album" was released in 1963. The album peaked at No. 8 on the Billboard 200 and made her America's best-selling vocalist. It won 3 Grammy Awards including for Album of the Year and Best Female Vocal Performance. Six months later, she released her second album "The Second Barbra Streisand Album" which peaked at #2 on the Billboard 200. Both albums went on to sell 1 million copies, propelling her to the millionaire status.
Her next theatre endeavor "Funny Girl" (1964), brought her international fame. Later in 1968, she reprised her role in the movie adaptation of the same title. It was her debut film role and she won an Oscar and Golden Globe Award for Best Actress. The movie made $58.5 million against a $14.1 million budget.
See Also: Betty White Biography
Album And Tour Success
As of 2017, Barbra has released a total of 35 studio albums, and 9 compilations, 7 live albums and 15 soundtracks. 14 of her albums have been certified multi-platinum, 31 platinum and 52 gold. She is the only artists in the world to have #1 albums in each of the last 6 decades. Her most successful album remains "Guilty" released in 1980. The album reached #1 in 11 countries including the UK, where she became the first woman to have a #1 album and single in the same week. The single being the album's lead single "Woman in Love". The album went on to sell about 20 million copies worldwide.
In addition to album sales, Streisand has also made substantial amounts from touring. Her first full tour "Barbra Streisand in Concert" (1993 – 1994) grossed $55 million ($89 million in 2017 dollars) from 26 shows including 4 in Europe. Her next tour "Timeless" (1999/2000) grossed $70 million ($97.3 million in 2017 dollars) from just 10 shows. Previously in 1994, Barbra became the highest paid performer in history after tickets for her live album "Barbra Streisand: The Concert" sold out within an hour despite the $50 – $1500 ticket price. Its massive success was as a result of the anticipation it created as it was her first public concert appearance in 27 years. Streisand donated $10 million of the proceeds to charity.
Her 2006/2007 concert tour "Streisand" became the biggest of her career. It was her first US tour in 12 years and grossed $119.5 million from 29 shows. The tour's success was hugely responsible for ranking her 2nd on Forbes list of highest-earning female musicians with a paycheck of $60 million.
In total, Streisand's tours have grossed over $350 million as of 2017.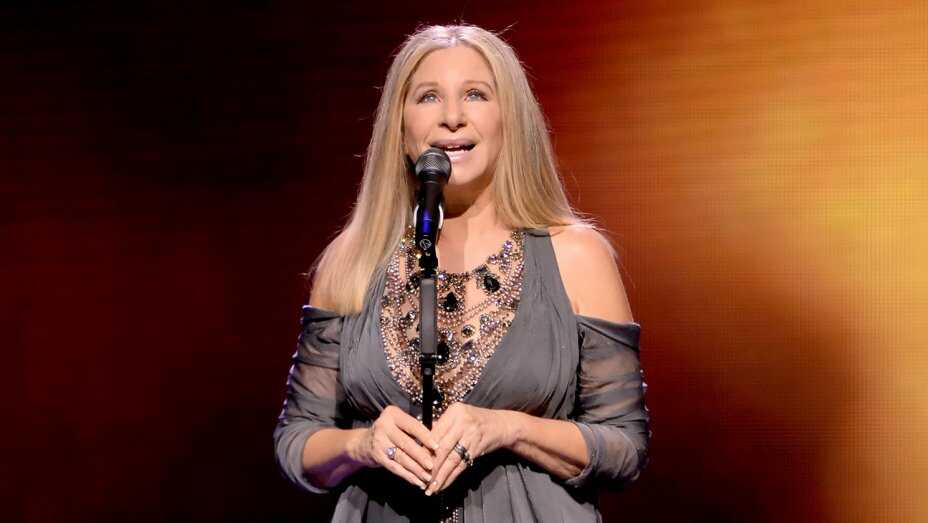 Barbra Streisand Personal Wealth And Luxury Home
Streisand's numerous endeavours in over 6 decades brought her personal wealth to at least $370 million, making her one of America's richest self-made women.
After her success with the film version of her Broadway hit "Funny Girl" (1968) for which she was paid $200,000, Barbra went on to star in other acclaimed and commercially successful roles. For her next film "Hello, Dolly!" (1969) she received $750,000. She was paid an estimated $1 million for "The Owl and the Pussycat" (1970).
In 1972, she set up her own movie production company "Barwood Films". Under the company, she wrote, directed, produced and starred in her own movies including Yentl (1983) for which she earned $3 million, The Prince of Tides (1991) and The Mirror Has Two Faces (1996) which brought her $20 million.
One of her most acclaimed films in the 1970s was "A Star Is Born" (1976). She also performed the film soundtrack "Evergreen" for which she won her second Oscar for Best Original Song. The film grossed $80 million against a budget of $6 million and Barbra reportedly received $15 million. Barbra's Best film years were between 1968 and 1980 when she appeared in the Top Ten Money Making Stars Poll which ranks the year's highest money-making stars according to questionnaires given to movie exhibitors.
One of her biggest money-makers is her musical tours, the highest being the Streisand tour" (2006-2007) which grossed about $120 million at the box office.
Barbra and her husband James live in an oceanfront clifftop house in Malibu, California. The duo frequently vacates to St. Tropez on the French Riviera and the Spanish island of Mallorca.
Barbra Streisand reportedly has her own personal shopping arcade in the luxury home.
Barbra Streisand remains active in music, acting and of course philanthropy.
Throughout her career, she has raised/donated an estimated total $100 million to numerous charity organizations.
Politically she is an avid Democrat having supported the likes of Al Gore, Bill Clinton, and Barack Obama.