A star who shone more in the 70s and 80s, Barbara Bosson is best recognized for her outstanding performance as the cantankerous Fay in NBC's Hill Street Blues. Like most stars, Barbara Bosson had a humble beginning and trod the rocky path to fame. Though her family couldn't afford to give her the desired educational support, Bosson who always wanted to act eventually pursued her dreams against all odds and was able to successfully carve a niche for herself in the ever-competitive entertainment industry. With five Emmy nominations and a once happy and secure Hollywood marriage behind her, find out why Barbara Bosson's profile should not escape your attention.
Barbara Bosson Biography
A Pennsylvanian, actress Barbara Bosson's date of birth is November 1, 1939. She is one of the three children born to John and Doris Bosson. Though her hometown is Charleroi, Barbara and her two brothers were raised in Belle Vernon until her teenage days when her family relocated to Florida.
Bosson's flair for the performing arts was evident from an early age. Although all she wanted to ever do was acting, Barbara first attended Boca Ciega High School, Gulfport. Her family couldn't afford college, thus, she later relocated to New York in search of greener pastures and took up various jobs, working as a secretary, theater assistant, and Playboy Bunny.
In 1966, Bosson enrolled to hone her acting skills at the Drama Department of Carnegie Tech, Pittsburgh but after two years, she quit in order to fully pursue a career in showbiz. She first joined the Committee, a comedy improv troupe based in San Francisco but also performed in different cities including Los Angeles.
Acting Career
Barbara Bosson began her acting career in the theatre. She had a six-year-long stint with the American Conservatory Theater (ACT) before auditioning for on-screen roles. Bosson made her TV debut in 1969 in an episode of the series Mannix. Both guest and recurring roles, her other notable small-screen features include Richie Brockelman, Private Eye (1978), Hill Street Blues (1981 – 1985), L.A. Law (1986), Hooperman (1987 – 1989), Cop Rock (1990), Civil Wars (1992 – 1993), Star Trek: Deep Space Nine (1994), Murder One (1995 – 1997) and The New Adventures of Superman (1995). Barbara Bosson's outstanding role as Fay Furillo in the NBC series Hill Street Blues earned her five Emmy Award nominations.
Bosson made her film debut with a minor role in the 1968 movie Bullitt. She followed up with other notable roles such as Emily in 1974's Mame and as Alva Lealock in 1978's Capricorn One. In the 1980's she appeared in Calendar Girl Murders (1984), The Last Starfighter (1984), Hostage Flight (1985), The Education of Allison Tate (1986) and Little Sweetheart (1989). Barbara was more active on TV in the 1990s and appeared in only one movie – 1998's Scattering Dad.
What Is Her Net Worth?
Although Barbara Bosson is no longer in her prime days and has seemingly retired from acting, she is considered a successful actress. While her exact salary has not been disclosed, Bosson has amassed a decent fortune over the years and can afford a comfortable lifestyle. She has a net worth that is currently pegged at about $6 million.
Barbara Bosson's Spouse & Children
Barbara Bosson has one failed marriage behind her. The actress was once happily married to Steven Bochco. There is a dearth of information about the former couple's romance from the outset. But it is no secret that they met while Bosson was studying in Pittsburgh's Carnegie Tech. The couple did not start dating immediately because Bochco was still married at the time. But after she dropped out of Carnegie, they sparked off a romantic bond following Bochco's divorce. After dating for a while, they eventually tied the knot in 1969.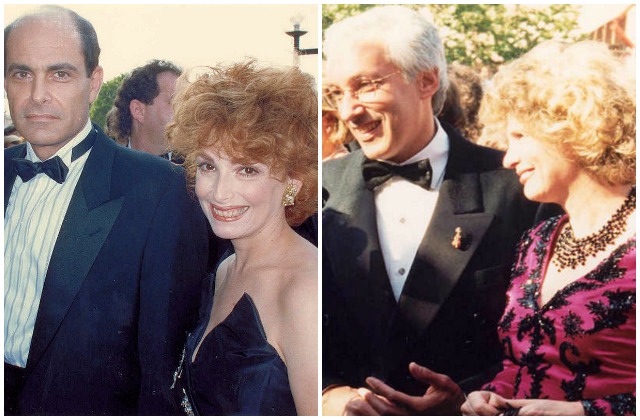 While the going was good, Barbara and Steven's union produced two children – a son Jesse John and a daughter Melissa. Barbara's marriage to the hot-streak creator of Hill Street Blues, L.A. Law, and Hooperman, seemed like the dream Hollywood marriage until the year 1997 when they officially called it quits. The circumstances surrounding the former celebrity couple's divorce have not been disclosed to date. More so, it remains uncertain if Bosson ever found love again as she has not been romantically linked to any other person since after Bochco.
See Also: Elaine Joyce – Bio, Age, Height, Husband, Children, and Career Achievements
Other Facts About Barbara Bosson
1. Though considered a successful actress, it is interesting to note that acting mostly made Bosson unhappy because of her inability to do what she wanted. In the course of her career, the talented actress always felt boxed in following a 'succession of anemic, brainless second-banana roles' she got in the industry.

2. Bosson is quite active on social media. While she may not be present on all popular social networking platforms, our investigations reveal she is active on Facebook.

3. Barbara Bosson has impressive physical features. The blonde-haired actress stands at a height of 5 feet 7 inches. Her weight and other body measurements have not been disclosed. But judging by her looks in recent years, it is safe to say the Hill Street Blues star has maintained a good physique over the years.

Fact Check: We strive for accuracy and fairness. If you see something that needs updating,