Bam Margera is an American professional skateboarder, stuntman, actor, and television personality. The Jackass star has an estimated net worth running into millions.
Here are details about Bam's life and career. From his dad to his current marital status and full net worth, you will find most of the things you want to know about the man here.
Bam Margera Biography and His Dad
Brandon Cole Margera was born on September 28, 1979, in West Chester, Pennsylvania to parents Phil and April Margera. His mother April is of English, Irish, Welsh, and German descent while his father, Phil is of Italian and German descent. At the age of 3, Brandon developed the habit of running into walls which influenced his nickname "Bam" given to him by his father.
Bam's Dad is a famous American reality television personality born on July 13, 1957, in Concordville, Pennsylvania. He is the second of seven children born to Philip and Darlene Margera. He is known for featuring in Viva La Bam, the CKY videos and the Jackass television series and movies. Prior to his successful career on television, he worked as a baker.
As a kid, Bam became passionate about skateboarding and started stunting with his friend Chris Raab. Bam initially refused to attend high school but changed his mind when his friend Chris Raab choose to attend. At East High School, the buddies continued skateboarding and were joined by other friends like Ryan Dunn, Brandon DiCamillo, Brandon Novak, and  Rake Yohn. The friends were collectively known as the CKY crew (Camp Kill Yourself). They began shooting videos of themselves skateboarding and stunting which they released independently as CKY video series.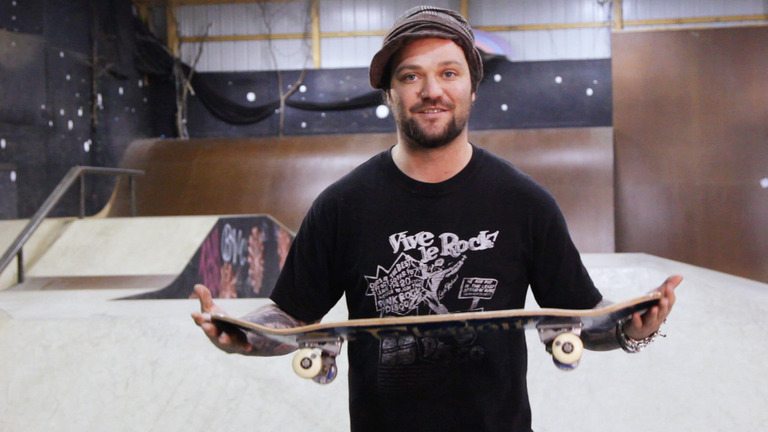 Bam Margera Net Worth
Bam Margera has an estimated net worth of $50 million. He has successfully amassed his wealth through the various sources discussed below:
Jackass Fame
The CKY videos enjoyed much success and soon attracted the attention of Jeff Tremaine, a former editor of "Big Brother". Thanks to Tremaine, Bam, and his crew began appearing on MTV show – Jackass – which thrust them into the limelight. The show which featured daredevil stuntmen ran successfully for 3 seasons from 2000 – 2002. The success of the show helped to boost Bam's acting career as he went on to star in 2002 reality comedy film "Jackass: The Movie" which was a huge financial success, grossing $79.4 million from a budget of $5 million.
The film was followed by a sequel "Jackass Number Two" (2006) which was a greater financial success, grossing $84.6 million from an $11 million budget. Next up was "Jackass 3D" (2010) which grossed $171.7 million with an estimated budget of $20 million.
Viva La Bam and Continued Success
While Bam was shooting the Jackass movies, he was also shooting his reality TV show "Viva La Bam" a spin-off of Jackass which premiered on MTV on October 26, 2003. The show had a successful 5-season run, ending in 2005. It was followed up by "Bam's Unholy Union" which premiered in 2007. The show focused on Bam and his then-fiancee Missy Rothstein as they made preparations for their wedding which held on February 3, 2007. The couple, however, divorced in 2012 after living separately for 2 years. Bam had another half-hour, one-time special show on Spike TV titled "Bam's World Domination".
In addition to the Jackass film series, Bam has also made money from his own independently released movies which he wrote, produced and also starred via his production company "Bam Margera Productions". They include "Haggard: The Movie" (2003), "Minghags: The Movie" (2008) and "Bam Margera Presents: Where the ♯$&% Is Santa?".
Bam founded a record label – Filthy Note Records in 2006, produced songs and directed music videos for bands like Vains of Jenna and Viking Skull. The label was shut down by Bam in 2011. He published the book "Serious as Dog Dirt" in November 2009.
Professional Skateboarding and Endorsements
As a professional skateboarder, Bam has accomplished many feats. In January 2005, he became the first street skateboarder and the 13th pro skateboarder to land The Loop in Phoenix, Arizona. Throughout his pro career, he has been sponsored by the likes of Toy Machine, Element Skateboards (which paid him $2 million annually to wear their apparel), Fairman's, Adio Footwear, Destroyer Trucks, Electric Sunglasses, Landspeed Wheels, and  Destructo Trucks. Bam retired from professional skateboarding in 2016.
He opened his own bar/theatre called The Note in his hometown of West Chester, Pennsylvania in September 2008. However, following a series of issues, the bar was shut down in January 2014.
See Also: Rob Dyrdek Wiki, Wife or Girlfriend, Baby, Wedding, House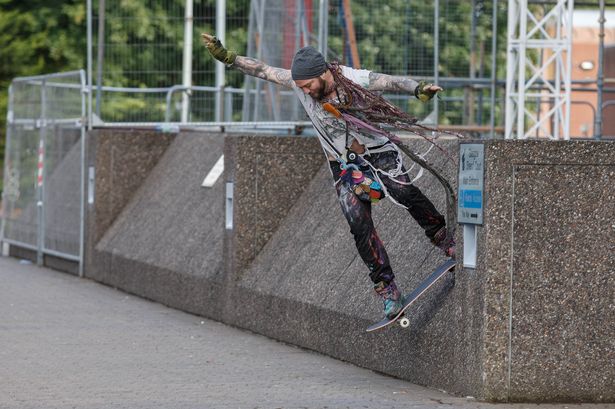 Recent Happenings with Bam Margera
Since the 2011 death of his best friend and co-star Ryan Dunn, who died from drunk-driving, Bam has been having alcohol and substance abuse issues. He revealed this during an interview on VH1 reality TV series "Family Therapy with Dr. Jenn" which premiered on March 16, 2016. Bam appears on the therapeutic show with his parents.
However, after reports of being sober, Bam was arrested for a series of erratic behaviors in Helsinki, Finland where he was vacating with his equally troubled wife, Nicole Boyd (who in early 2016 was arrested for DUI after wrecking their Porsche). In one of the incidents, Bam was seen sitting alone on a restaurant pavement and in another was caught peeing outdoors on a tree. It is, however, unclear if his behavior was related to intoxication.
Prior to the European trip, Margera said he wants to start building awareness on substance addiction. He even made donations to the Tony Hawk Foundation which helps instil healthy habits in kids. Hopefully, the Jackass star can turn a new leaf and kick-start his career once again.
Is He Married, Divorced, Or Dead?
The skateboarder's married life has not been without its ups and downs. He first met and got engaged to Jenn Rivell, a divorced single mum who was part of his several projects. They parted ways in 2005.
By 2006, Bam was head-over-hills in love with Melissa Rothstein popularly known as Missy. Their marriage attracted huge publicity as it was aired on MTV show – Bam's Unholy Union. However, things between the two were soon to go south and by November 2012, they thought it best to divorce and did so.
Bam is now currently married to his wife, Nicole Boyd since October 5, 2013. There have not been any rumours of them divorcing for now. From all indications, the couple is happy the way they are withdrawn from the headlines and public discussion.
Following the 2011 death of Bam's co-star, Ryan Dunn in a car crash as a result of being drunk and driving, Bam hasn't been himself since then. He has been severally reported to be abusing substances and taking much alcohol. For the much we know, Bam is still alive, married to Nicole Boyd but very much keeping to himself.