Axl Rose is an American singer-songwriter and musician. He is best known as the lead singer of the highly successful rock band Guns N' Roses. Guns N' Roses has sold over 100 million copies worldwide to become one of the world's highest-selling bands of all time. Axl Rose legally owns the Guns N' Roses name which entitles him to the bulk of the band's earnings. Despite releasing their last album in 2008, Axl Rose continues to earn big from the Guns N' Roses tours. He became the substitute lead singer of the AC/DC band in 2016. Here is everything you need to know about Axl Rose including the much sought after Axl Rose net worth.
Who is Axl Rose?
Axl Rose was born as William Bruce Rose, Jr. on February 6, 1962, in Lafayette, Indiana. He had a rough childhood as a result of his parent's early divorce when he was just 2 years old. A victim of physical abuse, Rose found relief in music and began singing in both the church and school choir.
As a teenager, Rose was frequent at the local juvenile. After being released in the early 1980s, he decided to turn a new leaf. He moved to Los Angeles in 1982 in pursuit of a music career. Together with his childhood buddy Izzy Stradlin, Rose formed the band, Hollywood Rose. He also became a member of another band L.A Guns. As an upcoming artist, Rose worked odd jobs to make a living.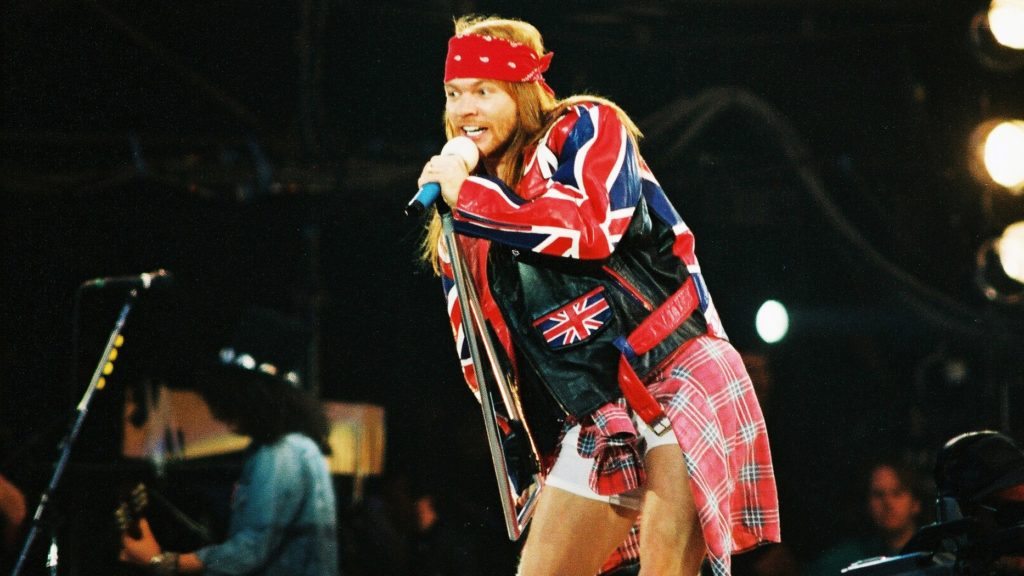 The merging of Hollywood Rose and L.A Guns birthed Guns N' Roses in 1985. The band began performing at clubs and soon attracted record execs. They signed their first record deal with Geffen Records in 1986.
Axl Rose Guns N' Roses Debut Album was an Instant Hit!
Guns N' Roses immediately appealed to rock lovers. Their debut album "Appetite for Destruction" was released in 1987. After a corresponding tour marked by Rose's charismatic persona, the album's success skyrocketed. It peaked atop the Billboard 200 twice in two years. The album has now sold over 30.8 million copies worldwide to become the best-selling debut album of all time in the US.
Guns N' Roses Never Matched The Success of Their Debut Album But…
Guns N' Roses were never able to beat the success of their debut album in terms of unit sales. However, they made enough sales to keep their popularity afloat. Their next outing G N' R Lies sold over 5 million copies in the US alone, while their next 2 albums: Use Your Illusion I (1991) and Use Your Illusion II (1991) enjoyed much success. Both sold a combined 35 million copies worldwide.
Both albums were supported by the hugely controversial concert tour "Use Your Illusion Tour" which brought the band international success. The tour played 194 shows in 27 countries between 1991 and 1993. It was the band's longest, as well as, one of the longest tours in rock history.
Axl Rose Guns N' Roses Re-formation
The band's international success was plagued by conflicts among the bandmates which saw many quit and others fired. As a result, Rose vanished from the media eye spending most of his time in his Malibu mansion. Rose who became the only remaining original band member legally acquired the band name and began recruiting new members to replace the old ones.
The new Guns N' Roses resurfaced in 2001 by kicking off the Chinese Democracy Tour. The highly erratic tour ended in 2011 after playing 239 shows in America, Europe, Oceania, and Asia. Chinese Democracy album, after much delay, was released in 2008. The album sold about 3 million copies. With no album to support, Axl embarked on two separate tours between 2012 and 2014. Both tours per box office records grossed a combined $4 million.
Classic Reunion, AC/DC
By late 2015 Axl Rose seemed to have buried the hatchet with a couple of his classic bandmates. He announced a reunion tour including original members Slash and Duff McKagan. The tour titled "Not in This Lifetime… Tour" kicked off on April Fool's day 2016. At the end of 2016, the tour had grossed almost $200 million. The tour was to end in September 2017.
After a medical condition forced AC/DC lead singer Brian Johnson to drop out of their Rock or Bust World Tour in 2016, Axl Rose was chosen as his replacement. The tour which began on April 10, 2015, and ended in September 2016 grossed $221.1 million from 88 shows. It helped to put the band's 2016 earnings at $67.5 million, according to Forbes.
Does Axl Rose Have A Wife Or Girlfriend?
Axl Rose got married to model Erin Everly on April 28, 1990, at Cupid's Inn Chapel in Las Vegas. Their marriage lasted for barely 10 months before it hit the rocks. It was annulled in early January 1991 when Rose settled the case out of court.
Everly claimed that Rose had shown up at her place with a gun, threatening to kill himself if she wouldn't marry him. Rose hasn't denied her claim since their marriage broke up, thus we understood she accepted to marry him under such circumstances, and by September 1990 she was 4 months pregnant.
However, she lost the baby and this was said to be the beginning of their bitter short-lived marriage life. Erin disclosed that she, in fact, wanted the marriage to end 48 hours after their wedding but for unknown reasons, she tarried in the marriage for 10 months at which time they called it quits. Both former husband and wife admitted that they treated each other wrongly while being married, adding that at times, the 'kids' in them got along fine because they were close friends.
See Also: Post Malone Biography
Axl moved on to date Stephanie Seymour and Dey Rey at different times with the latter being the most recent. Dey Rey is almost half Axl Roses's age and whether their relationship will last longer and subsequently lead to a permanent marriage is still being debated.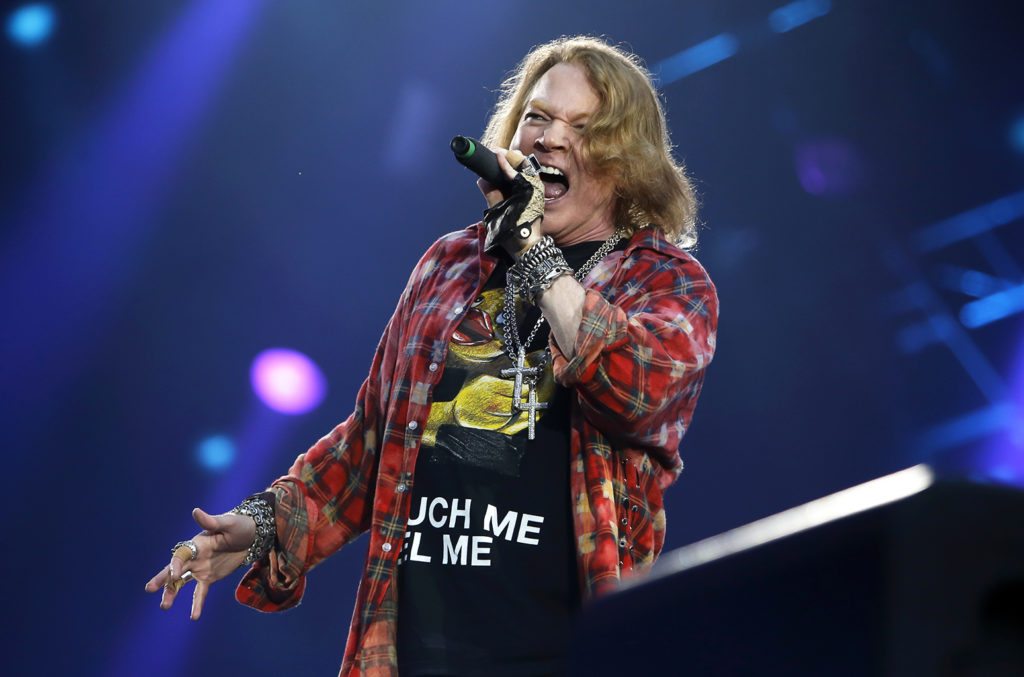 Plastic Surgery
Axl was rumored to have gone under the knife like most celebrities do and in fact, the rumors turned out to be true. The reason for this was obviously to improve his looks by making him look younger if not renewed. The reverse seemed to be the case as many of his fans severely criticized his new look insisting he looked better and more appealing before submitting himself for a cosmetic overdo. This turn of event is said to have tarnished his public image and heralded his decline as he went too far with it and looked worse off after.
The multiple cosmetic procedures he did are said to have included the likes of Botox injections, facelifts, cheek implants, eyelid surgery and nose jobs. These succeeded in eradicating sagging skin or wrinkles on his face but at the same time left him with an expressionless, frozen, and swollen face possibly owing to the cheek implants.
Axl Rose was also suspected to have gone for chemical peeling in order to rejuvenate the look of his skin texture. This had gone wrong as it left his skin swollen and red at the time. The upper layer of the skin takes a while to recover after undergoing such treatment, but Axl was too quick to make a public appearance after undergoing the treatment. Thus he gave his fans and the public a headline for gossip.
What is Axl Rose's Net Worth?
Axl Rose was no doubt a successful musician in his prime. His Guns N' Roses album- Appetite for Destruction sold 30 million copies worldwide while their following album 'Use Your Illusion' sold over 35 million copies all over the globe. He has a net worth of $150 million and in total, his Guns N' Roses album sold more than 100 million copies worldwide.