Net Worth:
$200 million
Age/Date of Birth:

(61 years old ) February 6, 1962
Height:

5 feet, 9 inch (1.75 m)
Ethnicity/Race:

Scots-Irish and German ancestry
Nationality:
American
Wife or Girlfriend:
Stephanie Seymour (Girlfriend);
Previously married Erin Everly
m. 1990–1991
Parents:
Father: William Bruce Rose
Mother: Sharon E. Rose
Axl Rose is an American singer-songwriter and musician. He is best known as the lead singer of the highly successful rock band Guns N' Roses. Guns N' Roses has sold over 100 million copies worldwide to become one of the world's highest-selling bands of all time. Axl Rose legally owns the Guns N' Roses name which entitles him to the bulk of the band's earnings. Despite releasing their last album in 2008, Axl Rose continues to earn big from the Guns N' Roses tours. He also became the substitute lead singer of the AC/DC band in 2016. Here is everything you need to know about Axl Rose, including the much sought after Axl Rose net worth.
Axl Rose Foray Into Music
Axl Rose was born William Bruce Rose, Jr. on February 6, 1962, in Lafayette, Indiana. He had a rough childhood as a result of his parent's early divorce when he was just 2 years old. A victim of physical abuse, Rose found relief in music and began singing in both the church and school choir.
As a teenager, Rose was frequent at the local juvenile. After being released in the early 1980s, he decided to turn a new leaf. He moved to Los Angeles in 1982 in pursuit of a music career. Together with his childhood buddy Izzy Stradlin, Rose formed the band, Hollywood Rose. He also became a member of another band L.A Guns. As an upcoming artist, Rose worked odd jobs to make a living.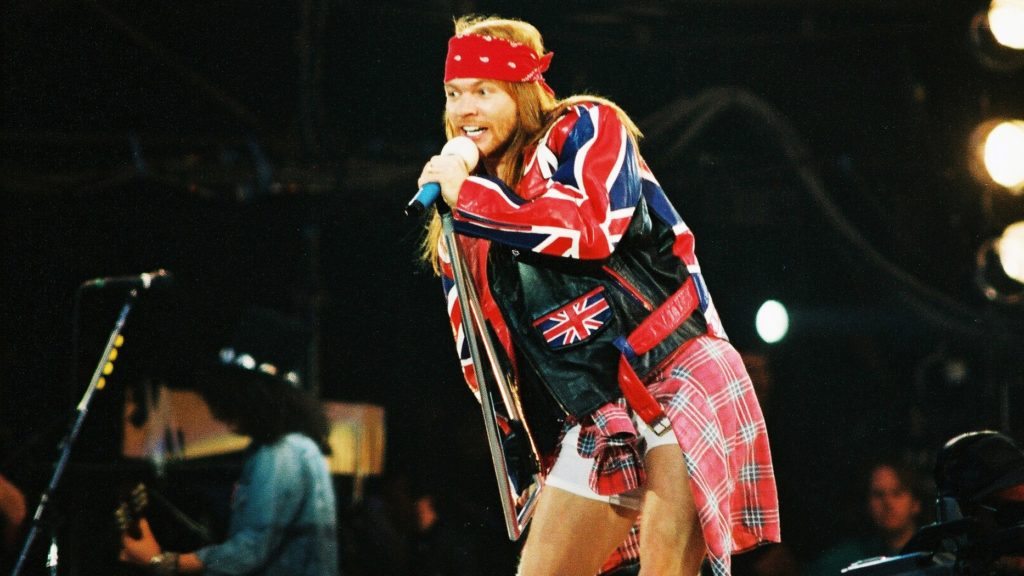 The merging of Hollywood Rose and L.A. Guns birthed Guns N' Roses in 1985. The band began performing at clubs and soon attracted record execs. They signed their first record deal with Geffen Records in 1986. Below is the timeline of his future endeavors with Guns N' Roses to date.
Axl Rose' Guns N' Roses Debut Album was Released in 1987
Guns N' Roses immediately appealed to rock lovers. Their debut album "Appetite for Destruction" was released in 1987. After a corresponding tour marked by Rose's charismatic persona, the album's success skyrocketed. It peaked atop the Billboard 200 twice in two years. The album has now sold over 30.8 million copies worldwide to become the best-selling debut album of all time in the US.
They Became Famous Following the Release of Use Your Illusion Albums Vol I & II 
Guns N' Roses were never able to beat the success of their debut album in terms of unit sales. However, they made enough sales to keep their popularity afloat. Their next outing G N' R Lies sold over 5 million copies in the US alone, while their next 2 albums: Use Your Illusion I (1991) and Use Your Illusion II (1991) enjoyed much success. Both sold a combined 35 million copies worldwide.
Both albums were supported by the hugely controversial concert tour "Use Your Illusion Tour" which brought the band international success. The tour played 194 shows in 27 countries between 1991 and 1993. It was the band's longest, as well as, one of the longest tours in rock history.
 Guns N' Roses Went on a Break for a Few Years
After their 1993 outing, Rose didn't renew Gilby Clarke's contract with Guns N' Roses in 1994 because he claimed Gilby was only a hired hand. As a result, Axl and other band members had a face-off, which got to a breaking limit after they discovered that Rose had hired his childhood friend, Paul Huge Tobias to replace Clarke.
Amid the ongoing rift between the members, Slash left the band in 1996, while other members, Matt Sorum was fired in 1997 following an argument over Tobias' involvement with the band. Duff McKagan also left the band not long after, while Axl Rose and Dizzy Reed were the only remaining members from the original line up. All these caused the stability of the band to start shaking such that they went from 1994 to 2000 with no new material released.
The Band's Re-formation in 2001 and Chinese Democracy Tour
The band's international success was plagued by conflicts among the bandmates, which saw many quit and others fired. As a result, Rose vanished from the media eye, spending most of his time in his Malibu mansion. Rose, who became the only remaining original band member, legally acquired the band name and began recruiting new members to replace the old ones.
The new Guns N' Roses resurfaced in 2001 by kicking off the Chinese Democracy Tour. The highly erratic tour ended in 2011 after playing 239 shows in America, Europe, Oceania, and Asia. Chinese Democracy album, after much delay, was released in 2008. The album sold about 3 million copies. With no album to support, Axl embarked on two separate tours between 2012 and 2014. Both tours per box office records grossed a combined $4 million.
Axl Rose's Reunion with the Original Lineup of Guns N' Roses in 2015
By late 2015, Axl Rose seemed to have buried the hatchet with a couple of his classic bandmates. He announced a reunion tour, including original members Slash and Duff McKagan. The tour titled "Not in This Lifetime… Tour" kicked off on April Fool's day 2016. At the end of 2016, the tour had grossed over $200 millionand it lasted until September 2017.
After a medical condition forced AC/DC lead singer Brian Johnson to drop out of their Rock or Bust World Tour in 2016, Axl Rose was chosen as his replacement. The tour which began on April 10, 2015, and ended in September 2016 grossed $221.1 million from 88 shows. It helped to put the band's 2016 earnings at $67.5 million, according to Forbes.
Axl Rose's Net Worth is Estimated at $200 Million
Axl Rose was, no doubt, a successful musician in his prime. For a music career that has lasted for over three decades, he has made a fortune through musical tours and album sales. For instance, his Guns N' Roses album- Appetite for Destruction sold 30 million copies worldwide while their following album 'Use Your Illusion' sold over 35 million copies worldwide. He has a net worth of $200 million, and in total, his Guns N' Roses albums have sold more than 100 million copies worldwide.
Asides from record sales, Axl Rose also made the bank through his musical tours, as already hinted, as well as merchandise sales and endorsements. While his earnings from his other endeavors outside music is not known, we believe they would as well be in millions of dollars.
He made his $200 million fortune through:
Music career
Record sales
Musical tours
Endorsements
Merchandise sales and other endeavors.
Some of his highest-grossing albums with his band include:
1987 – Appetite for Destruction – $30 million
1988 – G N' R Lies – $11 million
1991 – Use Your Illusion II – $20 million
1991 – Use Your Illusion I – $199 million
1993 –  "The Spaghetti Incident?" – $5 million
2004 – Greatest Hits – $13 miilion
2008 – Chinese Democracy – $6.5 million
Their highest-grossing concerts with Box Office returns include the following:
2016 – 2019: Not in This Lifetime… Tour – $584.2 million
1991 – 1993: Use Your Illusion Tour –  $57 million
2001 – 2011: Chinese Democracy Tour – $4 million
2012 – 2014: Appetite for Democracy (Tour) – $2.3 million
2012: Up Close and Personal Tour (Guns N' Roses) – $1.7 million
1992: Guns N' Roses/Metallica Stadium Tour – $1.3 million
Key Takeaways
Axl Rose's net worth is estimated at $200 million
He is a founding member of Guns N' Roses, one of the most successful rock bands of all time.
The band's 1987 debut album, Appetite for Destruction, has sold nearly 30 million copies worldwide to date.
Their 2016 "Not In This Lifetime Tour" grossed $584.2 million at the Box Office, making it the second grossing worldwide tour of 2017.
Between June 2017 and June 2018, Axl Rose earned $20 million from his various endeavors.
Rose has been named one of the greatest singers of all time by Rolling Stone and NME.
He owns a home in Malibu, California, which he bought for $3.6 million in 1992, among other properties.
The singer made his wealth through record sales, musical tours, endorsements, merchandise sales, etc.
He was previously married to Erin Everly, the daughter of singer Don Everly of the Everly Brothers, from 1990 to 1991.
Axl has also dated Stephanie Seymour and rumored to have had a relationship with Lana Del Rey.
Does Axl Rose Have A Wife Or Girlfriend?
Axl Rose has been married once and since his divorce from his then-wife, Erin Everly, he has not been married again to date. Albeit, he has been in a few relationships to date, including with American model and actress, Stephanie Seymour and Del Rey. Let's meet his ex-wife and those he has dated below.
Erin Everly
Date of Birth: November 8, 1965
Occupation: Former Model
Married: 1990; Divorced: 1991
Axl Rose got married to model Erin Everly on April 28, 1990, at Cupid's Inn Chapel in Las Vegas. Their marriage lasted for barely 10 months before it hit the rocks. As the story goes, Erin left Rose after an altercation. As a result, their marriage was finally annulled in January 1991. Afterward, Everly opened up about their relationship, saying that Rose had shown up at her place with a gun, threatening to kill himself if she wouldn't marry him.
Rose hasn't denied her claim since their break up, thus we understood she accepted to marry him under such circumstances, and by September 1990, she was 4 months pregnant. However, she had a miscarriage, losing the baby in the process, and this was said to be the beginning of their bitter short-lived union. According to her, she even wanted the marriage to end 48 hours after their wedding, but for unknown reasons, she tarried in the marriage for 10 months before they called it quits.
Both former husband and wife admitted that they treated each other wrongly while being married, adding that at times, the 'kids' in them got along fine because they were close friends. In 1994, Erin filed a lawsuit against Axl, stating that he was physically and emotionally abusive towards her. However, the case was settled out of court. Since then, Erin has lived herself away from the limelight to date, while Axl Rose has also tasted the relationship waters again – this time, with Stephanie Seymour.
Stephanie Seymour
Date of Birth: July 23, 1968
Occupation: Model and Actress
Relationship: 1991 – 1993
After his from Erin Everly, Axl moved on to date Stephanie Seymour in mid-1991. Stephanie is one of the most popular supermodels during the 1980s and 1990s. She garnered fame through her work as a Victoria Secret Angel, as well as being featured in the Sports Illustrated Swimsuit Issue and the cover of Vogue magazine.
The duo had a tumultuous high-profile romance, during which Stephanie appeared in Guns N'Roses music videos, including "Don't Cry" and "November Rain." Before their relationship, Stephanie was previously married to Tommy Andrews from 1990 to 1991, and they had a son named Dylan Thomas Andrews in 1990. Rose became so connected to the actress's child and tried to be a father figure for the child as he never had a child.
Axl Rose and Seymour's relationship came close to translating into marriage. However, in 1993, the couple went their separate ways after announcing their engagement in February of the same year. The main reason behind their breakup hasn't been disclosed by both parties. While Rose moved on to another relationship, Stephanie later got married to real estate mogul, publisher, and art collector, Peter Brant in 1995.
Axl Rose was Recently Rumored to be Dating Lana Del Rey
In recent times, Axl Rose has slowed down in the dating game. However, he may not have given up on finding his ONE. Not long ago, precisely in 2012, rumors began to spring up in some quarters that the Guns N' Roses frontman is having an affair with the American singer and songwriter Lana Del Ley. The speculations began to swirl after the pair was seen leaving the Chateau Marmont in West Hollywood.
Before then, the two were spotted while attending Guns N' Roses shows in Los Angeles. Meanwhile, Lana, who is 25 years younger than Rose, has been his fan for a long while. The rumors about a possible relationship between them were further intensified after she released a song titled, Axl Rose Husband. Appearing at a show she had in London later in 2012, Lana wore Guns N' Roses T-shirt, also giving fans a hint that something might be happening between them.
While the speculations were never confirmed by either Lana or Rose, it gradually died off after some time. Since then, Axl Rose has never been linked to any relationship, and he hasn't walked down the aisle since his first failed marriage. More so, the frontman doesn't have any kids, either biological or adopted.
Plastic Surgery
Axl was rumored to have gone under the knife as most celebrities do, and in fact, the rumors turned out to be true. The reason for this was obviously to improve his looks by making him look younger if not renewed. The reverse seemed to be the case as many of his fans severely criticized his new look insisting he looked better and more appealing before submitting himself for a cosmetic overdo. This turn of events is said to have tarnished his public image and heralded his decline as he went too far with it and looked worse off after.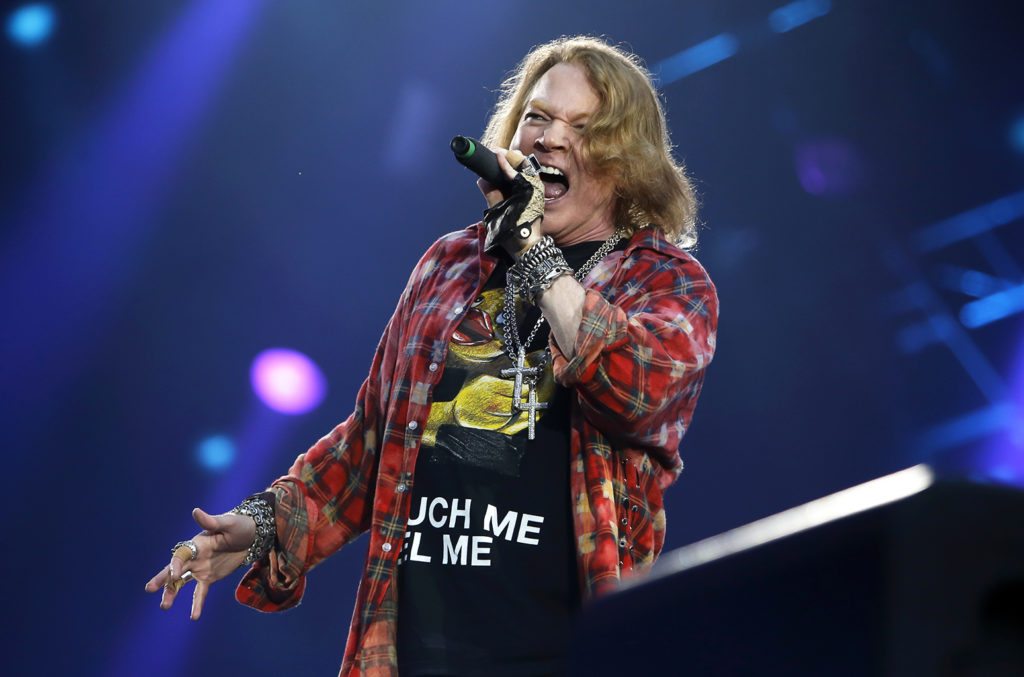 The multiple cosmetic procedures he did are said to have included the likes of Botox injections, facelifts, cheek implants, eyelid surgery, and nose jobs. These succeeded in eradicating sagging skin or wrinkles on his face but at the same time left him with an expressionless, frozen, and swollen face possibly owing to the cheek implants.
Axl Rose was also suspected to have gone for chemical peeling in order to rejuvenate the look of his skin texture. This had gone wrong as it left his skin swollen and red at the time. The upper layer of the skin takes a while to recover after undergoing such treatment, but Axl was too quick to make a public appearance after undergoing the treatment. Thus he gave his fans and the public a headline for gossip.
Profile Summary
First Name:
William
Last Name:
Rose Jr.
Also Known As:

Axl Rose,
William Bruce Bailey
Bill Rose
Bill Bailey
Sex/Gender:

Male
Profession:

Singer, songwriter, record producer
Famous For:
Lead vocalist for Guns N' Roses
Colleges/Universities Attended:

N/A
Educational Qualifications:

N/A
Religion:

Christian
Birthday & Zodiac

Age/Date of Birth:

(61 years old ) February 6, 1962
Zodiac Sign:
Aquarius
Birth Place:

Lafayette, Indiana, U.S.
Nationality:
American
Ethnicity/Race:

Scots-Irish and German ancestry
Country of Residence:

United States of America (USA)
Physical Attributes

Height:

5 feet, 9 inch (1.75 m)
Weight:

79kg
Eye Colour:

Blue
Hair Color:

Dark Brown
Other Body Measurements:

N/A
Relationships

Marital Status:

Dating
Spouse/Partner:

Stephanie Seymour (Girlfriend);
Previously married Erin Everly
m. 1990–1991
Family and Relatives

Father:

William Bruce Rose
Mother:
Sharon E. Rose
Children:

N/A
Siblings:
Stuart Bailey (Brother)
Amy Bailey (Sister)
Other Relatives:

N/A
Net Worth
Estimated Net Worth:

$200 million
Salary:
N/A
Source of Wealth:

Album sales, tours, endorsement deals